Florida Water Tours
At Comachee Yacht Harbor
107 Yacht Club Dr., St. Augustine, FL, 32084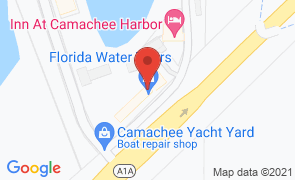 Hours
of Operation
Sun - Sat:
9:00 am - 9:00 pm

For boating excursions that are sure to entertain, Florida Water Tours offers a variety of options for tours of St. Augustine's beautiful waterways. Florida Water Tours is open and operating at limited capacity onboard to ensure the safety of all guests and crew in regard to social distancing. Take advantage of their discounted prices throughout during the fall.

Tours are available daily. Visitors can take in St. Augustine with a guided boat tour, with the option for private tours or daily public tours, including the Dolphin and Wildlife Adventure and Sunset Cruise. Florida Water Tours is located within close driving distance to St. Augustine's historic district and offers free parking.

Florida Water Tours operates two vessels that each take guests on a 90-minute tour. The Osprey is a 45-foot pontoon that is certified for 38 passengers, there is a restroom on board, and most of the boat is fully enclosed and shaded. There is also a bar onboard where guests may purchase mimosas, beer, wine and canned cocktails. No outside alcoholic beverages are permitted on board the Osprey. The Island Breeze is a 30-foot pontoon boat that's certified for 24 passengers, is fully enclosed, and has a restroom on board. Guests may purchase soft drinks, water, and chips or they may take their own drinks and snacks on board the Island Breeze. Cash and cards are accepted on both boats. See their calendar to find out which boat is available on each day.

Dolphin and Wildlife Adventure cruises are available daily for guests of all ages. These 90-minute tours explore the natural and historic beauty of St. Augustine while the boat's crew and passengers scan the water's surface for signs of dolphins. Florida Water Tours also offers daily Sunset Cruises aboard each boat. Sunset cruises on the Osprey are limited to those who are aged 21 and over. Sunset cruises on the Island Queen are family-friendly and suitable for all ages.

Receive 20% off by entering the coupon code STAUG20 when booking a Dolphin and Wildlife Adventure or Sunset Cruise.

Private Tours

In addition to daily public tours, Florida Water Tours offers private charters. These special private cruises are perfect for birthday or bachelorette parties, family reunions, anniversaries, and weddings.

For more information, or to book a tour, please visit here.

Dolphin Wildlife Adventure Tour

Full Moon Tours

Florida Water Tours offers special tours each month on the three nights surrounding the full moon. For more information, or to book a Full Moon Tour, please visit here.

Wine Tasting Cruises

Guests can start their evening in St. Augustine with a special 90-minute Wine Tasting Cruise with Florida Water Tours. These cruises take guests along St. Augustine's historic bayfront, where they can take in the views from out on the water while enjoying a presentation of six wines, including local wines.

These tours are available in the early evenings each week, Thursday through Sunday. Check the calendar for cruise times, which vary by season. Guests who book this cruise will receive six wine samples, one half-price drink from the on-board bar, as well as an assortment of cheeses and crackers. Beer, including local brews, is available for guests who prefer beer over wine.

Florida Water Warriors

Florida Water Tours offers 90-minute tours offering STEM-based education focusing on science, particularly marine biology. These tours are available for private groups and for school groups. The passenger/students will participate in sample collecting and data logging and the instructors will focus on ecology, climate, history, culture, and the various creatures who live in our waterways. To learn more about the Florida Water Warriors program, and to purchase tickets, go here.

Reminders

Guests should arrive 15 minutes prior to the tour departure time to check-in and hear a mandatory safety briefing. An onboard bar is open for all tour times for drink purchases.
Restaurants
Near Florida Water Tours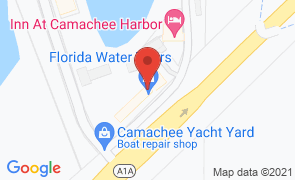 Florida Water Tours
At Comachee Yacht Harbor
107 Yacht Club Dr., St. Augustine, FL, 32084
(904) 827-7728
Hours
of Operation
Sun - Sat:
9:00 am - 9:00 pm

Find Us on Facebook