Ripley's Red Train Tours
Historic Downtown
19 San Marco Avenue, St. Augustine, FL, 32084
(904) 824-1606
(800) 226-6545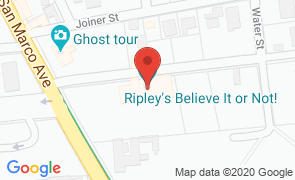 Hours
of Operation
Sun - Sat:
8:30 am - 5:00 pm

Closed Christmas Day
The Red Train Tours, operated by Ripley's Believe It or Not! since 1953, take guests on a comprehensive tour through the nation's oldest city. Vacationers can take advantage of the 22 stops along the Red Train's route through historic downtown St. Augustine.These stops allow guests to access the historical sites, restaurants, and shopping opportunities in the historic district. Tickets on Ripley's Red Train Tours now also include a free round of golf at Bayfront Mini Golf.

Tickets are good for three consecutive days, and guests are able to re-board from any of the stops in the downtown area.The tours go out from 8:30 a.m. to 5 p.m. every day. Every 15-20 minutes, a train passes by one of the twenty-two stops, meaning transportation is constantly available. Guests can purchase discounted tickets to other attractions in St. Augustine from Ripley's Red Train Tours.

Guests on the Red Train Tours are able to download a free app (available from Google Play or iTunes) and use headphones to listen to the Red Trains' fully-narrated tours in Spanish or French. The app also includes a transcription of the tour's content so guests may read along. In addition, the app features an interactive map that shows all the tour stops, as well as GPS trigger points that keep up with riders at each of the tour's 22 stops, making it possible for guests to enjoy historical points about St. Augustine without missing a beat. Earbud headphones will be available at the Red Trains ticketing locations for use with the interactive app.

The Red Trains operate from 8:30 am to 5:00 pm every day. Call (904) 829-6545 for more information.
Restaurants
Near Ripley's Red Train Tours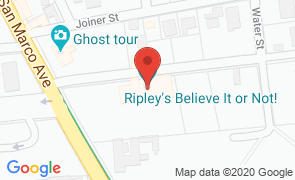 Ripley's Red Train Tours
Historic Downtown
19 San Marco Avenue, St. Augustine, FL, 32084
(904) 824-1606 (800) 226-6545
Hours
of Operation
Sun - Sat:
8:30 am - 5:00 pm

Admission | Ticket Prices
| | |
| --- | --- |
| 1-Day Pass Adult | $24.99 |
| 1-Day Pass Child (5-11) | $9.99 |
| 3-Day Pass Adult | $34.99 |
| 3-Day Pass Child (5-11) | $15.99 |
| 5-Day Pass Adult | $44.99 |
| 5-Day Pass Child (5-11) | $21.99 |
| Children under 5 | FREE |
Have a Question?
Find Us on Facebook