Best Western I-95
Next to Denny's
2445 State Road 16, St. Augustine, FL, 32092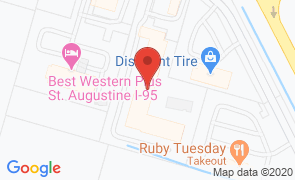 Best Western is now a Best Western Plus and has a new location at 2465 State Road 16. The hotel at this location is now a Red Roof Plus.

The Best Western I-95 offers a convenient St. Augustine location along with quality accommodations. With spacious guest rooms and the option to bring along the family pet, this hotel is a great choice for a family vacation.

The Best Western I-95 features guest rooms and suites and includes such room options as poolside location, room with spa baths, and a honeymoon suite.

Amenities: Free parking, high-speed Internet access, handicapped accessibility, complimentary breakfast, sightseeing-tour pick-up, swimming pool, Jacuzzi, telephone, coffee maker, hair dryer, guest laundry, ice and vending machines, cable TV, and kitchenettes.

Check in at 3 pm. Check out at 11 am.
Restaurants
Near Best Western I-95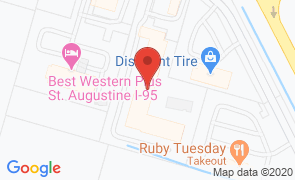 Best Western I-95
Next to Denny's
2445 State Road 16, St. Augustine, FL, 32092