Joseph's Fine Art Gallery
Next to Joel Bagnal Goldsmith
11E Avlies Street, St. Augustine, FL, 32084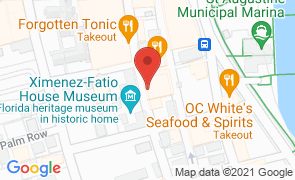 Hours
of Operation
Sun - Sat:
1:00 pm - 5:00 pm

The gallery is also open 7 to 10 pm daily.
A quaint gallery in historic downtown Saint Augustine, Joseph's Fine Art Gallery is located in the hub of the local art community - just off the Plaza de la Constitución on Aviles Street. The gallery features original oil paintings and limited edition giclees by Joseph Price in a romantic realism style. Art by other painters in various different styles are represented as well.

Visitors can enjoy the gallery from 1:00 to 5:00 p.m. and from 7:00 to 10:00 p.m. daily.

Another way to enjoy the gallery - and the neighboring galleries - is by participating in the First Friday Artwalk.

No Reviews Yet...

Be the first to Review Joseph's Fine Art Gallery!




Restaurants
Near Joseph's Fine Art Gallery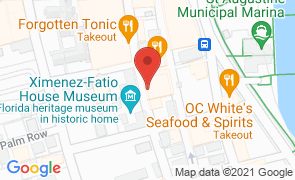 Joseph's Fine Art Gallery
Next to Joel Bagnal Goldsmith
11E Avlies Street, St. Augustine, FL, 32084
Hours
of Operation
Sun - Sat:
1:00 pm - 5:00 pm