Rembrandtz
Next to Gringos Tacos.
131 King Street, St. Augustine, FL, 32084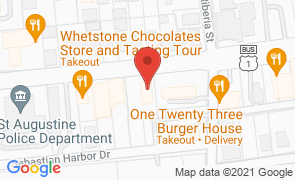 Hours
of Operation
Sun:
10:00 am - 4:00 pm

Mon - Sat:
10:00 am - 5:00 pm

Rembrandtz offers special pieces of artwork, high-quality art-inspired gifts, and artsy souvenirs. The shop specializes in the "Art of Gift Giving." For over 15 years, Rembrandtz has been family operated and continues to provide excellent and personal service to each customer. 

They have a staff that is dedicated to promoting and supporting the local artists of St. Augustine. This shop features many different kinds of art, including original art from local artists, glass, pottery, wood-working, jewelry, and wearable art. Rembrandtz also carries one-of-a-kind gifts for birthdays, weddings, housewarmings, retirements, graduations and just about any other special occasion. Rembrandtz is in historic downtown St. Augustine.
Restaurants
Near Rembrandtz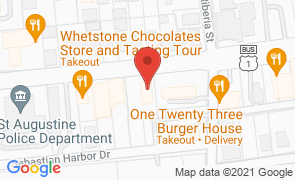 Rembrandtz
Next to Gringos Tacos.
131 King Street, St. Augustine, FL, 32084
(904) 829-0065
Hours
of Operation
Sun:
10:00 am - 4:00 pm

Mon - Sat:
10:00 am - 5:00 pm