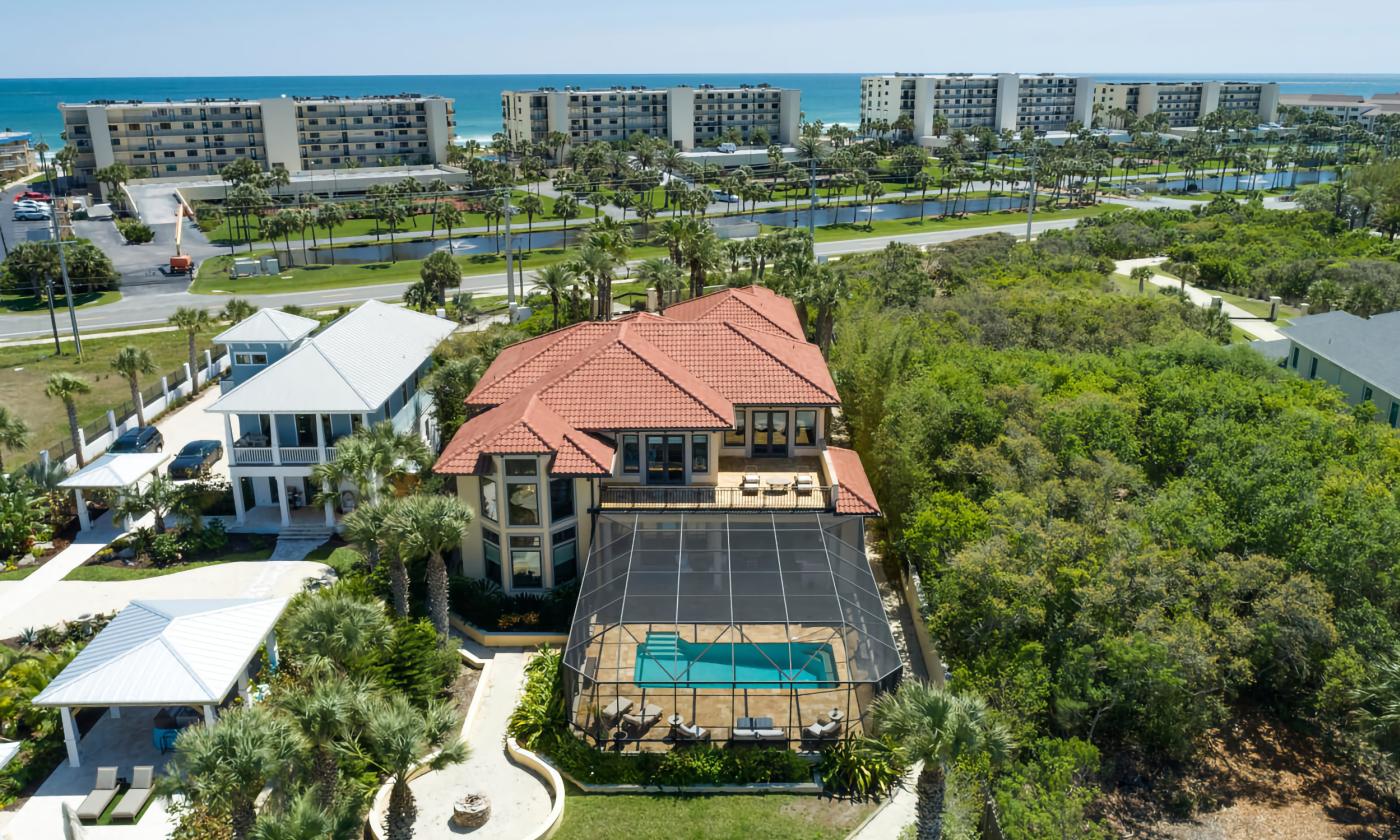 Your Guide to St. Augustine's Neighborhoods
Which one is right for you?
When I arrived in St. Augustine in 2015 I had no idea it stretched from the beaches on the east side to the river on the west side. The town ended up being way bigger than what I had imagined. Because of that, I was constantly surprised with my discoveries. While that approach worked for me, it may not work for you. Here's your guide to St. Augustine's neighborhoods, so you'll be way more informed as you make the transition from visitor to resident
"Center City"
Lincolnville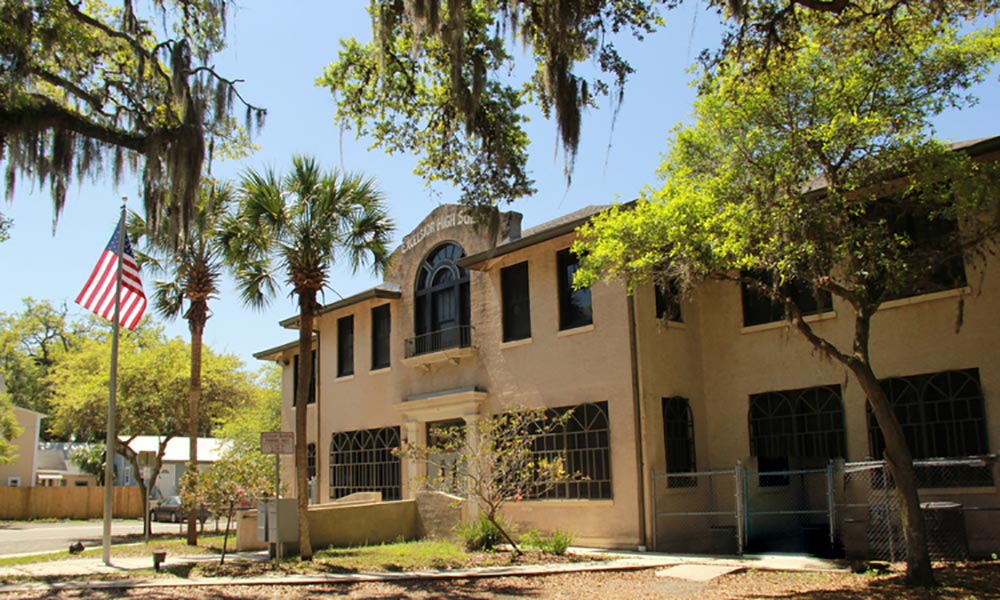 The Lincolnville Museum and Cultural Center is a reminder of the neighborhood's history.
Founded in 1866 by newly freed slaves after the Civil War, the Lincolnville Historic District is St. Augustine's most prominent historically black neighborhood. The neighborhood, named for President Lincoln, played a pivotal role in the nation's Civil Rights Movement. On June 9, 1964, Civil Rights movement leader Martin Luther King Jr. was arrested in St. Augustine during a protest for human rights. Alongside King was Rev. Andrew Young, who led a night march from Lincolnville to the Plaza de la Constitución, where he was met with violent opposition.
Lincolnville is also home to the Lincolnville Museum and Cultural Center where visitors can learn about more than 450 years of Black history from West African empires to early colonial Florida, to the 20th century. Located in what was once the Excelsior School, which was the first public black high school, the Museum is on the National Register of Historic Places. The self-guided tour of the ACCORD Freedom Trail comprises 31 historic markers in Lincolnville identifying sites that played a significant role in the Civil Rights movement in St. Augustine. 
Spanning 45 blocks on St. Augustine's southwest peninsula, Lincolnville was designated as an historic district in 1991 and listed on the National Register of Historic Places. Now, Lincolnville is an eclectic neighborhood of homes, businesses, churches, parks, museums, and annual festivals.
Historic Downtown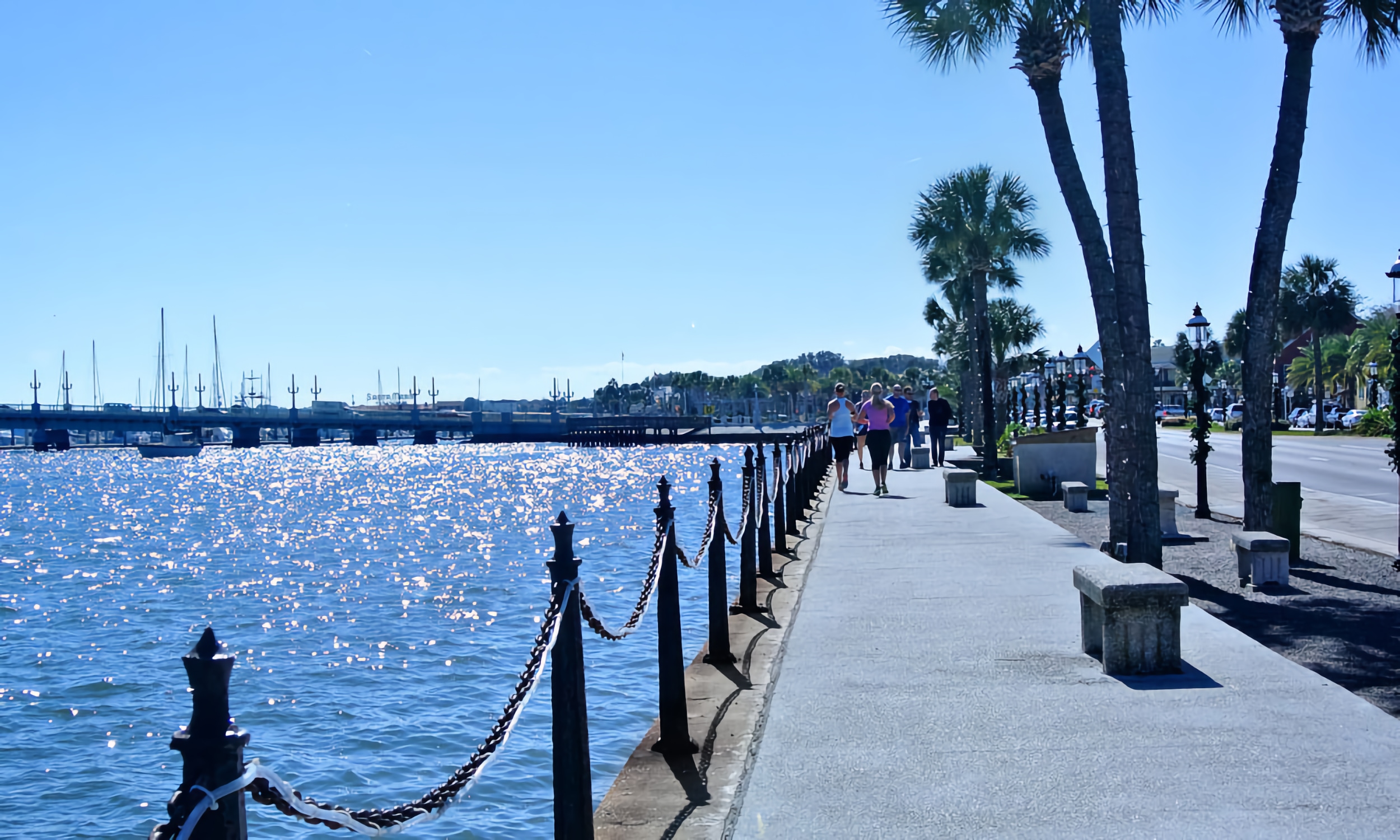 The seawall along the bayfront is the perfect place to take a stroll in historic downtown.
The heart of America's First City is found in Historic Downtown where visitors and locals enjoy restaurants, shopping, and attractions. The Historic Downtown is the oldest part of St. Augustine with many buildings dating back to the 1700s — and with streets that are even older. The combination creates a walkable city center designed with old European concepts. 
This Historic Downtown is on the National Register of Historic Places, as are more than 20 other sites in the district. It's also home to the bayfront with panoramic views of the Matanzas Bay and an inviting bayfront walk along the Matanzas River from the Castillo de San Marcos to the former 16th century Jesuit monastery that is now the Florida National Guard headquarters. 
The top-rated attractions in the area reflect the importance of history in shaping St. Augustine, including the Flagler Legacy Tours, Lightner Museum, and the Colonial Quarter. Another defining feature of the Historic District are the building facades representing the height of Spanish Colonial and Spanish Renaissance Revival architecture. This area of town showcases everything from early European design to Florida bungalow-style houses, to Gilded Age extravagance. It's said that "if you're lucky enough to live in historic downtown St. Augustine, you're lucky enough."
Uptown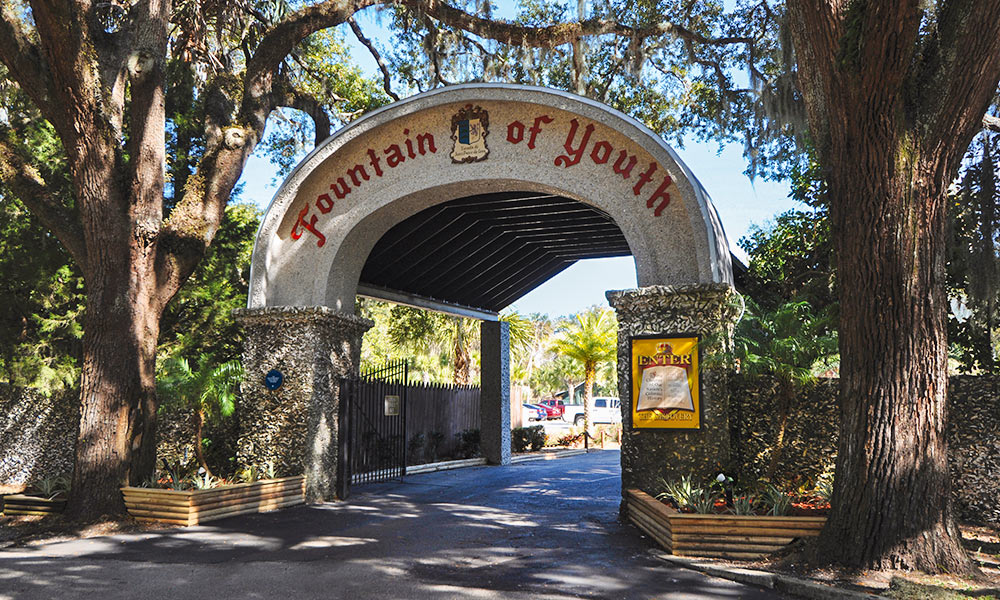 The Fountain of Youth - and its free roaming peacocks - are a highlight of the Uptown neighborhood.
Bordering St. Augustine's Historic Downtown, Uptown features historic properties and neighborhoods, as well as boutique shops, art galleries, antique stores, and local eateries along San Marco Avenue. The Uptown region extends west from the Matanzas River to a block or two from U.S. 1, and from Grove Avenue north to the Vilano Causeway. Attractions include The Fountain of Youth Archeological Park, the site of the first Spanish settlement in the new world; and The Old Jail, built by Henry Flagler in 1891 to move the jail farther from his Ponce de Leon Hotel (now Flagler College.)
Those who appreciate architecture from the 1800s to the 1920s will enjoy several small neighborhoods listed on the National Register of Historic Places. These include the Abbott Tract Historic District, roughly bounded by Matanzas Bay, Pine, San Marco, and Shenandoah Avenues, and the Nelmar Terrace Historic District, site of a Timucuan Indian village, a British plantation, and development in the 1910s after a trolley car route was built along San Marco Avenue.
North City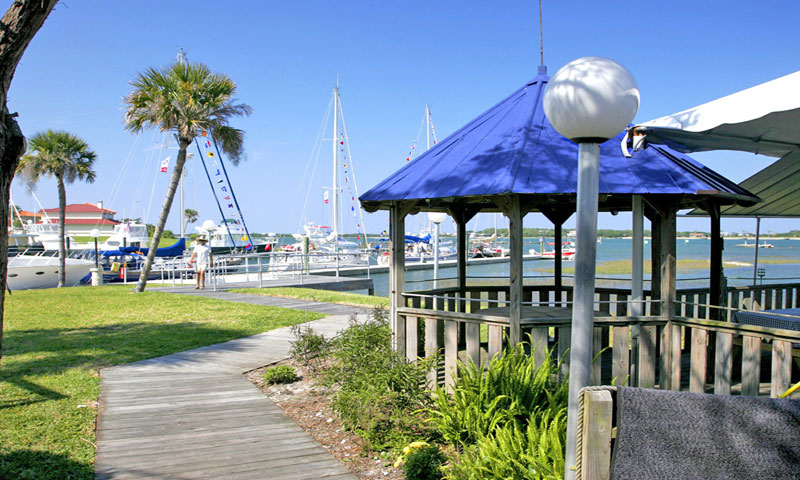 At Kingfish Grill you can take in views of the harbor and of the Vilano Bridge.
North City features historic homes, neighborhoods with overhanging oaks, a yacht harbor, a boat ramp, and many locally owned restaurants and shops. Those who enjoy the water will note that one of St. Augustine's public boat ramps is located along the Vilano Causeway, just before the bridge. Sailors may take a sailing class, rent a boat, or enjoy a crewed charter. Nature lovers can take a tour on the water to look for dolphins or to enjoy the sunset.
Much of the northeastern section is a marsh and the eastern boundary for North City is the Tolomato River, best explored by boat, kayak, or paddleboard. There are also thriving businesses along the northern section of San Marco, from thrift shops and resale shops to outstanding bakeries as well as a local coffee shop and wine bar. Also within the region is Fort Mose Historic State Park -- a former free-African settlement. 
Ponce de Leon Blvd.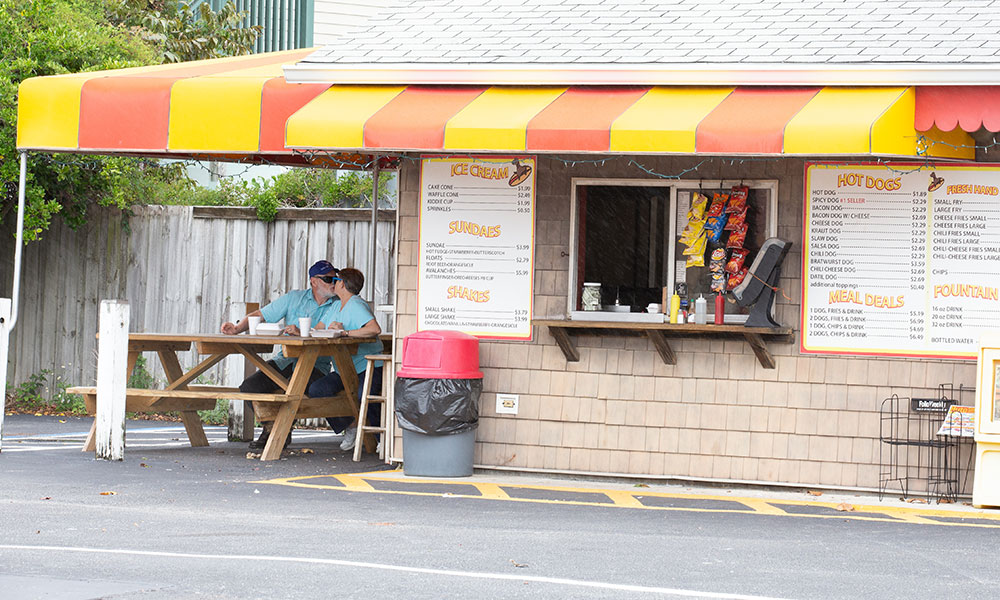 Hazel's Hot Dogs is a staple along Ponce de Leon Blvd.
In St. Augustine, Ponce de Leon Blvd is the business section of U.S.1, the well-known coastal highway that runs north and south from Key West to Canada. Along these 12 miles of U.S. 1 (plus a block on either side) there are restaurants from familiar national chains to local favorites, shopping plazas, services, and housing developments.
Ponce de Leon and the block or two adjacent to U.S. 1 provides nearly any item, food, or service needed — from car services and parts to quick medical care to a water tour on two-seater catamarans, to shops and stores for groceries, clothing, and sports gear. Just as it is in other cities along the coast, U.S.1 is a vital link to St. Augustine and it's where locals run many of their daily errands.
Southern Beaches Area
Anastasia Island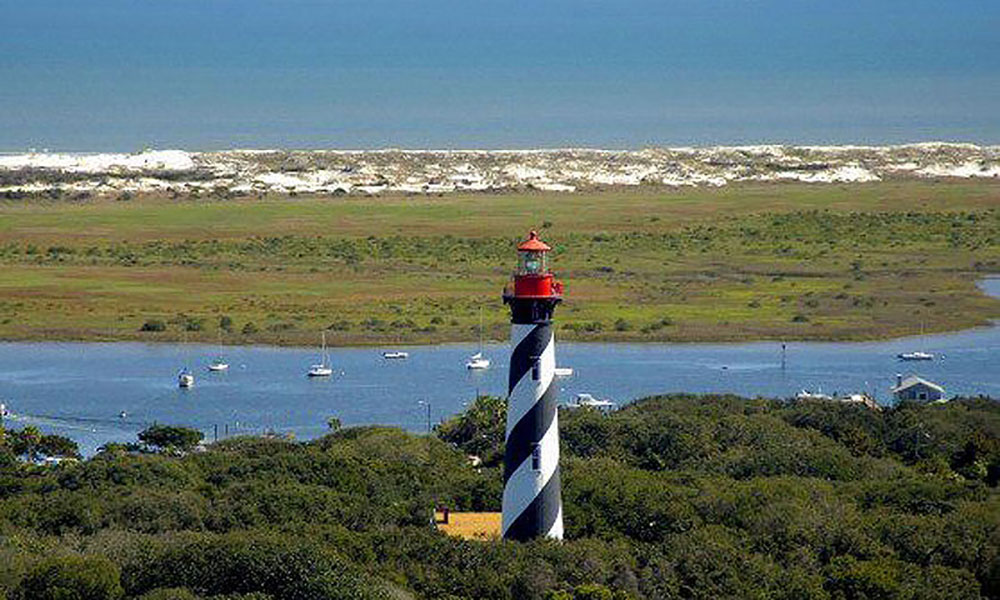 A wonderful view of Anastasia Island and the St. Augustine Lighthouse. 
Anastasia Island stretches from the tip of the sand bars at Anastasia State Park to Route 206, just past the Fort Matanzas Monument. This barrier island is about 17-miles long and averages one mile in width — bordered on the east by the Atlantic Ocean and on the west by the Matanzas River. Some of St. Augustine's most favorite beaches can be found here, as well as restaurants, bars, and attractions.
The island has a rich history, from the St. Augustine Lighthouse to the Coquina Quarry at Anastasia State Park. Like Ponte Vedra Beach to the north, Anastasia Island is home to a highly regarded music venue, in this case, the 5,000 seat St. Augustine Amphitheatre – located just a half-mile from the beach.
St. Augustine's southern beaches can be divided into five main sections starting with Anastasia Island's Anastasia State Park beach, St. Augustine Beach, Butler Beach, Crescent Beach, and Matanzas Beach. There are things to do and places of interest on both sides of the island from swimming, to kayaking and fishing, to historic sites. Anastasia Island is also home to the St. Augustine Alligator Farm and the St. Augustine Lighthouse and Maritime Museum. 
St. Augustine Beach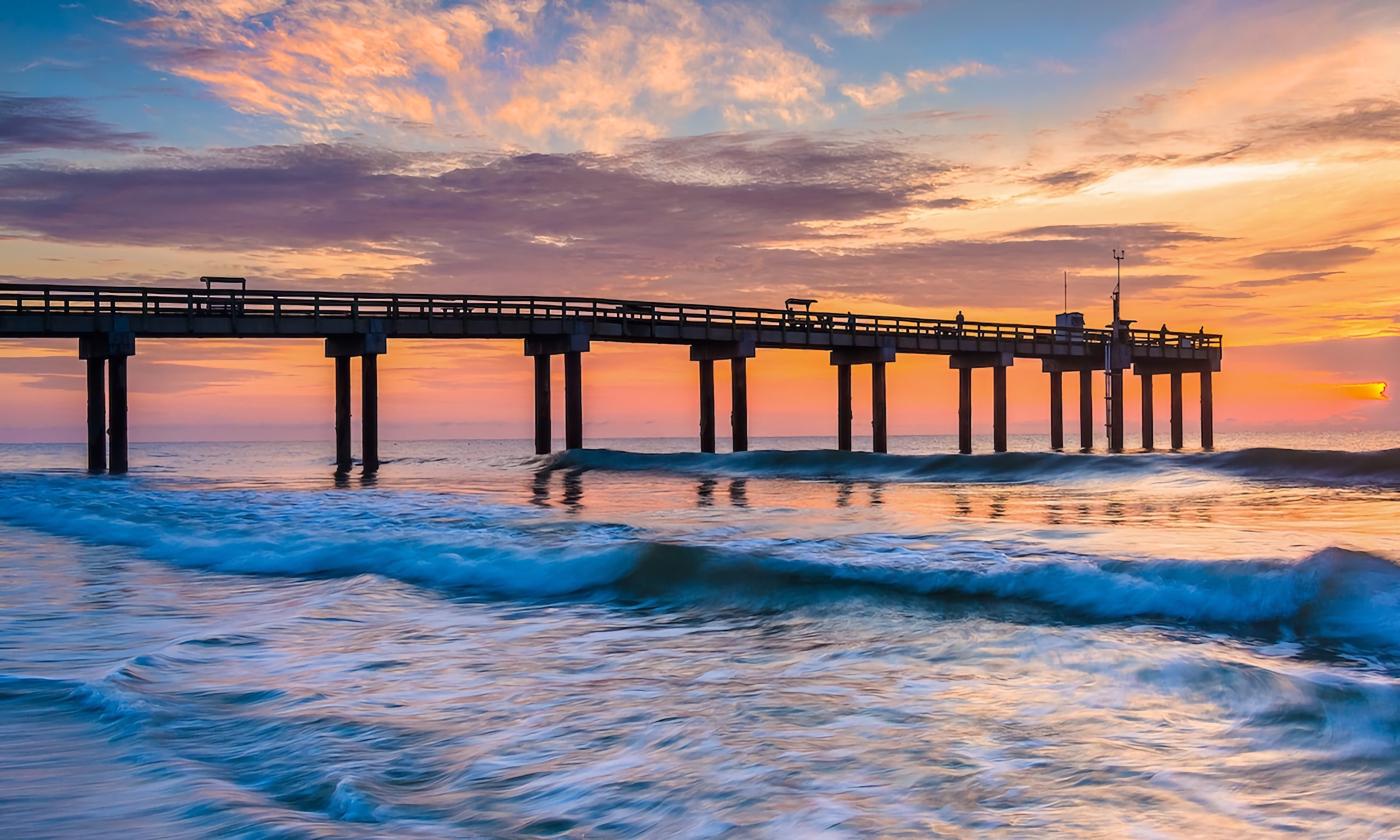 The St. John County Ocean Pier is a gathering spot on St. Augustine Beach, hosting special events throughout the year.
A1A Beach Boulevard, scattered with ice cream shops, taco stands, and seafood restaurants, goes right through St. Augustine Beach -- a small city on Anastasia Island known for its wide beaches. The St. Johns County Ocean Pier, a St. Augustine Beach landmark, offers fishing, a beachfront park, volleyball courts, a playground, and a children's splash zone.
MSN.com named this three-mile-long beach "one of the ten most gorgeous beaches to visit" in May 2021. With a family-friendly atmosphere that has so many places to stop and relax, as well as numerous easy to reach amenities, people are taking notice for both vacation and relocation purposes. Single family homes as well as low rise condos are available to rent or buy making for easy access to the beach and easy access to beach views – especially at sunrise.
Crescent Beach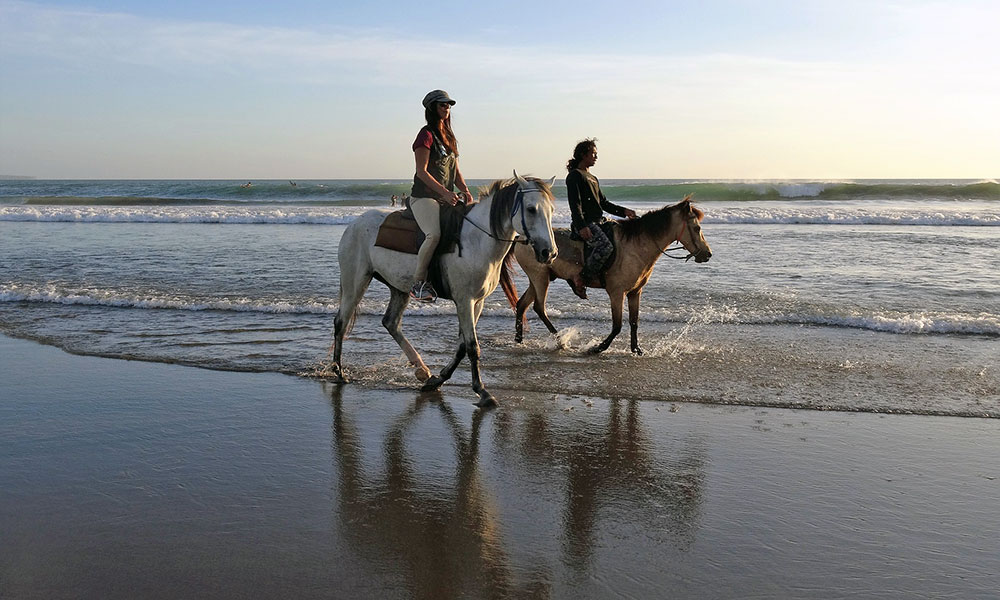 Horses also enjoy taking a walk on Crescent Beach!
Crescent Beach is a beautiful stretch of the Florida coast from Route 206 to Fort Matanzas State Park to the Matanzas Inlet. It gets its name from the natural shape on the coastline. The hard-packed sand lends itself to activities including beach bike rides, walks, and volleyball. Relax on the beach or participate in a variety of water sports such as surfing, swimming, kayaking as well as boating from the marked public access points along A1A.
Crescent Beach is a small community with little commercial development. There are plenty of houses, low rise condos, as well as cottages available here. Wooden decks and flyovers provide a safe access to the beach across the protected sand dunes. And, it's a great place to enjoy a drive – with or without the top down.
Northern Beaches
Vilano Beach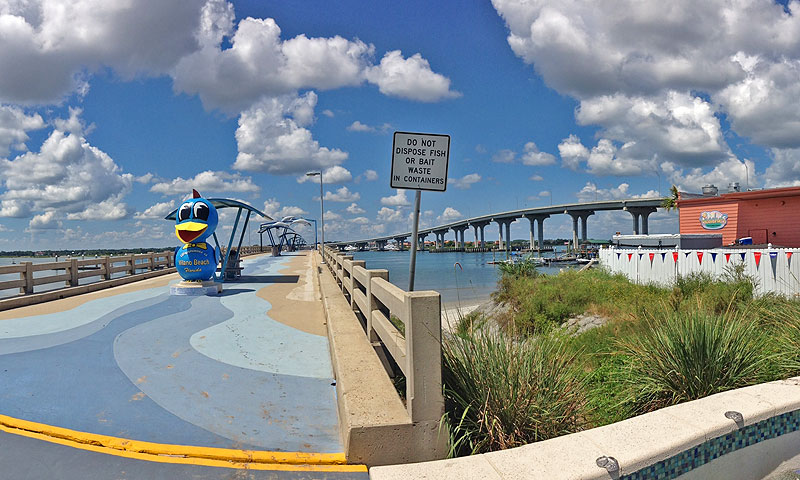 The Blue Bird of Happiness welcomes people to the Vilano Beach Pier.
Vilano Beach is just north of downtown St. Augustine's historic district, on the north side of the Matanzas Inlet. The Vilano Beach Main Street's mission is to preserve, maintain, and improve the historic Vilano Beach community while protecting the small-town beach vibe of Vilano Town. The town is charmingly Art Deco, with its tiled fountains and retro pier, and is no longer one of St. Augustine's best-kept secrets.
The beach here is different than its southern counterpart as it has a steep drop-off, heavier surf, and a strong current due to its location near the inlet, which makes it ideal for surfing (when the tide is coming in) and skimboarding. The beach's main access point is at the eastern of Vilano Town and the area continues around the southern end of Vilano to Porpoise Point, a favorite place for fishing and launching jet skis. At the point, face one direction and enjoy sunrise, face the other and enjoy sunset. On the sunset side, the river side of the barrier island, is the Vilano Beach Pier.
Vilano hosts a number of special events while also having top restaurants beachside and on the Intracoastal Waterway as well.
Ponte Vedra Beach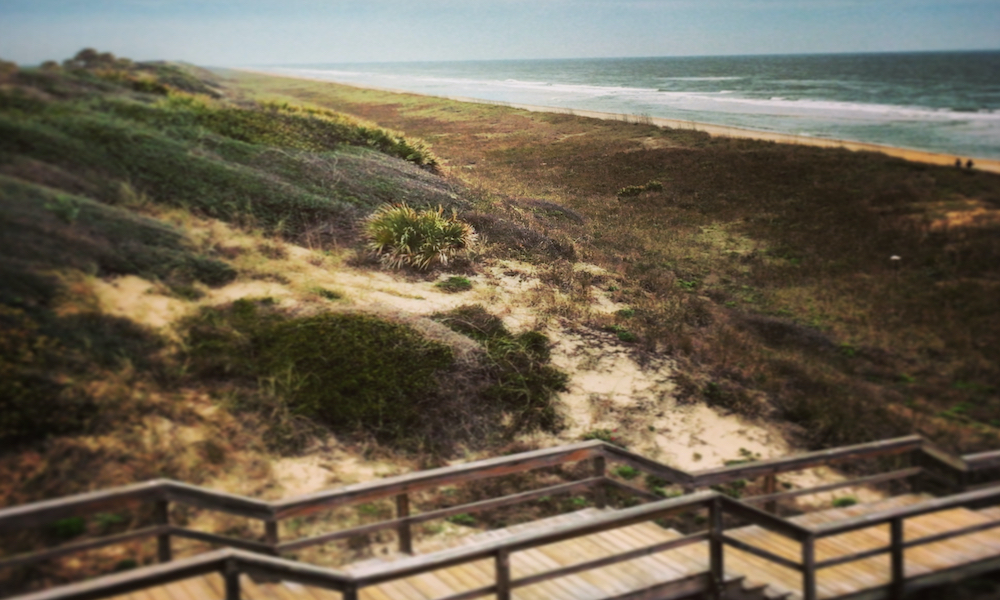 Guana's beach paths -- in Ponte Vedra Beach -- are stunning.
Ponte Vedra Beach is an upscale unincorporated seaside community north of Vilano Beach with approximately 30 miles of beaches. The area is best known for golf and its golf resorts such as Sawgrass, the PGA Tour, and the Players Championship. It's also home to The Plantation at Ponte Vedra Beach – an exclusive gated community featuring a golf course nestled in the natural environment.
Protecting Florida's coast, the northern part of the Guana Tolomato Matanzas National Research Reserve (GTMNERR) is located in Ponte Vedra Beach. Associated with the Tolomato and Guana River estuaries, featuring more than ten miles of trails through a variety of preserved habitats, Guana also features scenic boardwalks along A1A that serve as beach access points. The pristine and beautiful landscape provides recreational opportunities such as hiking, biking, horseback riding, fishing, kayaking, and beachcombing.
Northern St. Johns County
US1 North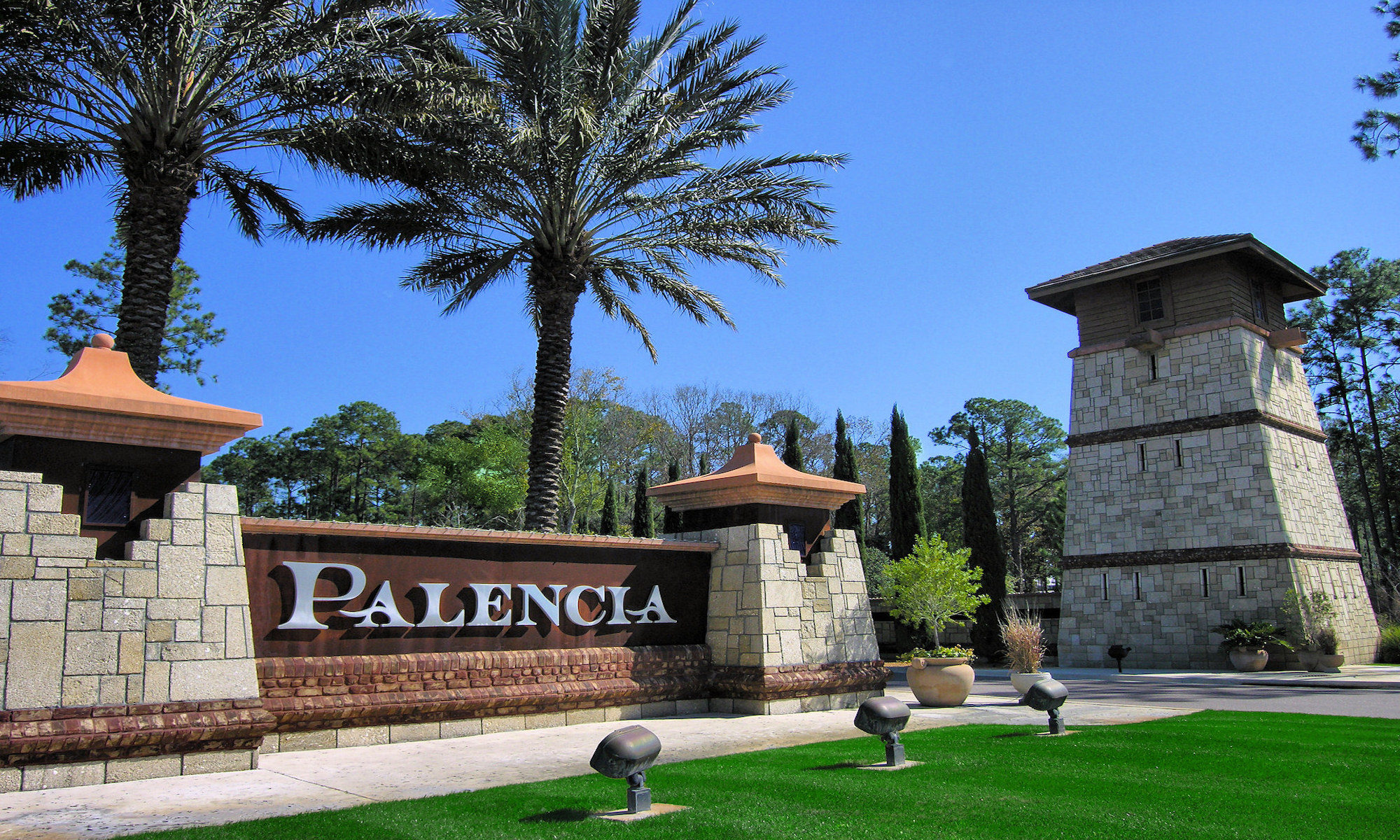 The Palencia community is a popular shopping and dining neighborhood along US 1 North.
The US1 North region is home to the St. Johns County offices, the Northeast Florida Regional Airport, and Fort Mose Historic Park. It's also home to several prominent housing communities such as Madeira, Palencia, Cordova Palms, and Las Calinas. As the region continues developing, more popular restaurants and stores are opening along this corridor, so residents and visitors have easy access to amenities.
Lesser populated recreation areas are also found here including Stokes Conservation Land Area which overlooks the GTM Reserve marsh. The conservation area features trails, picnic shelters, and an observation tower for photographers and bird watchers.
Ponte Vedra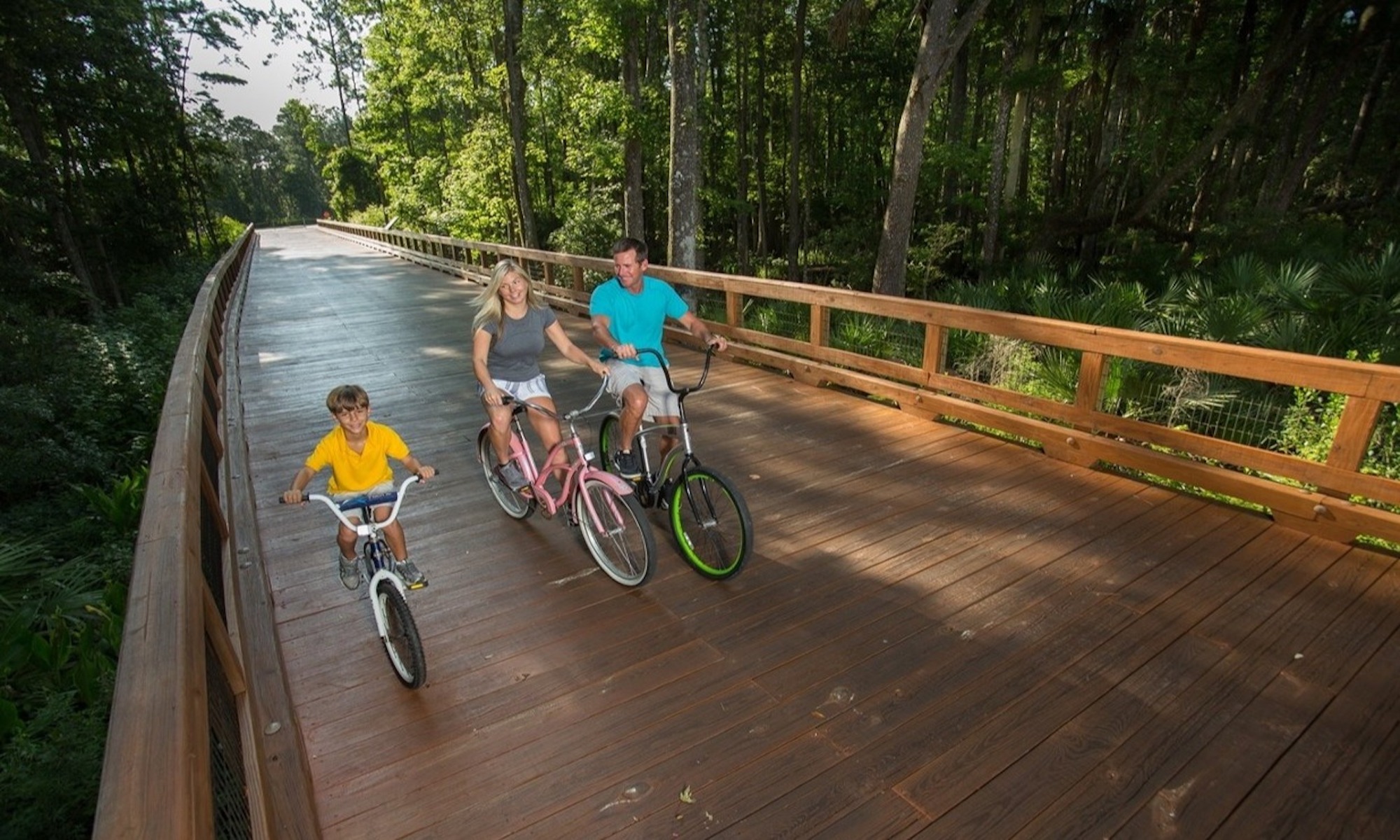 The Nocatee Trail offers bicycling fun for the whole family!
Ponte Vedra lies west of Ponte Vedra Beach, just across the Intracoastal Waterway. Like the beach community, Ponte Vedra is home to golf courses and upscale homes, as well as various stores and restaurants.
New communities are popping up in Ponte Vedra including, the award-winning Nocatee which is considered one of the best-selling masterplanned community in the United States. Each of the 12 unique Nocatee neighborhoods offer a variety of home builders, floor plans, styles, and price ranges for everyone from growing families to retirees. The Nocatee Town Center is the hub of activity, accessible from the neighborhood villages via walking, biking, driving, or electric vehicles. The area features an assortment of stores and restaurants, as well as the largest Publix and first Greenwise store in Northeast Florida. Incorporating elements of Smart Growth, Nocatee provides residents with employment opportunities, shopping, schools, recreation, amenities, and events. World-class amenities include green spaces, pools, a splash water park and zip line, a spray water park, and several dog parks. 
There are also several open areas and parks in the region. Walkers and hikers enjoy Nocatee Preserve and Nocatee Preserve Trail Head. For water lovers, there is canoeing and kayaking in Nocatee Preserve Landing and mountain bikers love the Nocatee Mountain Bike Trail.
Bartram & C.R. 210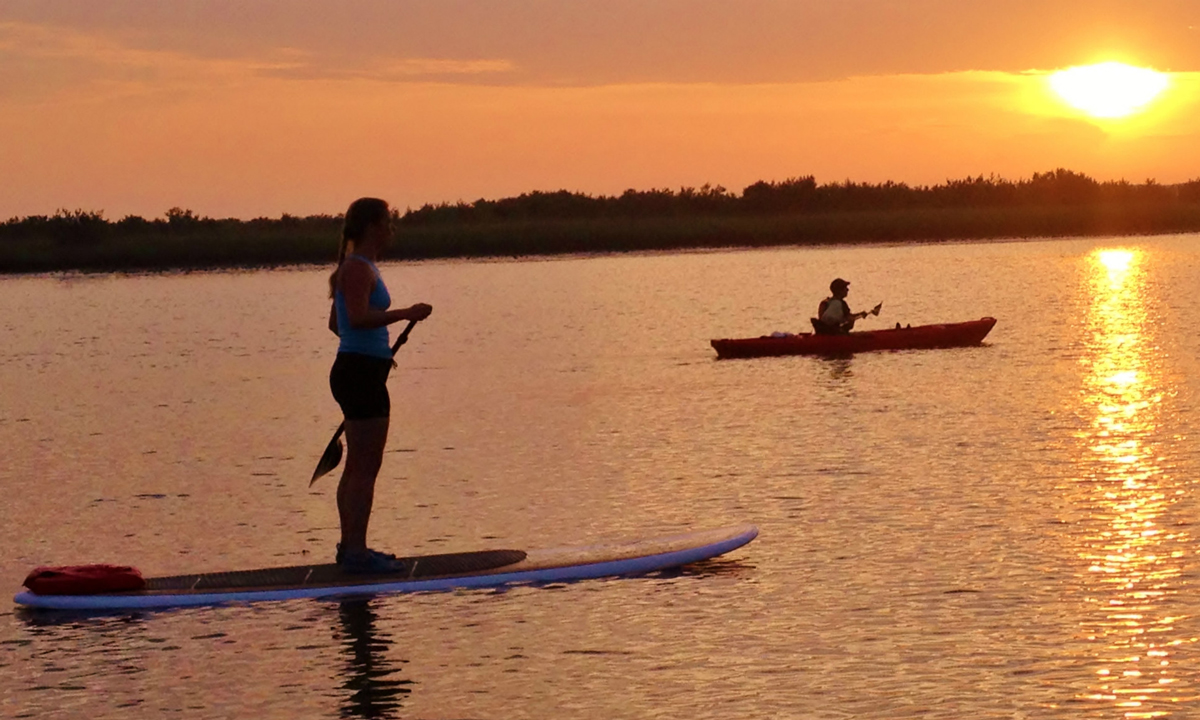 Trout Creek Park is a popular kayaking and SUPing destination - especially at sunset.
With a northern border to encompass the businesses and amenities along 210, Bartram extends from U.S. 1 on the east to the St. Johns River on the west. This region is named for William Bartram, artist, and naturalist in the 18th century whose book, Bartram's Travels, has become a classic. The William Bartram Scenic Highway, SR 13, runs north next to the St. Johns River, for 17 miles of ancient live oaks, scenic parks, and cultural destinations. 
Bartram is a growing region, sandwiched between Fruit Cove to the north and World Golf Area to the south. It features Beachwalk, a golf cart community, RiverTown, a riverside community, and Stillwater, a 55 and over community built on an 18-hole golf course.
For natural beauty, the area offers canoeing, kayaking, airboat rides, and many county parks the favorite being St. Johns County's Trout Creek Park just off S.R. 13. 
Fruit Cove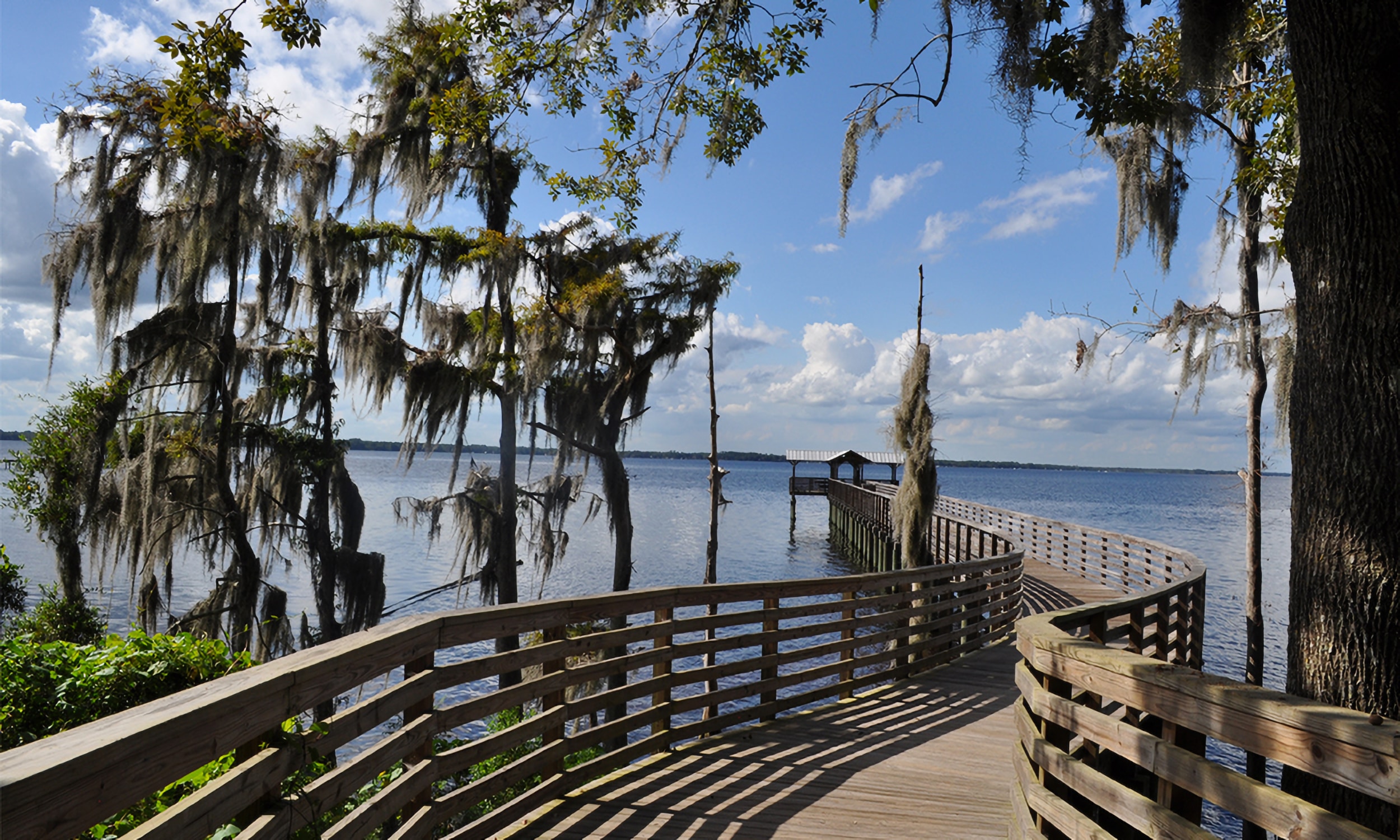 One of the best sunset views can be enjoyed from the Alpine Groves Park Pier.
Fruit Cove is a lovely little pocket where St. Johns County and Duval County meet. To the west, is the William Bartram Scenic Highway, S.R. 13, that runs along the St. Johns River. In addition to a beautiful drive, the WBSH takes motorists through the charming historic area of Switzerland and past several parks, including the Alpine Groves Park featuring a historic 19th-century citrus-growers homestead, and Riverfront Park, with a short trail and a long fishing pier that ends at a gazebo overlooking the St. Johns River. 
There's more development to the east, with the new Durbin Park, featuring housing, shopping, and the Cinemark Theatre. Between Alpine Groves Park and Durban Park is Oxford Estates – a gated family and dog-friendly community.
The West Side
West St. Augustine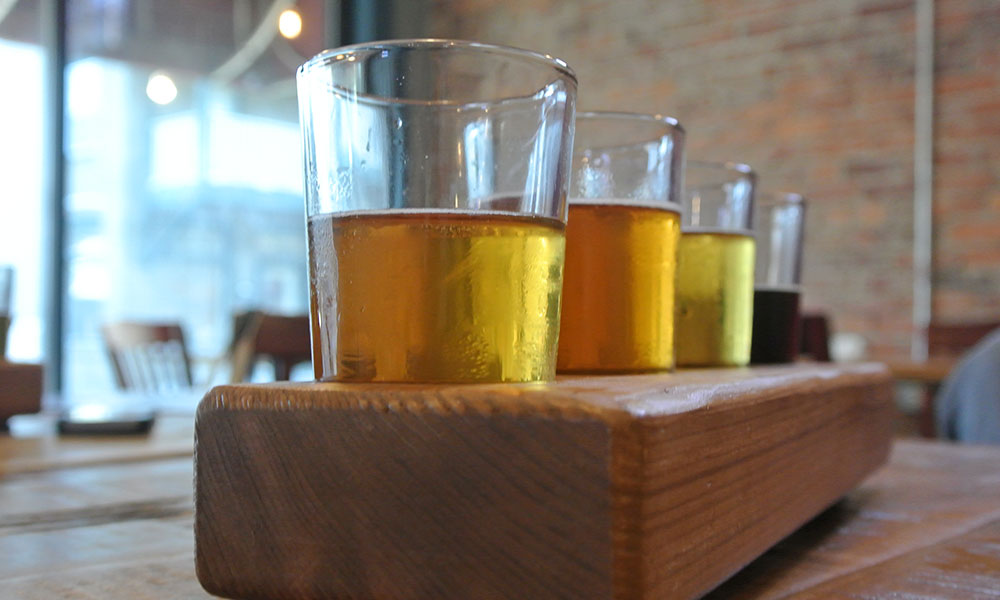 Bog Brewery is a favorite locals hangout along the the West King Street corridor.
This small, historic region stretches west from the Ponce de Leon business district to I-95. There are local service businesses and single-family homes, as well as brewpubs, local eateries, and specialty shops. West King Wednesdays have become a popular way locals celebrate the neighborhood.
The east/west "thoroughfare" of this district is County Road 214, which starts in historic downtown St. Augustine as King Street and becomes West King Street before simply being called C.R. 214. One of the preferred GPS routes from historic downtown to 95 is out West King Street to North Volusia Street to Four Points Road to arrive at S.R. 16 close to the I-95 entrance.
The area surrounding West King Street was originally called New Augustine, and most of the homes in this region were built before 1925. This area was once the home of the Florida Normal and Industrial Institute, which was dedicated to educating former slaves and their descendants. Visitors can still see a remnant of the college in the restored sculpture, the Abraham Lincoln Lewis Archway, at the corner of West King Street and Holmes Boulevard.
S.R. 16 to I95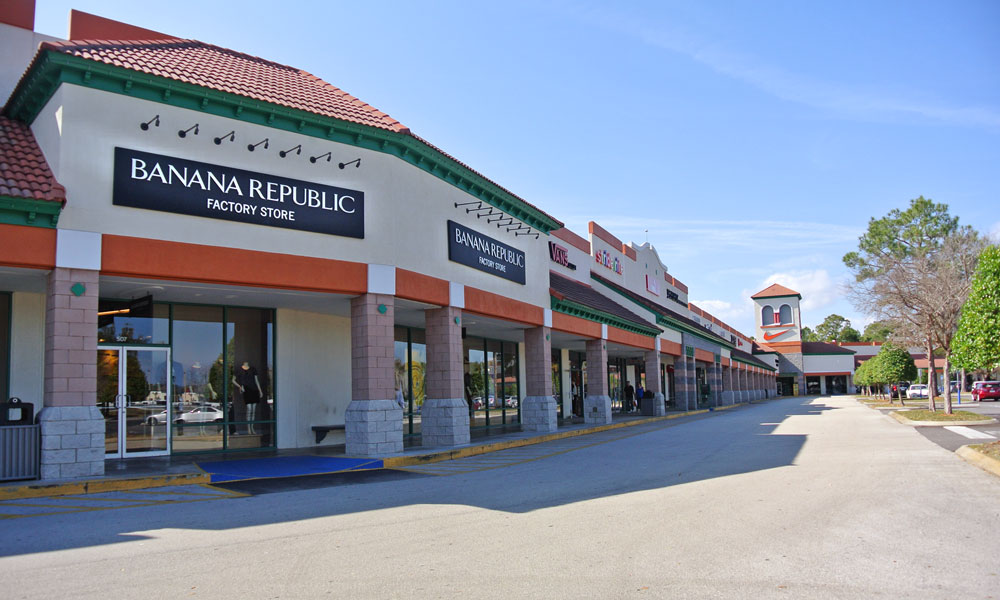 The St. Augustine Premium Outlets are great for back to school shopping.
Those driving to St. Augustine will find multiple exits from I-95. The one at State Road 16 offers shopping, dining, and a direct route Vilano Beach, and Anastasia Island via historic downtown.
The St. Augustine Premium Outlets are near 1-95 on S.R. 16, boasting designer brand names such as The Gap, Nike, Adidas, Michael Kors, American Eagle, Ann Taylor Factory Store, Banana Republic Factory, Brooks Brothers, Calvin Klein, Chico's, Eddie Bower Outlet, Greg Norman, Tommy Hilfiger, and more.
The region around the S.R. 16 corridor is residential with single family homes as well as apartments and condominiums.
World Golf Area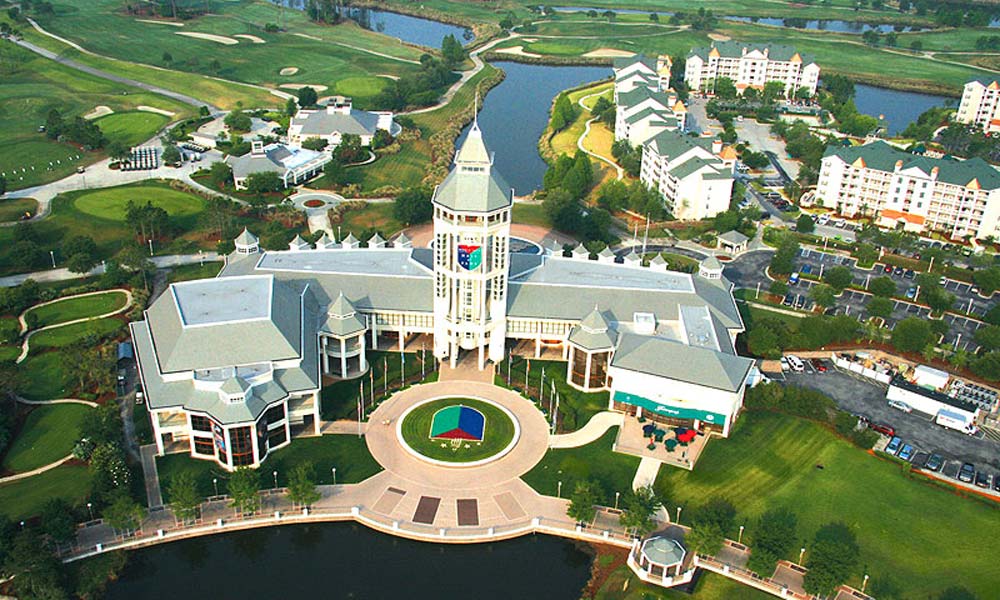 An aerial view of the famous World Golf Village.
The World Golf Area extends from the St. Johns River on the east and across 95. There are additional golf courses in or near the region. The area surrounding World Golf Village is a mixture of country homes and land, as well as new developments and golf courses.
In the 1990s, the PGA built World Golf Village and the World Golf Village Hall of Fame. There are two grand courses, the King & Bear and the Slammer Squire. The clubs also have a range of amenities for an all-encompassing venue, and the area has become attractive for both golf-loving tourists and new residents.
In addition to all things golf, this area has an IMAX theater, spas, restaurants, and venues for meetings or celebrations.
South St. Augustine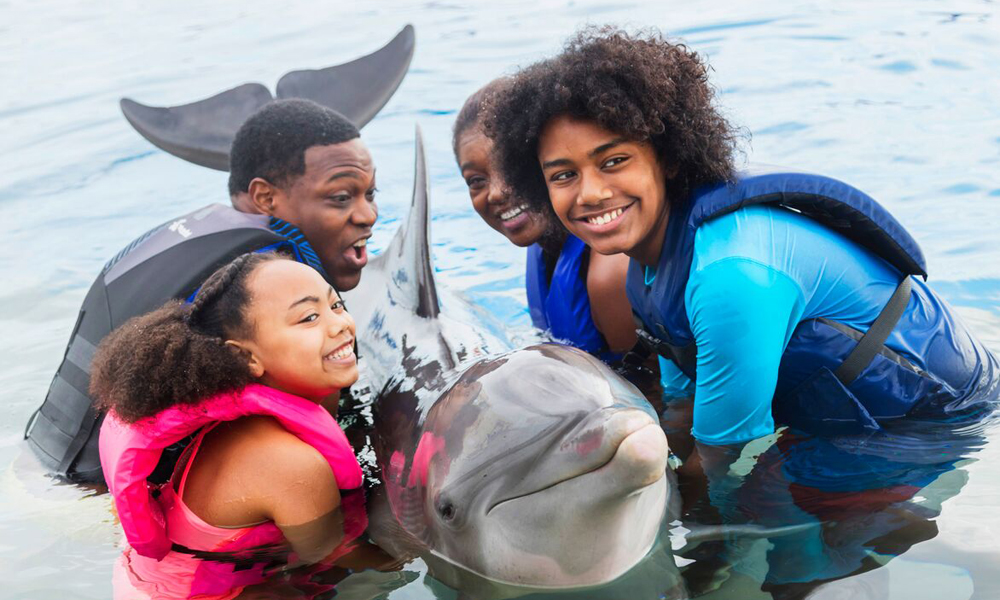 Marineland Dolphin Adventure has been welcoming guests to South St. Augustine since 1938.
The Matanzas State Forest and Faver-Dykes Recreation Area are in the southernmost area of the region, following U.S. 1 south to the county border. Both are prime hiking, picnicking, birding, canoeing, kayaking, fishing, and camping areas that can be enjoyed for day use or overnight. The Forest consists of more than 4,000 acres of wilderness area that is home to birds, gopher tortoises, and wild hogs – and a wood stork rookery.
Along the way, this section east and west of U.S. 1, contains many favorite local restaurants, shopping plazas, and service centers, as well as the Classic Car Museum of St. Augustine, the Shantytown Village artisan market, and the new Grand Ravine condominium community.
Across the river, visitors and locals enjoy Washington Oaks State Park with both a beach on the Atlantic side of A1A and gardens, walks, and a historic home on the Intracoastal Waterway side of A1A. Just north of Washington Oaks State Park is Marineland Dolphin Adventure which has been welcoming guests since 1938.
Southwest St. Johns County
Elkton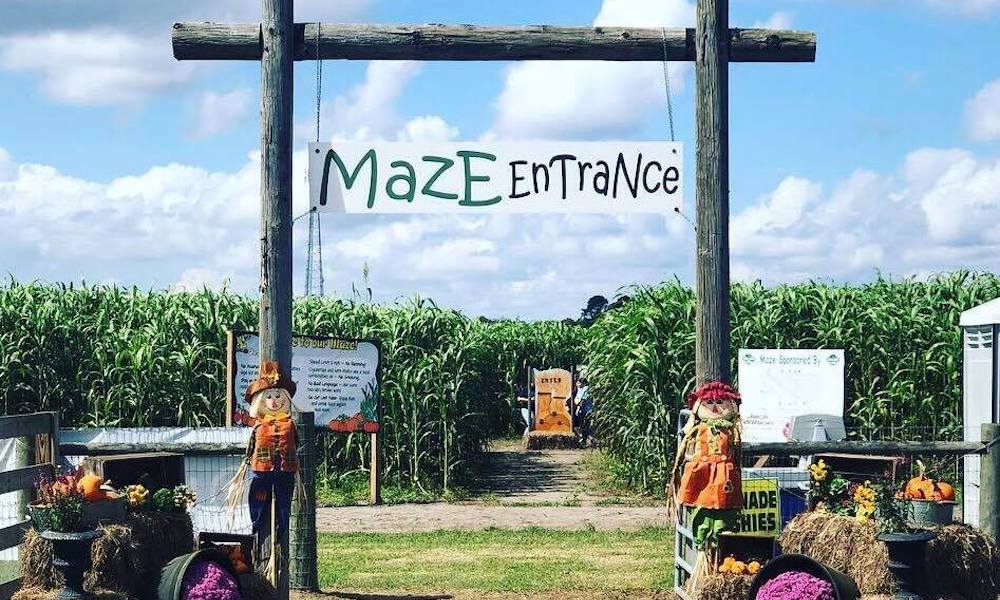 Sykes Family Farms is a popular place for families to enjoy - especially in the fall.
This region extends from I-95 to the St. Johns River. Many people gather in Elkton to enjoy the river or to attend a fair or other special event at the St. Johns County Fairgrounds. 
The majority of this area contains commercial vegetable farms, horse farms, and farm equipment companies. This is one of the two St. Johns County market baskets -- produce grown here can be found at the farmers markets and best restaurants in St. Augustine. There are also event venues, walking, biking and horse-back riding trails, and the larger and northern tract of the Deep Creek Conservation Area, a natural environment for hiking toward the St. Johns River.
Hastings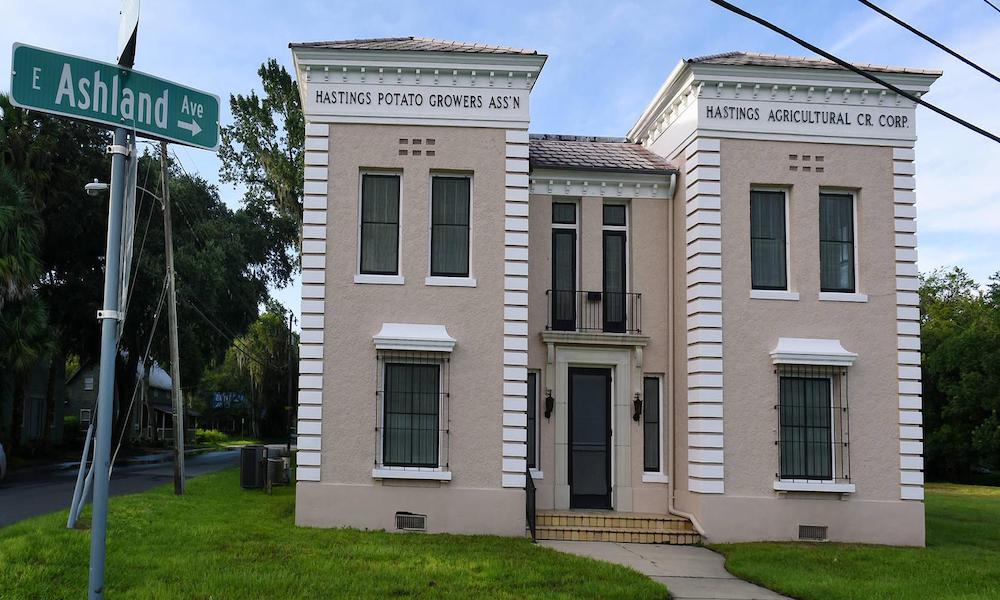 Historic Hastings is known as "The Potato Capital of Florida."
This small town, the second market basket, in the southwest corner of St. Johns County was founded in the late 19th Century. Hastings is named for Thomas Horace Hastings, Henry Flagler's cousin who suggested the town start a farm to provide fresh vegetables to Flagler's hotels. No longer an incorporated town, but still known as "The Potato Capital of Florida," this farming community produces cabbages, onions, eggplants, shrubs, and flowers — as well as potatoes. Hastings is soon to be the next "it" spot as St. Augustinians are revitalizing the downtown area to turn it into a great American Main Street with shops, businesses, restaurants, art galleries, and other gathering spots for the community.