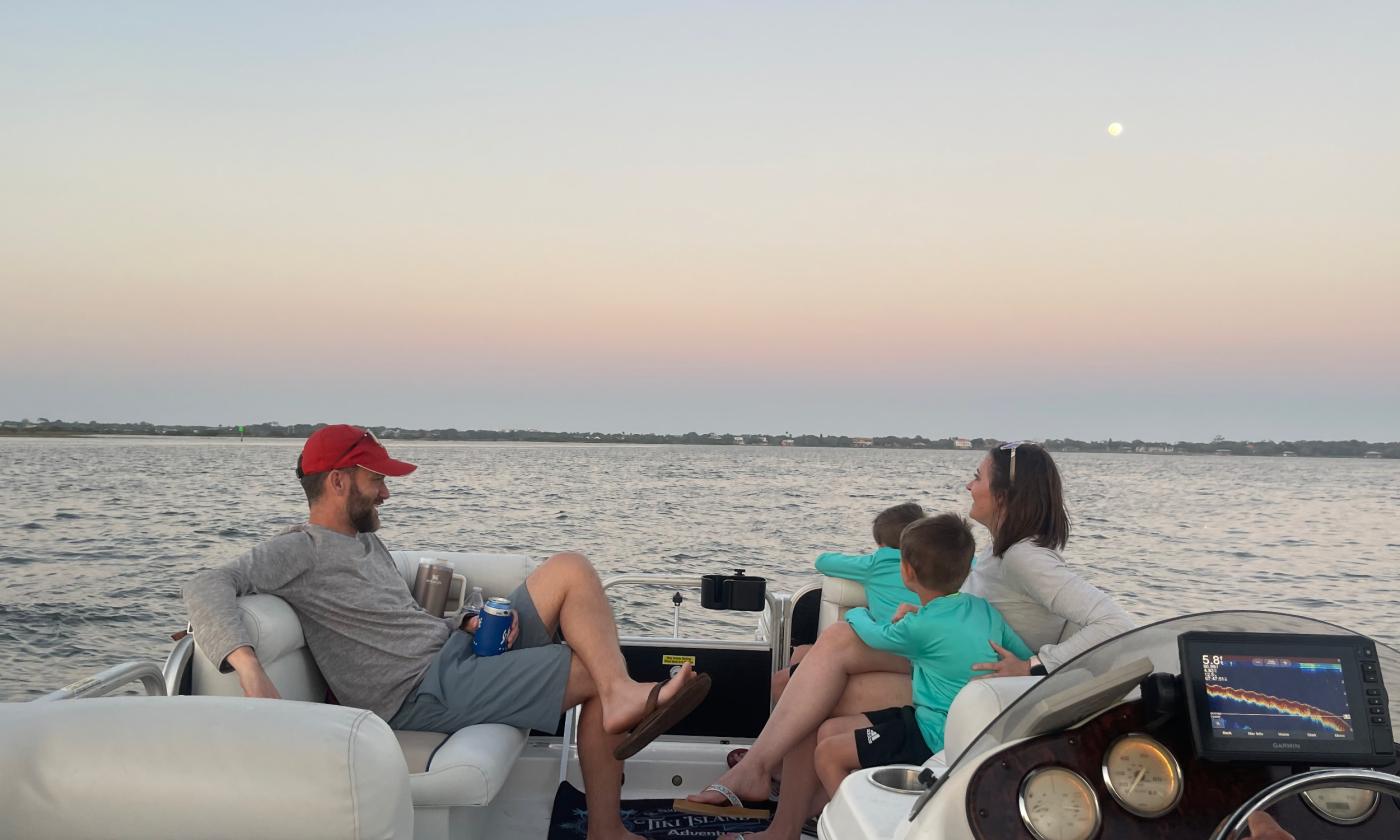 Tiki Island Adventures
Private, customizable boat charters from St. Augustine.
Tiki Island Adventures offers private boat charters on an open 22' fiberglass deck boat with an experienced captain at the helm. Guests aboard Tiki Island Charters can spend time on the water just as boat-owning locals do — sightseeing along the waterfront, moving slowly on quiet creeks, or stopping for a bit of fun on a family-friendly beach.
As a private charter boat, Tiki Island Adventures can create a trip around the client's needs. Guests may opt to board at Devil's Elbow Resort, south of St Augustine, or meet the boat at a public dock, such as the one at Vilano Beach. Both offer free parking, and each offers different opportunites for exploring the area.
Guests have enjoyed simply relaxing as the boat moves past downtown and along the more natural areas of Guana Tolomato, Matanzas Research Reserve to the north of town. Small bachelor or bachelorette parties, or three couples, have delighted in taking a "pub crawl" from dockside bar to dockside bar, ending at one of the area's on-the-water eateries. Families love heading to the Matanzas Inlet where the boat can be nosed ashore and everyone can get out for a swim and a walk along the beach. Tiki Island Adventures has also motored slowly along Pellicier Creek, stopping for an exploration of Mellon Island Park, a section of Faver-Dykes State Park.
This comfortable vessel with a bimini top (or two) takes up to 6 guests on private boat adventures along the rivers and creeks north and south of St. Augustine. Standard 3-hour private charters can be booked to start at 9:00 a.m. or 1:00 p.m. Two-hour private sunset cruises are also available starting at 5:30 p.m. These regular charters start and end at Devil's Elbow Resort, 7507 A1A St. Augustine.  Special charters, starting at different times, or from other locations, can be scheduled at an additional cost.
Those who wish to fish, can add the fishing package and the captain will make sure to cruise to favorite local fishing spots. Tiki Island Adventures also offers a bachelorette package, and will plan a small party on board for the bride and up to 5 attendants.
Tiki Island Adventures is a woman-owned business, operated by a local family. Captain Jen is an experienced boater and fully licensed, and the comfortable boat is equipped with all required safety gear, including madatory life jackets for children under 6. Guests are encouraged to bring sunscreen, hats, and light cover-ups, and may pack and bring snacks and beverages aboard. The boat will have a cooler with ice and water prepared for the day.