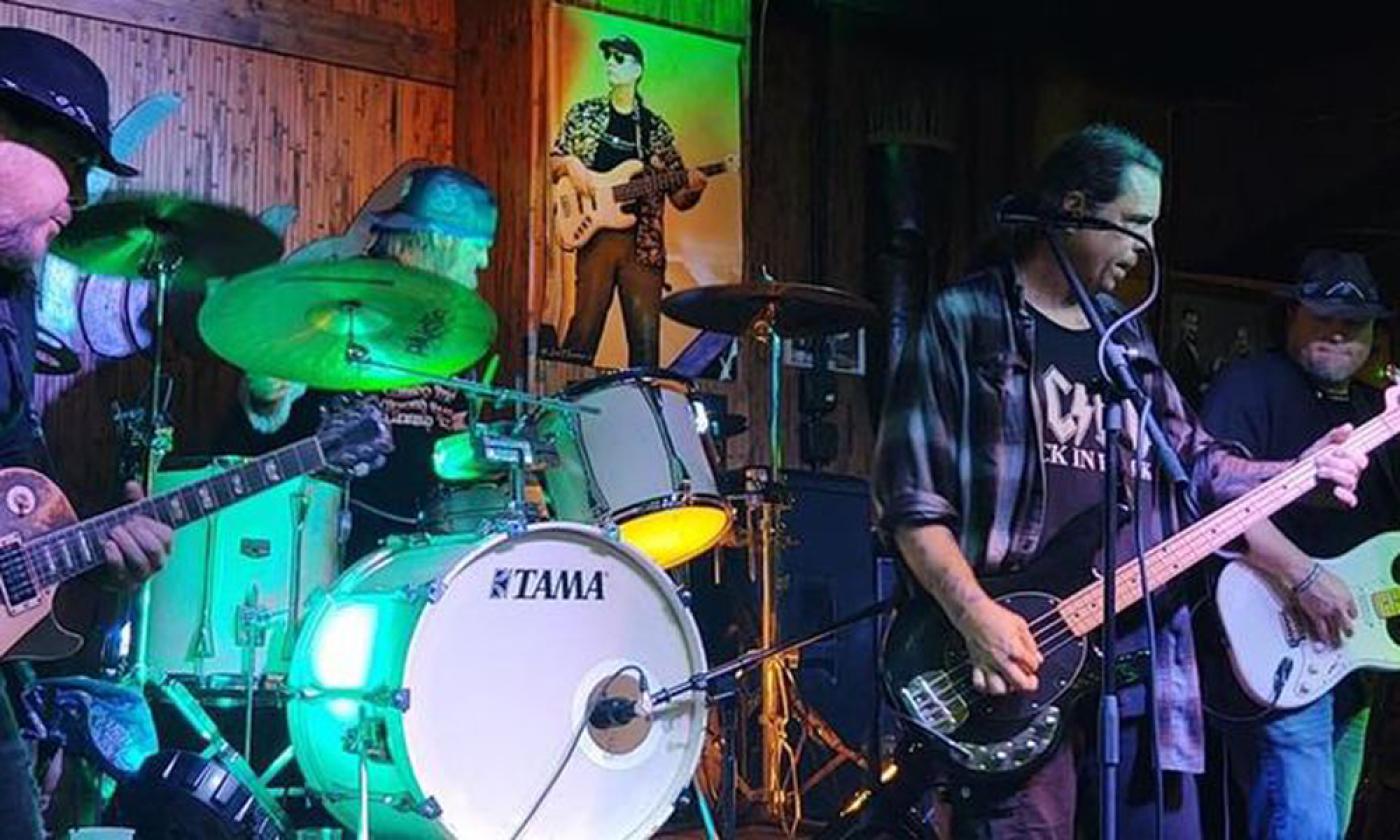 Live Stream
Guitarist and vocalist Mike Johnson leads this cover rock band — a St. Augustine favorite.
Live Stream, led by Mike Johnson, mainly performs covers of iconic rock and roll songs — to the delight of St. Augustine audiences.
These four musicians — Mike on guitars and vocals, Brad Burns on Guitar and vocals, , Billy Annin on drums, and Al Kraiker on bass and vocals — are regular performers in St. Augustine, most often at the Tradewinds Lounge.
With a hefty dose of southern rock, blues rock, alternative country, contemporary country, and rock and roll, this band packs a heavy punch that draws an expansive audience demographic across the board. With a genuine southern upbringing, the group is influenced heavily by prominent rock bands of the south including Lynyrd Skynyrd, Molly Hatchet, and The Marshall Tucker band. The trio has a vast spectrum of cover songs, playing everything from The Allman Brothers to the more contemporary Kenny Chesney. Needless to say, these boys have a firm grasp on their musical roots and bring a sense of reverence to the genres by which they've been so heavily influenced.
Lead vocalist and acoustic guitarist Mike Johnson carries the group with his smoky and sultry vocal performances that include complicated melodic runs delved out with extreme precision and outward emotion. Drummer Billy Annin, influenced by rhythm sections of bands such as The Tubes, Toto, and Stevie Wonder, has built a reputation of being a skillful and accomplished double-bass pedal player in the music scene.  New to the group, Al Kraken on vocals and bass, brings a gritty, blues sound to the mix — and a bit of fun to the stage. Front man Mike Johnson also writes and composes original songs for the band that are sprinkled into their live performances like little strands of pearls. Mike's original single, "Full Time Habit", is an alternative country gem, displaying his crafty songwriting capabilities and turning the spotlight on the ensemble's organic musical intuition and camaraderie.
They never fail to get the audience moving and singing along to songs that have endured for decades, such The Summer of '69. Each of these accomplished musicians simply enjoys playing rock and roll, and playing it very well, indeed, making every night one of the best days of our lives.