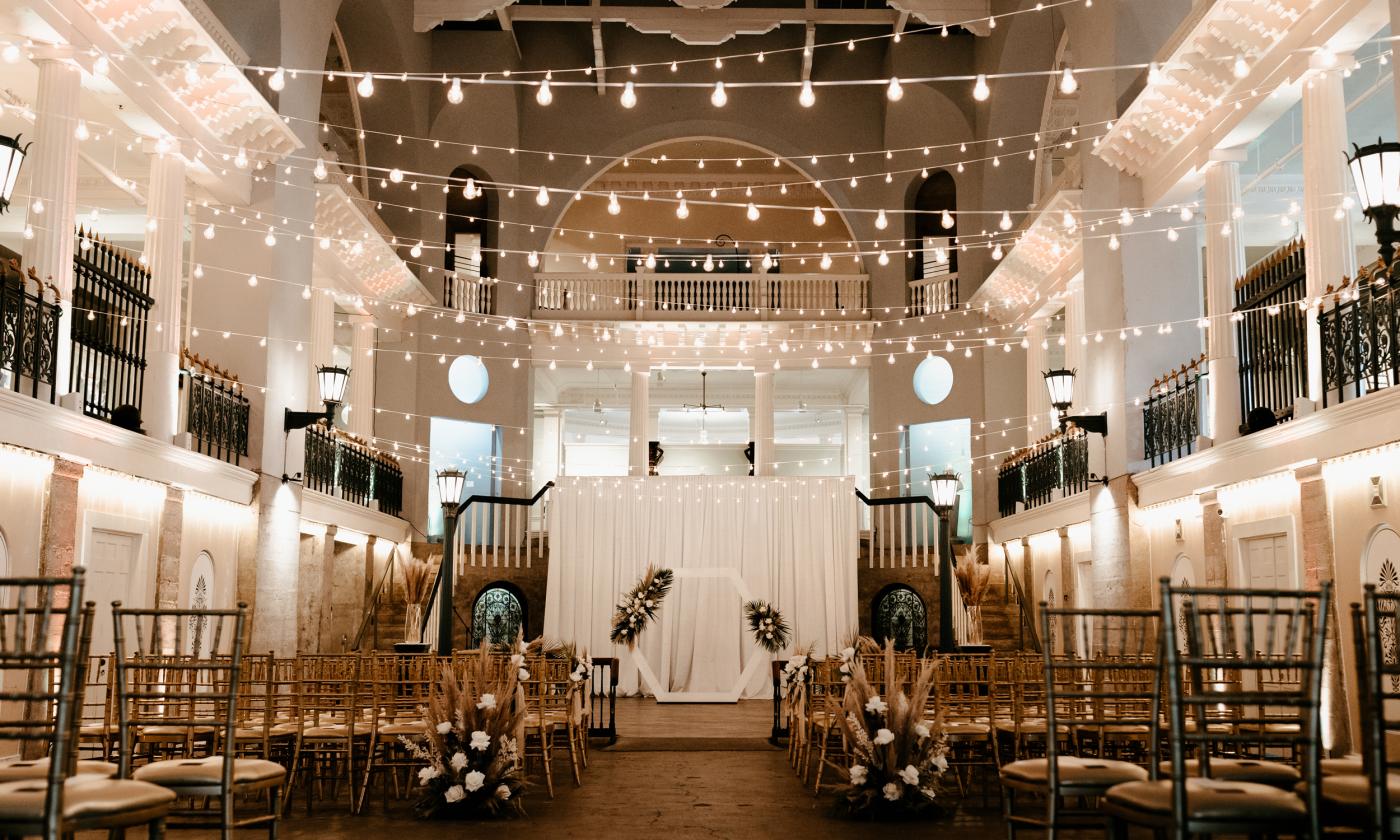 Couples can celebrate their wedding amongst Gilded Age glamour in The Lightner Museum.
Formerly the Hotel Alcazar and a magnificent resort and casino, the property was the winter home for some of St. Augustine's tourists in the late 1800s. Now, the Lightner Museum houses a diverse and extraordinary collection and presents unique opportunities for weddings and receptions.
As a resort, the Hotel Alcazar boasted the world's largest indoor pool, a three-story space with wide curving staircases to the water, dramatic arches, and a skylight above. No longer a pool, this extravagant space on the first floor is a wonderful location for weddings and elegant events, while the second-story mezzanine offers the perfect setting for the reception dinner, providing an interesting perspective for wedding guests. The Lightner Museum offers several other interior and exterior locations, some that are suitable for holding a cocktail hour and others that provide a setting for photos.
The Lightner Museum can accommodate intimate wedding ceremonies and receptions for 40 guests, as well as grand ceremonies and receptions for up to 225 guests. The Intimate Wedding Package is available for weddings of 40 to 100 guests, and offers an all-inclusive option to simplify wedding planning. The Custom Wedding Package can accommodate up to 225 guests, and allows couples to customize details to create their ideal wedding.
The Lightner Museum has partnered with The Treasury Venue Collection, which also manages The Treasury on the Plaza, offering weddings and events. For more information, call 904-217-0077 or visit Weddings at Lightner Museum.
Capacity: Up to 225 guests, seated or standing.
Cover Photo: Portraits by Paige