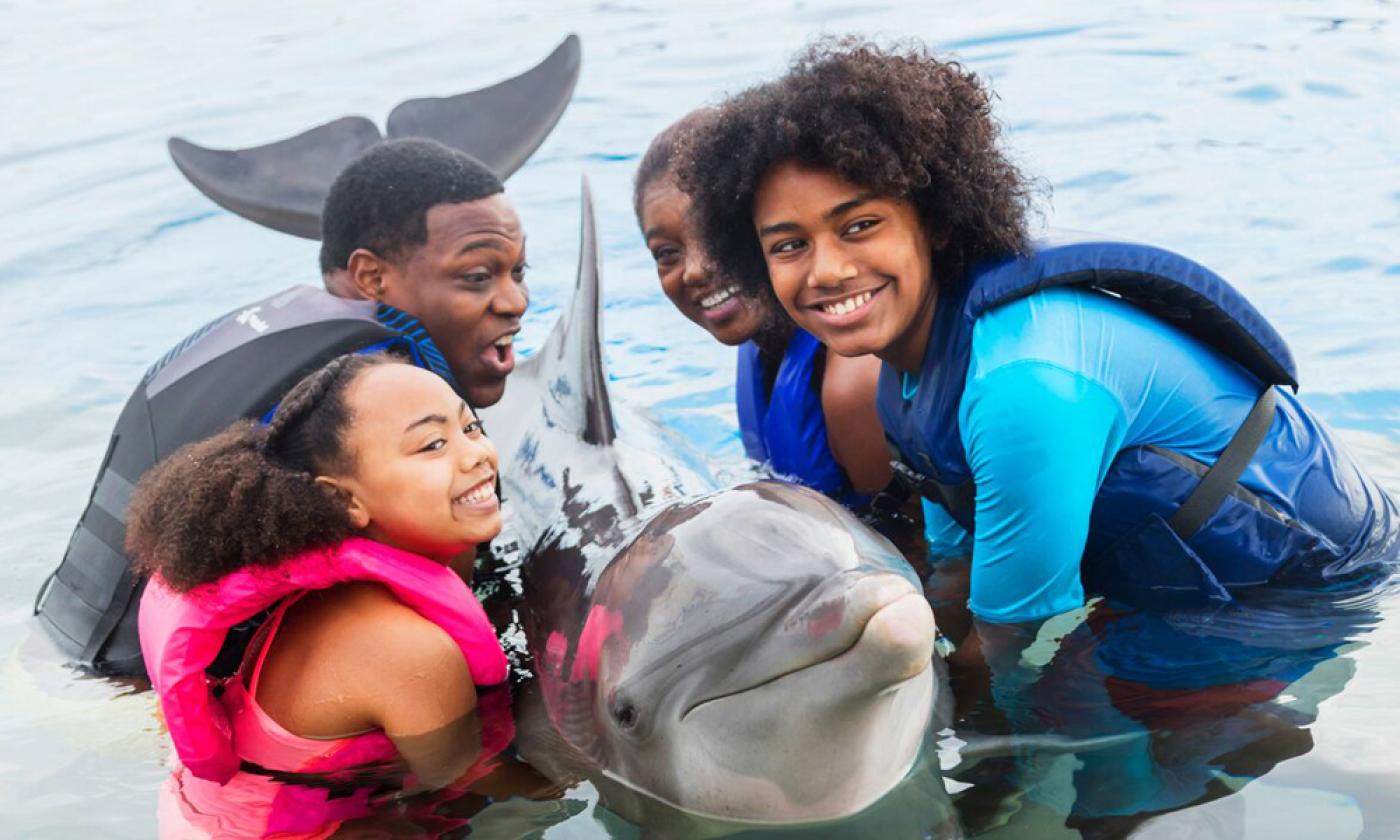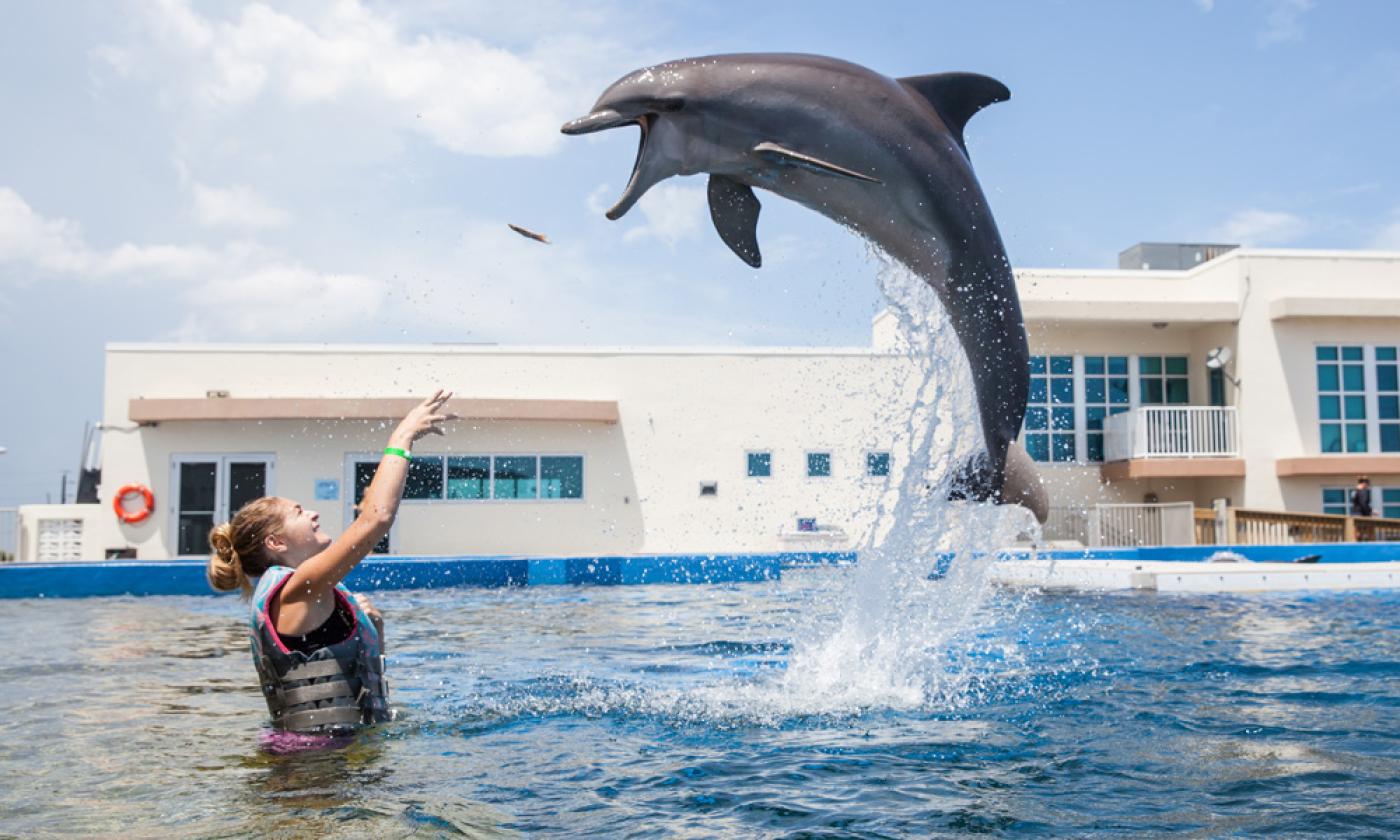 Currently closed.
Mon - Sun:
8:30 am - 3:00 pm
The "World's First Oceanarium," Marineland opened in 1938 as "Marine Studios." Now a dolphin conservation center, Marineland Dolphin Adventure offers several ways to get close to and to interact with Atlantic bottlenose dolphins, as well as to learn about and better understand sharks, fish, and sea turtles. Marinleand's exhibits and experiences are designed to help guests become inspired by and connected to the natural world and creatures of the sea.
Marineland is located south of St. Augustine on scenic A1A, at the southern end of St. Johns County. General admission includes access to the Sea to Shore Aquarium, which showcases native and tropical fish species; Ambassador Park, which houses sharks, tortoises, and sea turtles; and Whitney Park, which offers dolphin views from above and under the water.
Throughout the day, Marineland dolphins and trainers conduct educational programs about sharks, dolphins, turtles, and the creatures and habitats that are found from sea to shore.
Marineland offers various interactive dolphin programs with options for those that take place in or out of the water, for guests of all ages. These programs provide visitors with a better understanding of world-class animal training, welfare, and husbandry. Marineland has earned accreditation with the Alliance of Marine Mammal Parks and Aquariums, the Association of Zoos and Aquariums, and American Humane's Conservation program.
To learn more about Marineland, including description, pricing, and presentation times for the dolphin swim program, go here.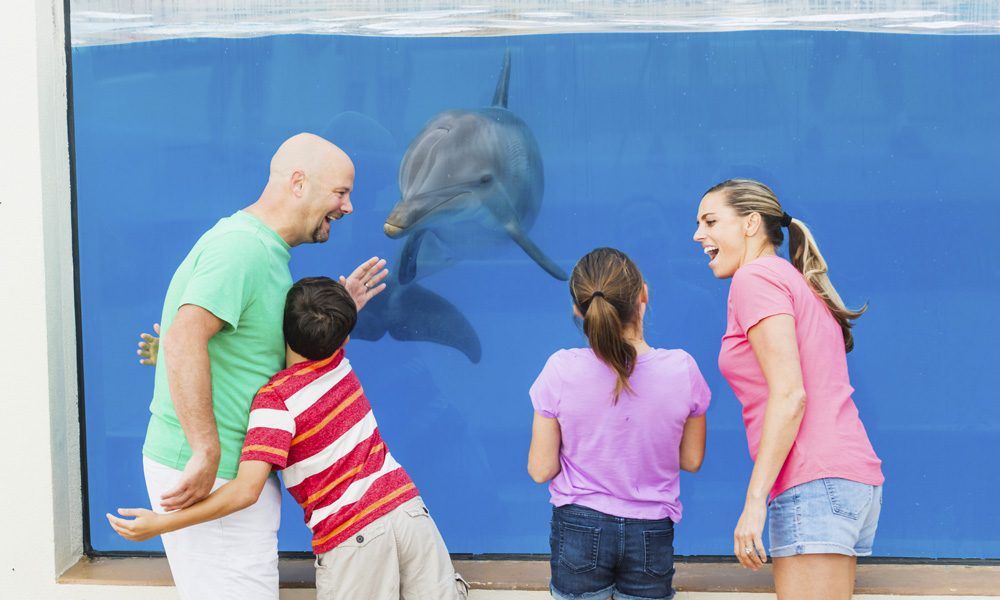 Marineland Packages
All packages includes access to the various habitats and daily presentations and tours.
Royal Swim
The Royal Swim at Marineland Dolphin Adventure gives visitors the chance to swim with dolphins and interact with their behaviors — including having themselves raised above the water's surface with a foot push.
Swim Adventure
Visitors can touch and interact with dolphins in both shallow and deep water during this 30-minute encounter. Height restrictions apply. Participants must be at least 48″ tall to participate in the Swim Adventure. Children between 48″- 54″ must be accompanied by a paying participant over the age of 18.
Young children ages three to four may accompany adults as non-paying participants in the Swim Adventure. As long as they fit in a life jacket supplied by Marineland Dolphin Adventure and are held throughout the program, they will not require a Swim Adventure ticket. Interactions may be limited for the young child.
Dolphin Encounter
Vacationers can touch and interact with bottlenose dolphins in Marineland's 30-minute shallow water experience. Height restrictions apply. Participants under 48″ must be accompanied by a paying participant over the age of 18.
Young children ages three to four may accompany adults as non-paying participants in the Dolphin Encounter as long as they fit in a life jacket supplied by Marineland Dolphin Adventure and are held throughout the program.
Trainer for a Day
This program teaches visitors what it's like to be a dolphin trainer. Teens and adults meet Marineland's trainers and learn all about training dolphins. It is a four-hour opportunity that includes preparing meals and feeding the animals, attending an animal training lecture, and getting close to these beautiful creatures.
Dolphin Designs
Each participant in the Dolphin Design program creates a work of art with a dolphin artist. This activity allows interaction with Marineland's dolphins, resulting in a unique and unforgettable piece of art. The Dolphin Design program is suitable for visitors ages five and up.
Meet and Greet
This 15-minute meet and greet gives visitors at Marineland the opportunity to feed and interact with bottlenose dolphins poolside. Visitors can play ball with their new dolphin friends as part of this experience. Meet and Greet is suitable for visitors of all ages, however, children under five will need to be held by an adult.
Tortoise Time
Tortoise Time is a 25-minute marine life encounter designed for guests ages five and older so they can connect with Marineland's red-footed tortoises and participate in creating a tortoise painting, which they can take home with them. 
Aquarist for a Day
This immersive experience (approximately three hours) is a unique opportunity to see what it's like to be an Aquarist. During this program, guests will assist with feedings, cleaning aquariums, and learning about the active marine life at Marineland. Guests can expect to see eels, rays, and octopuses, along with a variety of different fish.
For information about programs, tickets, and tours go to Marineland.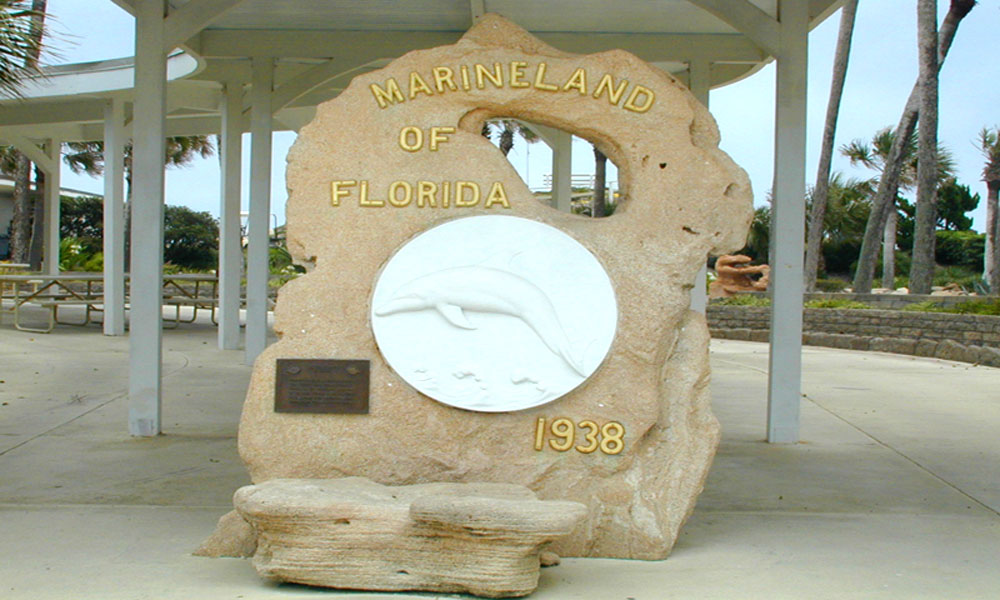 History
The idea for Marineland, the World's First Oceanarium, came from W. Douglas Burden, Cornelius Vanderbilt Whitney, Sherman Pratt, and Ilya Tolstoy. They imagined a place where sea creatures could live and thrive in a simulated ocean environment. Fred Henderich and Company designed the premises of Marineland and was also responsible for the Orange Street School, the Y.M.C.A. building, Plaza Bandstand, the original Flagler Hospital, Florida Normal College, Excelsior School, and the Visitor's Center. The ocean park was constructed by Arthur Franklin Perry Co. from the Jacksonville area. "Marine Studios" opened on June 23, 1938, with its biggest attraction being the bottlenose dolphin. More than 20,000 visitors attended the opening. Originally, Marineland consisted of a Circular Oceanarium that held 400,000 gallons of water and a Rectangular Oceanarium that held 450,000 gallons of water. But several outside amenities began to spring up around it, including the Marineland Motel, the Dolphin Restaurant, the Moby Dick Lounge, and Marineland Marina.
Marineland consists of 125 acres between the Atlantic Ocean and the Intracoastal Waterway. It was made a sophisticated destination due to its association with Ilya Tolstoy, who was the grandson of Leo Tolstoy, and even famous writers such as Ernest Hemingway and Marjorie Kinnan Rawlings graced Moby Dick's Bar with their presence. The site was a filming location for many movies, including Creature from the Black Lagoon, Revenge of the Creature, Sea Hunt, and Benji Takes a Dive. Benji was the first dog to scuba dive, and he did so at Marineland. More than 900,000 visitors came each year to Marineland through the 1950s, 1960s, and 1970s to see their spectacular dolphin show.
Marineland has pioneered studies in marine science, animal training, water chemistry, and more throughout the years. Marineland was also the first to successfully breed and train Atlantic bottlenose dolphins, and it was the early scientists there who discovered dolphin echolocation, social behavior, and communication. Marineland served as the model by which other aquariums, oceanariums, and marine parks based their own development and design. Cornelius Vanderbilt Whitney, who was the major stockholder of the private company, opted to sell the marine park in the mid-1980s. In 2004, following a series of hurricanes, Marineland retired most of the original, older structures and exhibits and began construction on a new, updated facility focusing on education and intimate animal-human interactions.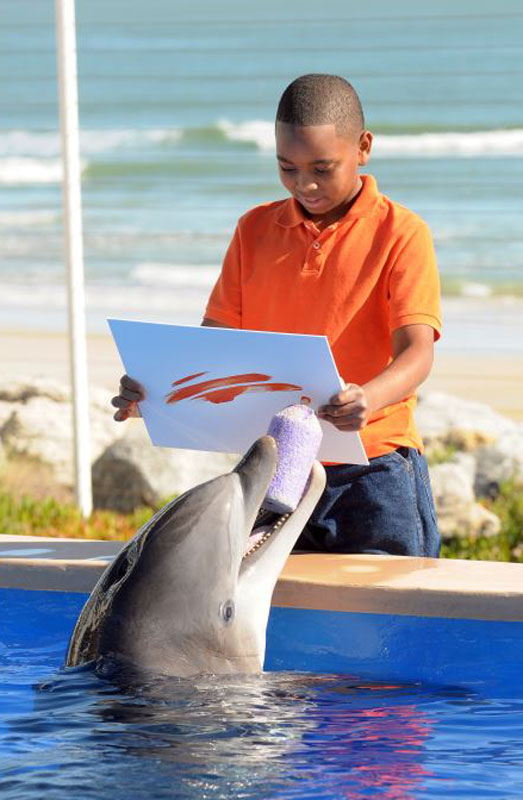 In 2006, Marineland was reborn as a modern 1.3 million gallon facility designed with the behavioral needs of the animal, the viewing capabilities of the scientist, logistical needs of the trainer, and the "edutainment" needs of guests in mind. Three bottlenose dolphins were born at the newly constructed Dolphin Conservation Center in July 2008. Marineland has operated as a subsidiary of the Georgia Aquarium since January 2011. Gone are the days of circus routines and jumping through hoops while loud music and narration set the tone. Now the guests join the animals in their habitats and make the physical and emotional connection that inevitably leads to a true understanding of why there is a need to protect these incredible animals and their marine environment. The Marineland of Florida property was added to the National Register of Historic Places in 1986.
Marineland is located on A1A, about 18 miles south of St. Augustine.
Currently closed.
Mon - Sun:
8:30 am - 3:00 pm
Admission | Ticket Prices
| General Admission Standing Room | |
| --- | --- |
| Adults (12 - 54) | $23.99 |
| Seniors (Ages 55+) | $22.99 |
| Children (5-11) | $16.99 |
| Children (4 and under) | FREE |
Have a Question?