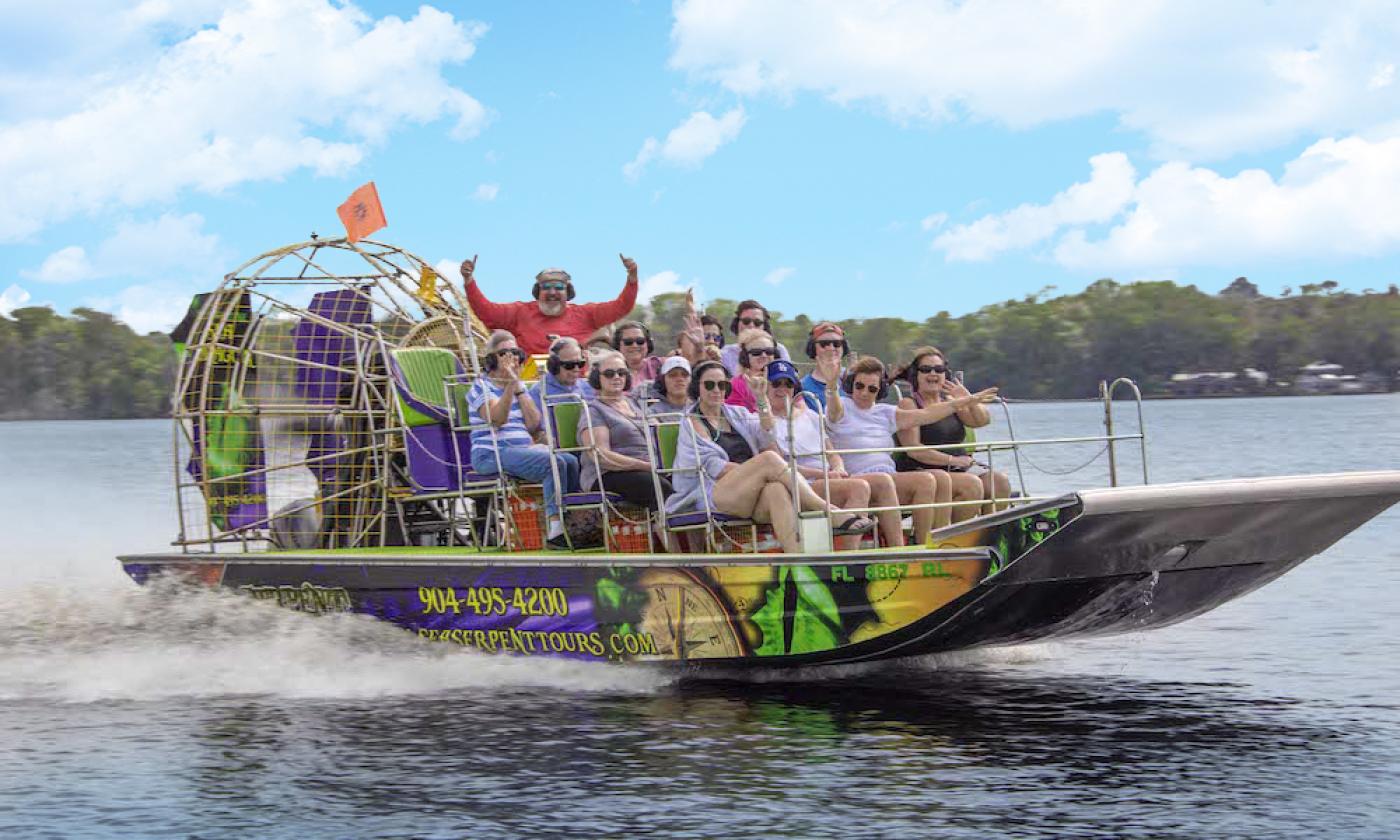 Currently closed.
Thu - Sat:
9:00 am - 5:00 pm
Sea Serpent Tours, located west of St. Augustine on Trout Creek, provides exciting airboat adventures along the St. John River and its tributaries.
This local, family-owned business invites visitors to take their airboat tours that explore the natural environment west of St. Augustine and to learn about the St. Johns River and the smaller, fresh-water rivers and creeks that feed the historically significant St. Johns.
There are two airboats — one carries 6 passengers, the other 15. Captain Mike, the owner of Sea Serpent Tours, captains the 15-passenger,Sea Dragon. Capt. Mike is a Navy Veteran and a USCG Certified Master Captain. His daughter, Captain Becca, is a pilot and adventurer who skippers the 6-passenger Sea Serpent and has a USCG license for running small passenger vessels.
The Freshwater Safari airboat ride takes an hour and allows passengers to see many of the local denizens of the creeks, including alligators, turtles, snakes, manatees bald eagles, herons, and egrets. The trip will also include the vegetation that provides cover and food to these animals, including Cyprus trees, water lilies, and more.
The St. Johns River waterways in this region have long stretches of natural lands, with foliage coming down to the river and creek banks. These airboat rides give visitors a chance to experience all that the river offers while learning about some of the area's local history. Most trips allow passengers to see local wildlife and all trips provide the opportunity to learn more about the area's history during an exciting ninety-minute airboat adventure.
In addition to the airboat tours, Sea Serpent Tours rents, kayaks, hydro-bikes, paddleboards, and pontoon boats and offers guided tours for all of them as well. The Pontoon boat tour takes place early evening and features the setting sun, as well as the natural area on either the St. Johns River or the Guana River Basin. This 1.5-hour tour also offers the opportunity to see the natural habitats in these rivers.
Gift Certificates are available.
Sea Serpent Tours is located at Trout Creek Fish Camp.
Currently closed.
Thu - Sat:
9:00 am - 5:00 pm
Have a Question?