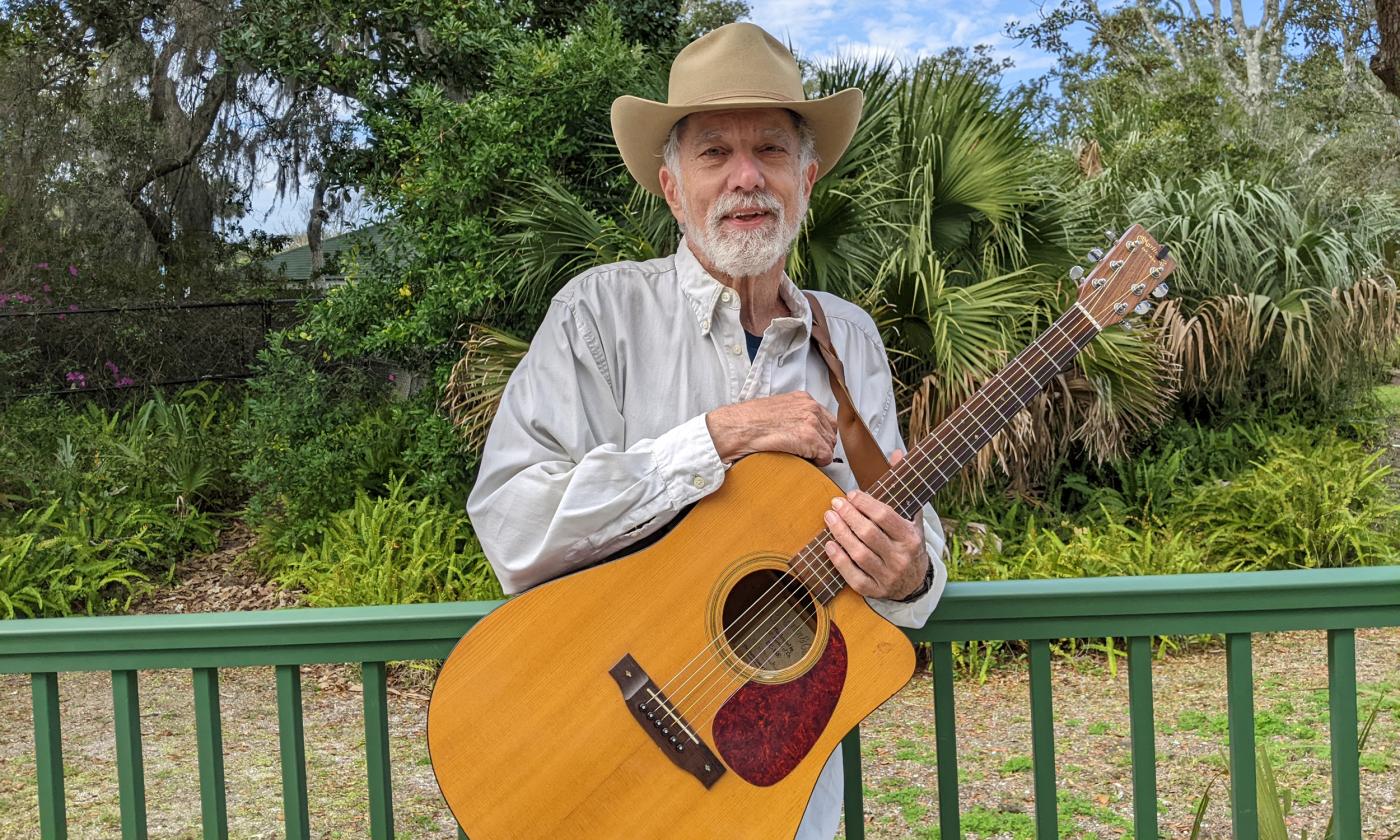 Bert Hodge
Singer/Songwriter Bert Hodge has led a number of successful St. Augustine bands and rarely performs as a solo act.
Bert Hodge, iconic singer/songwriter, rarely performs as a solo act. Known as "Lonesome Bert," he led the trio, Lonesome Bert and the Skinny Lizards for years, singing at various clubs and events throughout St. Augustine.
On Saturday mornings, those who faithfully stop by the Front Porch Stage at the Amphitheater Farmers Market, will recognize Bert as the de facto leader of the pick-up (or pop-up) band, the Free Rangers.
In 2020, Bert joined with fellow singer/songwriter musicians Don Cooper and Chris Clark to form the Thick and Thin String Band. We have not heard what prompted the name, though all are tall and slender and all play stringed instruments. They can frequently be heard at festivals and clubs around the area.
Though Bert is a prolific songwriter and performer and a natural leader of men, women, and (gasp!) musicians, he keeps a low profile. At some point in his youth, he worked on the Rodman Dam. ("I worked all summer on the Rodman Dam. The job's not done but I damn sure am."  Rodman Dam by Bert Hodge.) After college, Bert joined the Navy and eventually flew P-3's, and after that he worked a day job and then he eventually retired.
Along the way between birth and now, Bert learned to play music and write songs and settled in St. Augustine. Here, he has become a well-known promoter of other talented musicians, and a giver of his time and talents to various organizations. Most of all, Bert is known as a witty and intelligent songwriter of the folk/Americana style. Many of his songs are about people he has met — "Rick's Bait and Tackle and Fine Dining" — while many others are protest and songs — "Giving up War," "Devil's Lament," "Rodman Dam," and "Thrown Away Island."
Bert's voice is clear and true and his acoustic picking style keeps up with the unusually fast tempo and tricky, descriptive, often ironic lyrics of his many songs.