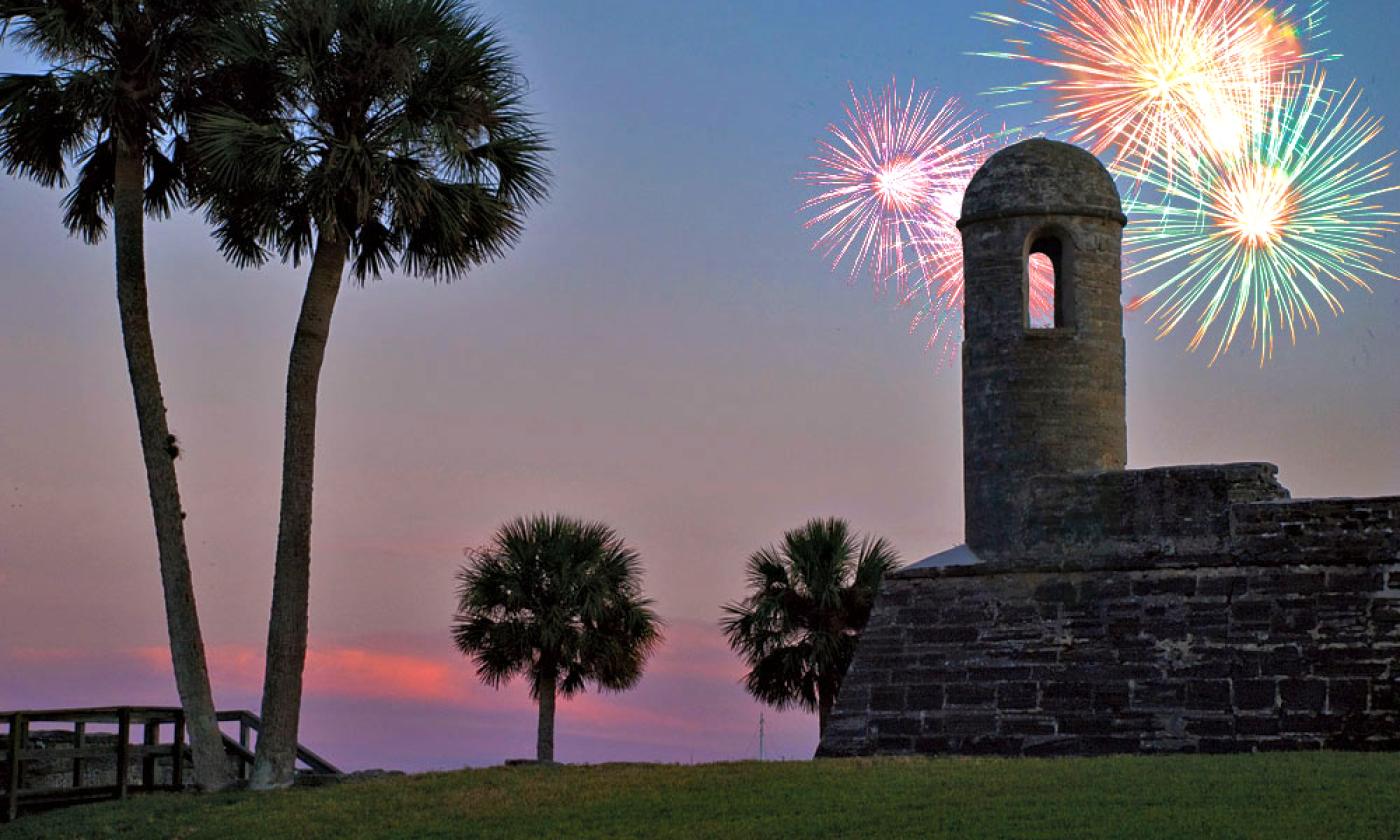 Tuesday, July 4, 2023 | 6 - 10 p.m.
On Tuesday, July 4, 2023, St. Augustine celebrates America's birth at the annual St. Augustine's Fourth of July celebration, "Fireworks Over the Matanzas" from 6:00 to 10:00 p.m.
The event takes place in the heart of St. Augustine's Historic District, beginning with a live music concert in the Plaza de la Constitución and ends with a spectacular fireworks display over the historic bayfront and the Castillo de San Marcos. "Fireworks Over the Matanzas" is one of the biggest and best fireworks displays on the East Coast, featuring 5,000 individual shells exploding as high as 2,000 feet and as low as 100 feet.
Starting at 6 p.m., the popular local band, The All-Star Orchestra, performs a two-hour show of big band and swing music along with patriotic favorites. The concert is free and open to the public, and everyone is encouraged to bring lawn chairs or blankets for seating.
The fireworks begin at 9:30 p.m.
St. Augustine has been putting on a spectacular fireworks show on July 4th for the last two decades. Lighting up the sky over the waters of Matanzas Bay, with the Castillo de San Marcos and the Bridge of Lions in the foreground, the "Fireworks Over the Matanzas" display is truly unforgettable. Visitors are welcome to line the streets and sit anywhere along the Bridge of Lions and South Castillo Drive to view the fireworks from downtown.
The 20-minute fireworks show is choreographed to patriotic music over an extensive sound system that carries over the entire bayfront area. The show is produced by Fireworks by Santore, who also produces fireworks shows for such major entertainment venues as Sea World Orlando and Walt Disney World. Fireworks Over the Matanzas is one of the best places in Florida to catch fireworks on Independence Day.
See below for details on road closures. These closures begin at 8 p.m. and end at 11 p.m., so visitors must make sure they are appropriately situated before then.
After the Fireworks Over the Matanzas display, around 10 p.m., guests can visit any one of the historic downtown pubs and restaurants for a bite to eat and a cool drink. Remember, St. Augustine enforces "no open container" laws, so visitors should make sure they drink only inside St. Augustine's restaurants and bars.
Check out places to stay in St. Augustine, Florida for July 4th weekend with options available at the beaches, downtown, and near I-95.
When: 6 to 10 p.m., July 4, 2023. The concert from 6 to 8 p.m. Fireworks begin at 9:30 p.m. Road closures from 8 to 11 p.m.
Where: St. Augustine's historic district. Some of the best vantage points are on the Bridge of Lions and at the Castillo de San Marcos.
For more information on this event, please call (904) 825-1004 or visit here.
July 4th Road Closures and Downtown Parking
Aveneda Menendez and South Castillo Drive will be closed from 8:00 p.m. to 11:00 p.m. to accommodate this event. The Bridge of Lions will be closed to both boat and vehicle traffic. Everyone attending should find their parking area prior to 8 p.m., when the traffic rerouting begins. Additional street closures include:
Picolata Road between U.S. 1 and San Marco Avenue
San Carlos between U.S. 1 and San Marco Avenue
King Street will have two westbound lanes and one eastbound lane west of MLK Boulevard (8 p.m. -11:30 p.m.) 
King Street will have one westbound lane and one eastbound lane east of MLK up to Aveneda Menendez.
There will be no east-bound traffic on W. Castillo from US-1 to North Cordova from 8 p.m. to 11:30 p.m.
N. Cordova will be closed from Orange St. to the Historic Downtown Parking Facility entrance (8 p.m. - 11:00 p.m.)
The downtown parking garage at the Visitors Information Center offers all-day parking for $15 per vehicle.
Parking in city-owned lots and on-street is FREE on July 4th, as it is on all national holidays. However, there will be no access to or from the parking lot of the Castillo de San Marcos National Monument from 8 p.m. to 11 p.m. on July 4. Street parking will be limited in the vicinity of the Plaza to facilitate traffic detours in the evening. Click here for a map of handicapped parking locations in downtown St. Augustine.
The City of St. Augustine encourages the use of bicycles for visitors who are staying close to the downtown area. Visit here for locations to park bicycles throughout the city. Visitors can utilize the city's bike sharing program to get around easily, or bike rentals are available, too.
Following the show, King St. and West Castillo Drive will be dedicated to westbound traffic out of the downtown area to U.S. 1. Traffic signals in the downtown area, along Ponce de Leon Blvd. (U.S. 1), Anastasia Blvd., and State Roads 312, 207, and 16 will be monitored to facilitate traffic flow. The Bridge of Lions does not re-open until 11 p.m.
Visit here for a quick list of tips on parking and road closures.
Free Park and Ride Shuttles
For visitors staying in St. Augustine Beach, free park and ride shuttles will be available on July 4, from 6 p.m. until midnight via parking locations along Anastasia Blvd.
The shuttle will run from four parking locations to the park on the east side of the Bridge of Lions. 
Passengers may park for free at:
Anastasia Baptist Church (1650 A1A South)
St. Augustine Amphitheatre (1340-C A1A South)
R.B. Hunt Elementary School (125 Magnolia Dr.)  
St. Augustine Alligator Farm Zoological Park (999 Anastasia Blvd.) 
Click here to see a map of the shuttle route and four parking areas.
Following the fireworks, the shuttle will pickup passengers at the drop-off location at the east end of the Bridge of Lions. Old Town Trolley Tours and Ripley's Red Train Tours are providing a dozen buses for the free shuttle service.
Nearby Places to Eat
A1A Ale Works: 1 King Street
Casa Reina: 1 Anderson Circle
Cellar Upstairs: 157 King Street
Harry's Seafood: 46 Avenida Menendez
Raintree Restaurant: 102 San Marco Ave.
For a list of all of the eateries in the Historic Downtown region, go here. Reservations are strongly recommended.
Public Restrooms
Public restrooms are located around the downtown Historic District. Check out the map below.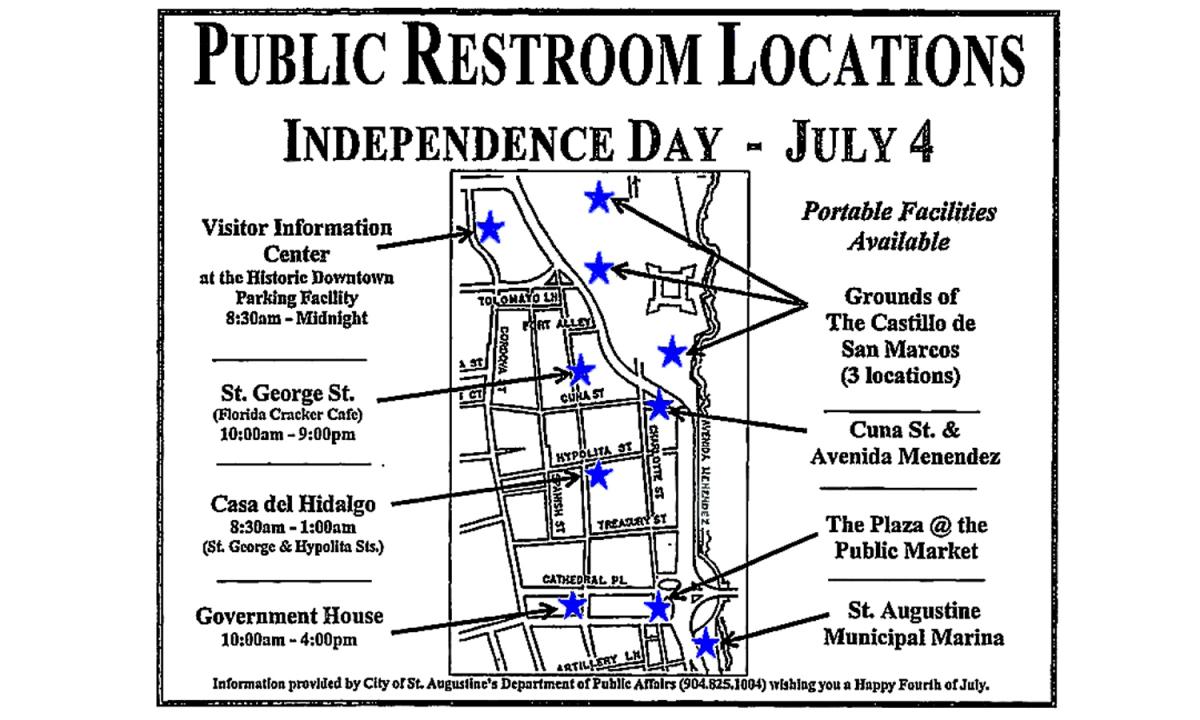 For those who travel by sea
The Bridge of Lions will not open for marine traffic after the 8 p.m. open until 11 p.m. - or shortly after. Vessels will be prohibited from an area north of the Bridge of lions. The southern boundary is from mooring ball 14, east to Marker 7. The northern boundary of the No Boat Zone extends from north of the fort, northeast to just beyond the three dolphins and southeast to Marker 5. This area may shift slightly as a result of weather patterns. Marine patrol will monitor the area.