Flagler Inn is a popular boutique hotel in St. Augustine that caters especially for people and families with an active lifestyle. Flagler Inn treats its guests like family, and goes all out when it comes to helping visitors find exactly what they're looking for when it comes to touring the nation's oldest city.
Flagler Inn boasts high-quality customer service and exceptional comfort for guests. Their accommodations are functional as well as beautiful, with a contemporary style. They offer platform beds with luxurious pillow-top mattresses in double queen, king, and studio king rooms as well as suites and handicapped accommodations. State-of-the-art LED lighting can be found in every room, along with a 42" LCD TV with 80 channels to choose from.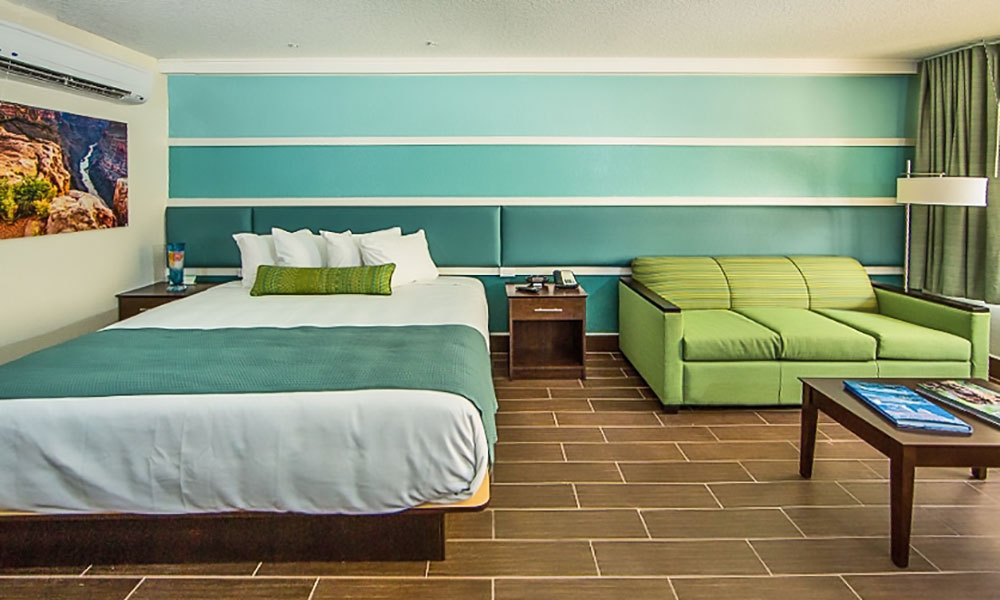 Each room includes a desk, two adjustable chairs, free WiFi, and plenty of outlets and USB connections. In addition, a luxurious shower that doesn't require stepping over a rub wall, a refrigerator, and a microwave are standard. A free continental breakfast is served daily.
When it's time to leave these comfortable surroundings, Flagler Inn can also provide expert advice on what to do when in St. Augustine. Their front desk personnel will arrange for golf and water sports outings, as well as book tours and provide tickets for local attractions and historical sites. They even offer free bikes to hotel guests to use if they want to see St. Augustine without the hassle of parking a car and negotiating traffic. For those who want the benefit of a narrated tour, both Ripley's Red Trains and Old Town Trolley Tours provide custom shuttle service from the hotel.
Amenities:
Free parking near room, swimming pool, activity center, full concierge services, self-service coin laundry, free WiFi, microwave, refrigerator, hair dryer, 42" LCD TV with over 80 channels, and more.