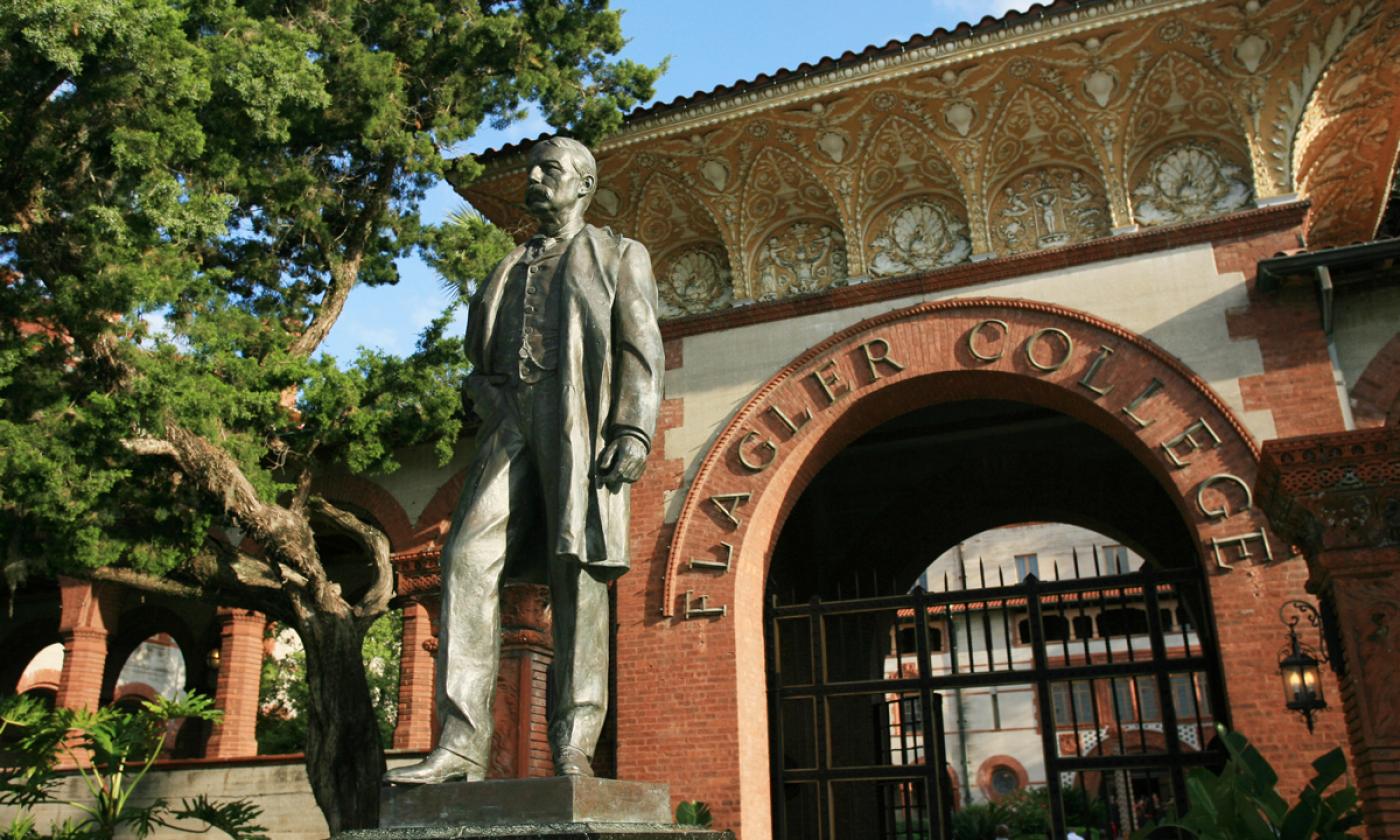 Currently open.
Mon - Sun:
9:00 am - 4:00 pm
Tour Schedule: 10:00 a.m. - 2:00 p.m.
Each day at 10:00 a.m. and 2:00 p.m., Flagler College offers tours of the public spaces of the former Ponce de Leon Hotel.
Historic Tours of Flagler College showcase the architectural heritage and fascinating history of the former Hotel Ponce de Leon, a nationally designated historic landmark building, built by Henry Flagler in 1887. Millionaire industrialist and developer Henry M. Flagler envisioned creating an American Riviera in St. Augustine. His Hotel Ponce de Leon, now Flagler College, beautifully recaptures the architectural spirit of old Europe.
Presidents, dignitaries, royalty, and the upper class walked the halls of this magnificent hotel during its heyday. Designed for entertainment, relaxation, and grandeur, Flagler's hotel incorporated all of the modern conveniences of the time, including electricity, running water, and a Thomas Edison clock, one of the first-ever to be used in a public space. The Ponce de Leon is also home to the largest collection of Louis Comfort Tiffany stained glass windows, with over 79 windows decorating the Dining Hall, which is included on the tour.
While nothing can compete with seeing this building in person, Flagler College also offers a virtual tour. To view it, go here. 
All tickets are $16.00 for those age 4 and up. Children 3 and under are free.  To make reservations, go here.
The museum shop is open 7 days a week, from 9:00 a.m. to 4:00 p.m.
Tours can be booked for 10:00 a.m. and 2:00 p.m. and must be reserved in advance.
Currently open.
Mon - Sun:
9:00 am - 4:00 pm
Tour Schedule: 10:00 a.m. - 2:00 p.m.
Admission | Ticket Prices
| Option | Legacy Tour |
| --- | --- |
| All tickets for ages 4 and up | $15 |
Have a Question?