Historic Tours of Flagler College
At Flagler College in the main lobby rotunda.
74 King Street, St. Augustine, FL, 32084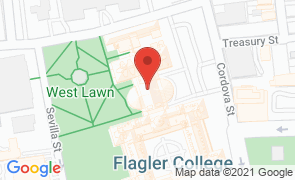 Hours
of Operation
Sun - Sat:
10:00 am - 2:00 pm

Please note the following statement from Flagler College: 

Historic Tours of Flagler College are canceled until further notice. While there are no confirmed cases of COVID-19 at Flagler College, the College's highest priority is the safety and well-being of its students, faculty, and staff. 

Flagler College's Risk Management Team will continue to meet. They will monitor all new developments, as well as guidance from the Centers for Disease Control and Prevention and the Florida Department of Health. The College has an emergency response plan that it is following and will communicate updates and additional information as necessary.

Historic Tours of Flagler College showcase the architectural heritage and fascinating history of the former Hotel Ponce de Leon, a nationally designated historic landmark building, built by Henry Flagler in 1887. Millionaire industrialist and developer Henry M. Flagler envisioned creating an American Riviera in St. Augustine. His Hotel Ponce de Leon, now Flagler College, beautifully recaptures the architectural spirit of old Europe.

Presidents, dignitaries, royalty, and the upper class walked the halls of this magnificent hotel during its heyday. Designed for entertainment, relaxation and grandeur, Flagler's hotel incorporated all of the modern conveniences of the time, including electricity, running water, and a Thomas Edison clock, one of the first ever to be used in a public space. The Ponce de Leon is also home to the largest collection of Louis Comfort Tiffany stained glass windows, with over 79 windows decorate the Dining Hall, which is included on the tour.

On the tour, visitors will be taken through several rooms in the old hotel, including the Rotunda, Flagler Room, and Dining Hall. Guests will see the beautiful murals painted by George W. Maynard, who also worked on the Jefferson Building and Library of Congress Building in Washington D.C. The impressive Flagler Room features Tiffany Austrian Crystal Chandeliers, and a large onyx Thomas Edison Clock.

Historic Tours of Flagler College offer visitors a chance to step back in time to the Gilded Age and experience a true turn-of-the-century grand hotel. Tours last about one hour and depart daily from the main lobby (Rotunda) of Flagler College located at 74 King St.

Tour Times

Because Flagler College's first priority is its students, tour times vary throughout the year. Tours depart at 10:00 a.m. and 2:00 p.m. from September through April. Between May and August, tours depart on the hour from 10:00 a.m. until 3:00 p.m.

From December 16 to January 5, Historic Tours will begin at the top of every hour from 10 a.m. to 3 p,m. No tours on Christmas Day or New Year's Day. Last tour at 12:00 p.m. on Christmas Eve.

Tickets

Tickets may be purchased at the lobby gift shop inside Flagler College 20 minutes prior to the tour. For more information and to check tour times, please visit here or call Flagler's Legacy at (904) 823-3378. Tickets may be purchased a maximum of 24 hours before desired tour time.

Pricing: $14 for adults, $12 for seniors, $12 for Active Military (with ID), FREE for children under age 10. Children under 12 receive a complimentary Flagler College Coloring and Activity book. St. John's County residents with ID can take the tour for free.
Restaurants
Near Historic Tours of Flagler College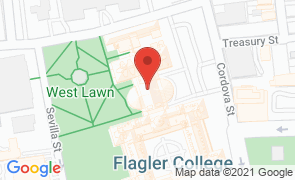 Historic Tours of Flagler College
At Flagler College in the main lobby rotunda.
74 King Street, St. Augustine, FL, 32084
(904) 823-3378
Hours
of Operation
Sun - Sat:
10:00 am - 2:00 pm

Admission
| Ticket Prices
| Option | Legacy Tour |
| --- | --- |
| Adult | $14 |
| Seniors 60+ | $12 |
| Activity Military (w/ID) | $12 |
| Children under age 10 | Free |
| St. Johns County Residents | Free |
Find Us on Facebook