Florida Agricultural Museum
On US 1 in Flagler County, a mile south of I-95.
7900 Old Kings Road, Palm Coast, FL, 32137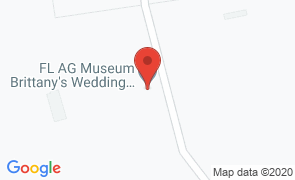 Hours
of Operation
Sun:
10:00 am - 4:00 pm

Mon - Thu:
Closed

Fri - Sat:
10:00 am - 4:00 pm

The Florida Agricultural Museum offers a glimpse into real Florida life from the 1800s. The museum is a 460-acre living history exhibit that includes a 5-building citrus complex, a 5,000-square-foot dairy barn, an 1880s farmstead with all of its outbuildings, a turn-of-the-century country store, the archeological remains of a British colonial period sawmill, and an exhibit that tells the story of Africans and African Americans in Florida's cattle industry.

Each of the buildings were donated to the museum and painstakingly moved and rebuilt at the Agricultural Museum staff and volunteers. The Florida Cracker homestead consists of a shotgun home, chicken coop, barn, smoker, and a carefully-rebuilt hand-crafted fence that includes hundreds of small pickets and unique finials for each gate.

The Museum also maintains herds of heritage livestock, including Florida Cracker Horses and Cattle.Visitors can walk through actual Cracker homes transported from Florida frontiers and plantations, pick vegetables, ride horses, and see Cracker cows descended from the original Spanish free-range herds.

Education Programs:The Old Florida Museum, formerly located in St. Augustine, has been moved to the Florida Agricultural Museum. School Tours are offered in 5 hands-on programs, Pre-European Florida, Spanish Settlement, the Dirt Detectives (an archaeology program), Spanish Exploration by Sea, and the Homesteads of the late 1800s. For group reservations call (904) 824-8874.

Trail Rides: Guided horseback rides are offered on the museum's beautiful wooded trails. All skill levels are welcome, but riders must be at least 8 years of age. Trail rides must be arranged in advance. There is a two-person minimum to book a ride, and they can take a maximum of six riders. Please call (386) 446-7630 for more details and to book a guided horseback ride.

Venue: The Florida Agricultural Museum -- with its rustic charm, horses, and hayrides -- rents space for events, weddings, and corporate parties. The scenic lake is the backdrop for wedding ceremonies while the covered, open air 5,000 square foot barn is a spacious reception space with seating for up to 170 people. Call (386) 931-6579 for more information.

The museum is open from 10 a.m. - 4 p.m. on Friday through Sunday and is located at 7900 Old Kings Road in Palm Coast, about a mile south of I-95 on US 1 in Flagler County. The Florida Agricultural Museum offers walking tours on the hour from 10 a.m.– 4 p.m. on Friday through Sunday.
Restaurants
Near Florida Agricultural Museum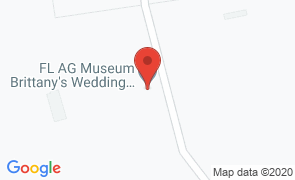 Florida Agricultural Museum
On US 1 in Flagler County, a mile south of I-95.
7900 Old Kings Road, Palm Coast, FL, 32137
(386) 446-7630
Hours
of Operation
Sun:
10:00 am - 4:00 pm

Mon - Thu:
Closed

Fri - Sat:
10:00 am - 4:00 pm

Admission
| Ticket Prices
| Option | Price |
| --- | --- |
| Adults | $9 |
| Children ages 6-12 | $7 |
| Children 5 and under | free |
| | |