Sabrage Charters of St. Augustine
At the dock near Culinary Outfitters.
117 Dockside Drive, St. Augustine, FL, 32084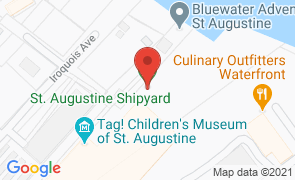 Originally used as a tour boat based in St. Thomas, the Sabrage carried passengers in the Virgin Islands on boat tours and on diving and snorkeling excursions. This 63-foot catamaran offers boat tours with comfortable seating, 360-degree views, and plenty of room for those touring the waters of St. Augustine, and for those hosting a special event aboard.

The boat is certified to carry 110 passengers, with seating at the bow and stern, and on three sides of the bar and service area. Guests may opt to sit or stand outside on the front and back of the boat, or out of the sun, under the roof deck.

Cruises Aboard Sabrage

The Sabrage offers boat tours that start on the San Sebastian River, head south into the Matanzas, cruise past St. Augustine and under the Bridge of Lions, and then out towards the St. Augustine Inlet. On occasion, they may cruise up Salt Run, that spit of water between Anastasia Island and the beach at Anastasia State Park.

Eco-tour Cruise

Offered daily at 10:00 a.m. and 1:00 p.m., this boat cruise lasts about 90 minutes. Cruising down the San Sebastian Sabrage travels past saltwater marshes and favorite local fishing spots, which means that sea birds, rising fish, and dolphins are often seen within minutes of leaving the dock. Once in the Matanzas, it's still possible to see dolphins and sea birds against the lovely backdrop of the City of St. Augustine. Along the way, the crew is happy to point out places and animals of interest, and the captain slows down so everyone can take photos.

Sunset Cruise

Times will vary. Sabrage generally leaves the dock roughly an hour before sunset. Again, guests are apt to spot fish, birds, and dolphins along the way, and then take in the usually spectacular sunset behind St. Augustine. This cruise also lasts 90 minutes.

Night Cruises

Offered at least once a week throughout the year, a cruise aboard Sabrage at night can include a wine tasting evening or other special events. During St. Augustine's Nights of Lights, Sabrage offers a special Nights of Lights Cruise, daily at 7:00 p.m. Their route, the openness of the decks, and the low draft of their vessel assure guests an excellent view of most of St. Augustine's three million lights while aboard.

To see all of the excursions offered by Sabrage and to purchase tickets, click here.

Private Cruises

Sabrage offers two-hour and longer private boat charters for any of the above cruises and they offer additional packages that include spirits, catered food, and live or recorded music. To see more about their group rates, go here.

Special Events Aboard Sabrage

Sabrage is also available for private events. With an excellent sound system, bar, comfortable seating, and 1500 square feet of floor space, the Sabrage can host birthdays, corporate retreats, weddings, and other events. They can even move some seats to create a dance floor. To see more about their group rates, go here.

The Crew

Sabrage is owned and operated by Captain Glenn, Ian, and Jonathan. It is their pleasure to serve the guests, make them comfortable, help with photos, and tell them about the boat and St. Augustine. When asked, they are delighted to explain how Sabrage got her name. (Hint: Celebrations in France.) During each cruise, guests may purchase beer, wine, and a lovely island wine cocktail, crafted by Ian.

Covid Protocols

The vessel can hold 110 passengers, but right now they are working under the CDC guidelines and will limit passengers to 50% of capacity. Masks and hand-sanitizer are on board for those who wish to use them. Unless there is inclement weather, the entire boat is open on four sides.

 

No Reviews Yet...

Be the first to Review Sabrage Charters of St. Augustine !




Restaurants
Near Sabrage Charters of St. Augustine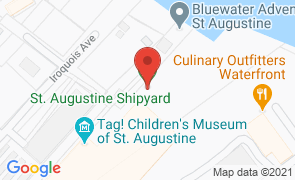 Sabrage Charters of St. Augustine
At the dock near Culinary Outfitters.
117 Dockside Drive, St. Augustine, FL, 32084
(904) 310-4999
Find Us on Facebook