St. Augustine Wild Reserve
5190 Farm Creek Road, St. Augustine, FL, 32092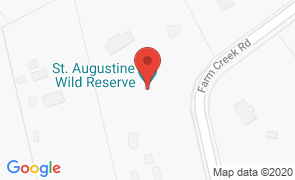 Hours
of Operation
Sun:
Closed

Mon:
2:00 pm - 3:30 pm

Tue:
Closed

Wed:
2:00 pm - 3:30 pm

Thu:
Closed

Fri:
12:00 pm - 1:30 pm

Sat:
2:00 pm - 3:30 pm

We suggest you call them to confirm the hours when you want to visit.
The St. Augustine Wild Reserve provides visitors with a rare opportunity to see wild animals up close. This facility houses over 50 large mammals ranging from tigers, lions, and leopards to bears, hyenas, ligers, and wolves.

There are also over 30 smaller mammal species, including coati mundis, white-tailed deer, and various barnyard animals (geese, turkeys, and chickens).
Restaurants
Near St. Augustine Wild Reserve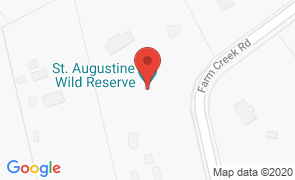 St. Augustine Wild Reserve
5190 Farm Creek Road, St. Augustine, FL, 32092
(904) 940-0664
Hours
of Operation
Sun:
Closed

Mon:
2:00 pm - 3:30 pm

Tue:
Closed

Wed:
2:00 pm - 3:30 pm

Thu:
Closed

Fri:
12:00 pm - 1:30 pm

Sat:
2:00 pm - 3:30 pm