Summer Breeze Boat Rental
At Pellicer Point Marina
200 Nix Boat Yard Road, St. Augustine, FL, 32084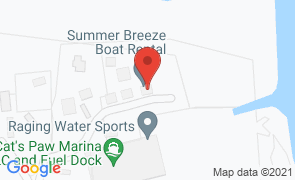 Hours
of Operation
Sun - Sat:
8:00 am - 6:00 pm

Family and veteran owned and operated, Summer Breeze Boat Rental offers bowriders, deck boats, and pontoon boats for fun on the water for up to eleven people.

The Adventure

With a boat rented from Summer Breeze Boat Rental, visitors and locals can enjoy the freedom of taking a vessel out on the water without having to haul, launch, or pay for yearly storage.

The boats available from Summer Breeze Boat Rental offer options for the many ways people enjoy St. Augustine's inland waters. A small bow-rider may be perfect for two who want to enjoy the afternoon and sunset, away from town and obligations. Families will enjoy spending a morning, afternoon, or whole day on the water aboard one of the faster boats — swimming, tubing, and visiting one of the beaches on along the rivers. A group of friends or multiple generations can relax with a day of fishing, moving slowly through the water while trawling, anchoring and casting, and using the swim platform to jump in and cool off.

The Boats

Every boat in the fleet is ready for a fun day on the water, and equipped with a swim platform, bimini top, Bluetooth Stereo, and a GPS depth-finder combo. All boats are suitable for tubing, fishing, swimming, and sunbathing.

Summer Breeze Boat Rentals offers a variety of boats, suited for each guest's experience level and planned trip.

New boaters, and experienced boaters who want to enjoy a relaxed day with friends and family can opt for the 18-foot SunTracker pontoon boat, with a 60 HP Mercury outboard.
Boaters with some experience can choose from the 20-foot Starcraft STR 200 with a 150 HP Mercury outboard.
More experienced and advanced boaters, heading out with up to 8 people can opt to rent a Hurricane Sundeck 20, with a 200 HP Mercury Verado Outboard, freshwater sink, removable table, and two swim platforms.
Experienced boaters with up to 11 in their party can rent a SouthWind 2600, with a 250 HP Yamaha, a 3-position stern seat, freshwater sink, and foot wash sprayer.

New boats will join the fleet in 2022, including a SunTracker 24 DLX Party Barge.

Rental Information

Boats can be rented for 4, 6, and 8 hours. There's so much to see and do from the water in St. Augustine, that the time passes quickly. Renters are encouraged to allow for time to explore the area's natural beauty, historic waterfront, and wildlife.

All boats are inspected annually and are fully compliant with the U.S. Coast Guard's safety guidelines. Boaters must be 25 years of age to rent and must provide a driver's license to prove their age.

Those who stay in town for a while may want to ask them about the Summer Breeze VIP Club.

Summer Breeze Boat Rentals operate from Pellicer Point Marina, 200 Nix Boat Yard Rd, in St. Augustine, off Ponce De Leon Boulevard. At the boatyard, the Summer Breeze crew can be found in unit D3 or on the dock.

No Reviews Yet...

Be the first to Review Summer Breeze Boat Rental!




Restaurants
Near Summer Breeze Boat Rental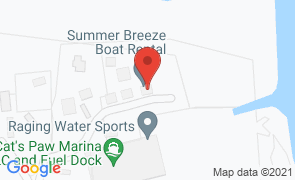 Summer Breeze Boat Rental
At Pellicer Point Marina
200 Nix Boat Yard Road, St. Augustine, FL, 32084
(904) 415-3490
Hours
of Operation
Sun - Sat:
8:00 am - 6:00 pm

Find Us on Facebook