Villa Zorayda Museum
Across from Flagler College
83 King Street, St. Augustine, FL, 32084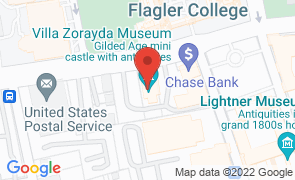 Hours
of Operation
Sun:
Closed

Mon - Sat:
10:00 am - 5:00 pm

Last admission is at 4:30 p.m. on Mon.- Sat.
The Villa Zorayda Museum is an architectural masterpiece built by Franklin Smith in 1883. Listed on the National Register of Historic Places, this grand Gilded Age home is built 1/10th the scale of a portion of the Moorish castle, the Alhambra Palace in Granada, Spain.

In addition to the magnificent architecture of the building is the collection of antiques and fine art, featuring paintings, seventeenth-century furniture, beautiful hanging brass lamps, oriental rugs, and an Egyptian rug over 2,400 years old that was originally taken from one of the pyramids in Egypt.

Click the 360 image below to look around.

The Villa Zorayda Museum is open Monday through Saturday from 10 a.m. until 5 p.m. (with the last admission at 4:30 p.m.), and on Sunday from 11 a.m. until 4 p.m.

On-site parking is free while visiting the Museum. State-of-the-art self-guided audio tours are available throughout the day in English, Spanish, and French. Docent-led group tours are available by reservation only. For additional information, please call (904) 829-9887.

Specialty Tours

Candlelight Tours

The Villa Zorayda Museum will offer its Annual Candlelight Tours of the Museum on select evenings during St. Augustine's Nights of Lights celebration. The Villa Zorayda is beautifully decorated for the holidays, with a spectacular Christmas tree decorated in Zorayda colors (red and gold) and located center stage in the Court of Lions. The Candlelight Tours have taken place every year and have become a local tradition during the holiday season. The candles, hanging brass lamps, and Christmas decorations combine with the original art and antiques on display to create a truly magical effect. Select tours include refreshments of homemade cookies, punch, and coffee before the tour. Please visit here or call (904) 829-9887 for more information.

Weddings and Special Events


Photo by Dana Goodson Photography.

The Moorish Court of the Villa Zorayda is a one-of-a-kind venue for special events, from wedding ceremonies to intimate seated dinner parties and large cocktail parties. The staff is happy to make the venue arrangements and recommend local caterers.

For wedding ceremonies, the Villa Zorayda Museum suggests the Court of Lions, which will seat 60 guests comfortably, and offers the opportunity for many beautiful photos, with the horseshoe arches, columns, and hanging brass lamps. The museum can also be rented for private parties, dinner parties, rehearsal dinners, and corporate events. Standing receptions and events can be arranged for up to 60 guests, while seated dinners can be arranged for up to 30.

Call (904) 829-9887 or email here for details on renting this spectacular venue for a truly memorable occasion. To learn more, go here.

Capacity: Up to 30 guests, seated or 60, standing.
Restaurants
Near Villa Zorayda Museum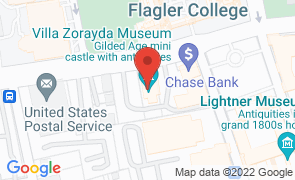 Villa Zorayda Museum
Across from Flagler College
83 King Street, St. Augustine, FL, 32084
(904) 829-9887
Hours
of Operation
Sun:
Closed

Mon - Sat:
10:00 am - 5:00 pm

Admission | Ticket Prices
| Ticket Type | Admissions |
| --- | --- |
| Adult (Audio Tour) | $12.00 |
| Seniors over age 60/AAA Member (Audio Tour) | $11.00 |
| Active and Retired Military (Audio Tour) | $10.00 |
| Student (Audio Tour) | $8.00 |
| Children, 7-12 (Audio Tour) | $5.00 |
| Adults (Docent Tour) | $17.00 |
| Children, 7-12 (Docent Tour) | $7.00 |
| Children (6 and under) | Free |
Have a Question?
Find Us on Facebook