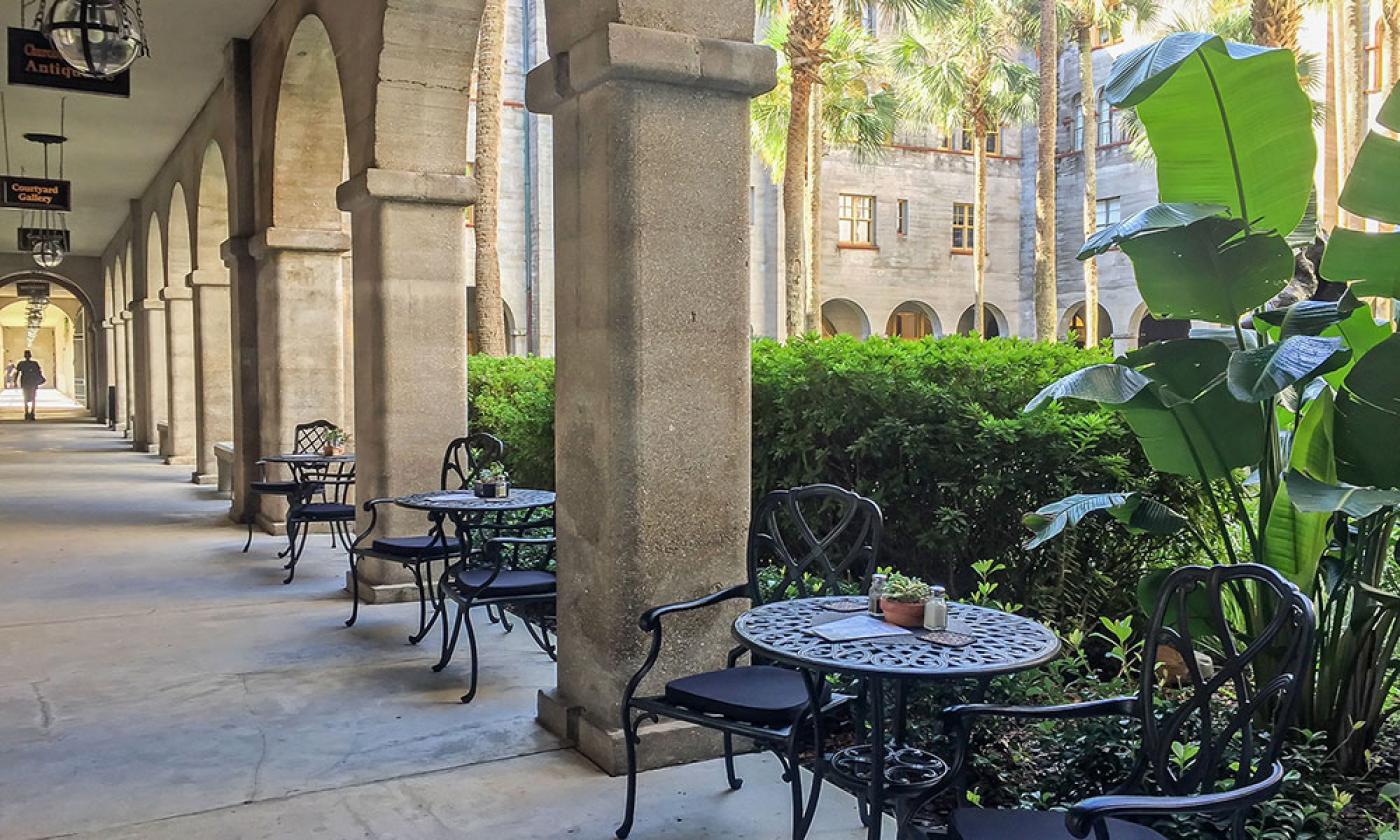 Tue - Sat:
11:00 am - 3:00 pm
Located in the picturesque courtyard of the Lightner Museum, Reflections Bistro offers delicious panini-style sandwiches, soups, and coffees for lunch. The small cafe is flooded with natural light from two large arched windows on the east and west walls of the restaurant, and the courtyard entrance has patio-style seating offering luscious views of the greenery and architecture of the Lightner Museum.
Getting to the cafe is simple, just enter the courtyard from the front of the Lightner museum building and take a left. You can also enter the courtyard through the back from the two breezeways on each side of the building.
The bistro has a local and simple feel to it, with a very precise menu of cafe dishes and hot or cold drinks: flavored iced-coffees or regular black coffee, hot tea or iced tea. Personal service is provided by the ever-attendant Laura Kohrs who manages and owns the small cafe and stands waiting behind the counter or bustling in and out of the courtyard in front of Reflections Bistro juggling various tasks.
Reflections Bistro specializes in fresh and high-quality food served in a creative and welcoming environment. Guests may choose from a variety of homemade sandwiches, salads, and soups, as well as coffee and espresso drinks. The menu features salads and specialty sandwiches for lunch, such as The Lighthouse Sub (with Black Forest ham and prosciutto) and the Vilano Veggie (with hummus, tomato and cucumber), along with several side salads.
For an afternoon sip, there are also signature wines by the bottle or by the glass, as well as domestic and craft beers. Two shelves on the wall next to the counter show the inventory of drinks available. A bottle shared over a meat & cheese plate makes for a relaxing snack at the courtyard tables.
Reflections Bistro offers a 10% discount to Flagler students, locals, or anyone who works in downtown St. Augustine. Takeout is available and the bistro is wheelchair accessible. 
Although their mainstay is food and drinks, Reflection Bistro is decorated with local art available for purchase, including glass art items made by Laura and her husband Kristian. Significant to the decor are the colorful glass wind chimes that line the east window made by Tom Walters. Other items for purchase include bottles of wine and bags of locally roasted Kahawa coffee.
The Lightner Museum courtyard gardens and koi pond bridge are a beautiful spot, and Reflections Bistro offers visitors and locals alike a unique opportunity to soak up the atmosphere while enjoying café-style sandwiches and coffee. The outdoor tables are rustic iron and accented with live plants. 
Reflections Bistro is located at 75 King Street, Suite 120. Call (904) 217-3685 for more information.
Tue - Sat:
11:00 am - 3:00 pm