Hemingway House B&B
Next to the Inn on Charlotte.
54 Charlotte Street, St. Augustine, FL, 32084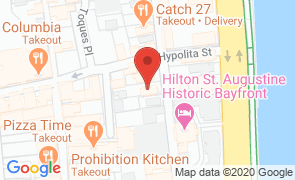 The owners of the Hemingway House Bed & Breakfast admit that — while Hemingway enjoyed the city of St. Augustine — he never stayed at this home on Charlotte Street. (He actually preferred to stay south of the city on the island.) Today, visitors to St. Augustine can enjoy any of the six cozy rooms in this quaint adult-centric bed and breakfast, and perhaps learn a bit more about Hemingway in the process.

Each second-floor room is available as a single or double occupancy for adults only, and has a covered balcony, king or queen bed, and a modern private bath.

Every room has one assigned parking space, a flat-screen TV with HD cable, a blow dryer, and plush towels. The location makes it easy for guests to walk anywhere in the Historic District.

The B & B hosts a casual social hour each evening, and a fresh, hearty, and wholesome breakfast at 9:15 each morning.

Guests on a romantic retreat to St. Augustine will enjoy Hemingway House's upgrades and packages include chocolates, flowers, champagne, and a private carriage ride.

Images
Restaurants
Near Hemingway House B&B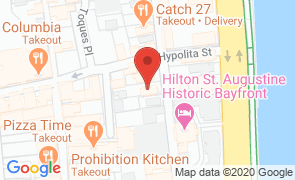 Hemingway House B&B
Next to the Inn on Charlotte.
54 Charlotte Street, St. Augustine, FL, 32084