St. Augustine Shipwreck Museum
Next to the Hyppo Gourmet Pops
46 Charlotte Street, St. Augustine, FL, 32084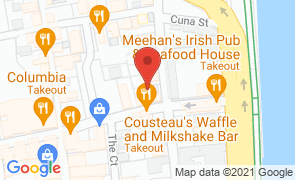 Hours
of Operation
Sun - Sat:
10:00 am - 5:00 pm

Treasures lost under the sea have long fascinated actual and armchair adventurers. The St. Augustine Shipwreck Museum and Gallery brings genuine treasures and artifacts — as well as replicas, movies, and stories of discovery — to St. Augustine.

Located at 46 Charlotte Street, the St. Augustine Shipwreck Museum and Gallery offers displays and hands-on experiences on two floors. Their interests lie in all shipwrecks, from the world's earliest intact shipwreck found at the bottom of the Black Sea, to the 19th-century cargo vessel found off St. Augustine's Crescent Beach in November of 2020.

As visitors enter, their eyes will be drawn to the authentic replica of a section of the grand staircase from the Titanic. In addition, visitors can view the artifacts and materials in the museum's White Star Line exhibit. Hint: The Titanic is not the only ship from the White Star Line to have met a bad end.

In addition to information about the Titanic and her sister ships, The St. Augustine Shipwreck Museum and Gallery offers multi-media presentations, and the opportunity to lift a silver bar. The museum also provides information on treasures not yet found, and the intrepid men and women who have made deep-sea treasure hunting the focus of their lives.

This museum and gallery ignite the imagination of those who visit with information about sea life, lost treasure, and how explorers use technology to reach the deep. Visitors will learn the answers to various trivia questions, find out about rusticles, and take a video tour of a wreck located in over 7000 feet of water off the coast of North Carolina.

Tickets: Adults 18 and over - $15.00; Seniors - $12.00; Children 11to 17 - $10.00; Children 10 and under - Free; First Responders, Military with ID, and Students - $10.00 with one free return visit in 30 days. 

No Reviews Yet...

Be the first to Review St. Augustine Shipwreck Museum!




Restaurants
Near St. Augustine Shipwreck Museum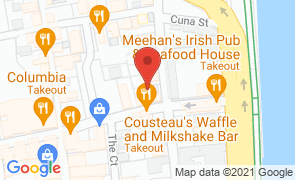 St. Augustine Shipwreck Museum
Next to the Hyppo Gourmet Pops
46 Charlotte Street, St. Augustine, FL, 32084
(904) 217-0655
Hours
of Operation
Sun - Sat:
10:00 am - 5:00 pm

Admission
| Ticket Prices
| Visitors | Prices |
| --- | --- |
| Adults 18 and older | $15.00 |
| Children aged 11-17 | $10.00 |
| Children 10 and under | Free |
| 65 and over | $12.00 |
| Military, First Responders, Students | $10.00 |
Find Us on Facebook