Amore Wedding Chapel
In the Lightner Building
75 King Street, Suite 116, St. Augustine, FL, 32084
(904) 826-0166
(904) 826-0715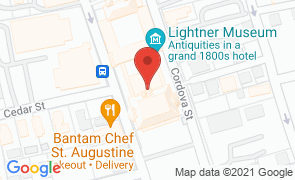 Hours
of Operation
Sun:
Closed

Mon - Tue:
11:00 am - 4:00 am

Wed:
Closed

Thu - Sat:
11:00 am - 4:00 am

Call for available times.
Amore Wedding Chapel in Historic Downtown St. Augustine seats up to 50 guests for an intimate wedding in a historic building. Located in the Lightner Building, the former Alcazar Hotel, the Amore Wedding Chapel offers the majesty of a bygone era in a charming, cozy space.

This romantic setting of the chapel is enhanced by the Spanish Renaissance -styled building and the lush tropical gardens surrounding the museum. The Amore Wedding Chapel is one option presented by The Wedding Authority.
Restaurants
Near Amore Wedding Chapel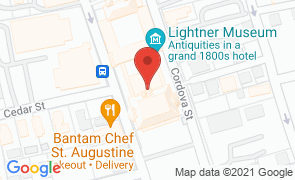 Amore Wedding Chapel
In the Lightner Building
75 King Street, Suite 116, St. Augustine, FL, 32084
(904) 826-0166 (904) 826-0715
Hours
of Operation
Sun:
Closed

Mon - Tue:
11:00 am - 4:00 am

Wed:
Closed

Thu - Sat:
11:00 am - 4:00 am