Lightner Museum
Across from Flagler College.
75 King Street, St. Augustine, FL, 32084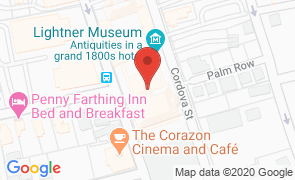 Hours
of Operation
Sun - Sat:
9:00 am - 5:00 pm

The Lightner Museum is housed in the former Alcazar Hotel, which was built in 1888. Henry M. Flagler commissioned architects Carrere and Hastings to construct this architectural masterpiece. The Alcazar closed during the Depression, and in 1948 the building was purchased by Otto Lightner, who was editor and publisher of Hobbies Magazine in Chicago. Lightner converted the hotel into a museum to contain his vast collection of decorative and fine arts. He bequeathed the building to a board of directors who then opened it to the public several years later. The building is on the National Register of Historic Places and today is home to both the Lightner Museum and City government offices.

Otto Lightner was fascinated by what other people collected, a hobby that became his trademark and his passion, which is clearly reflected in his diverse and eccentric collection. The four floors of the museum are filled with interesting and beautiful artwork from over a century ago. The historic ambience of the museum, with its costumes, furnishings, and other Gilded Age artifacts, transport the visitor to the heyday of the Alcazar Hotel and its wealthy visitors. What was once known as the World's Largest Indoor Swimming Pool (dry now, though it seems to echo with the voices of a bygone era) is the elegant setting for the Café Alcazar and frequently serves as a venue for special events in St. Augustine.

Other highlights of the museum include exquisite Victorian art glass, stained glass works of Louis Comfort Tiffany, Oriental art, and a Victorian Village portraying 19th-century life. The museum is self-guided with docents available to answer questions. Nineteenth-century mechanical musical instruments are demonstrated daily at 11:00 a.m. and 2:00 p.m. The museum hosts monthly events, such as the Curator's Tour on the first Wednesday of every month and Lightner After Hours, a free open house in the evenings of the last Thursday of each month.

The Lightner Museum also offers an in-depth tour called Upstairs/Downstairs, which allows visitors to get a glimpse into what goes on behind the scenes in the museum. The Upstairs/Downstairs Tour ($45.00) is offered by request and is limited to 10 people.

The Lightner Museum is located at 75 King Street in the historic downtown district of St. Augustine, just across from Flagler College.

Street View Panorama Photos
Restaurants
Near Lightner Museum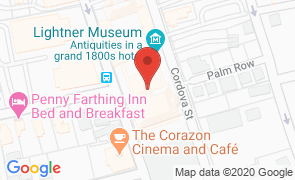 Lightner Museum
Across from Flagler College.
75 King Street, St. Augustine, FL, 32084
(904) 824-2874
Hours
of Operation
Sun - Sat:
9:00 am - 5:00 pm

Admission
| Ticket Prices
| Option | Price |
| --- | --- |
| Adults (18 – 64) | $15.00 |
| Seniors (65+) | $12.00 |
| Children (12 - 17) | $8.00 |
| Children (11 & under) | FREE |
| Military (with I.D.) | $12.00 |
| College Student (with I.D.) | $12.00 |
| Flagler College Student | FREE |
| St. Johns County Resident | FREE on Sundays |
Find Us on Facebook