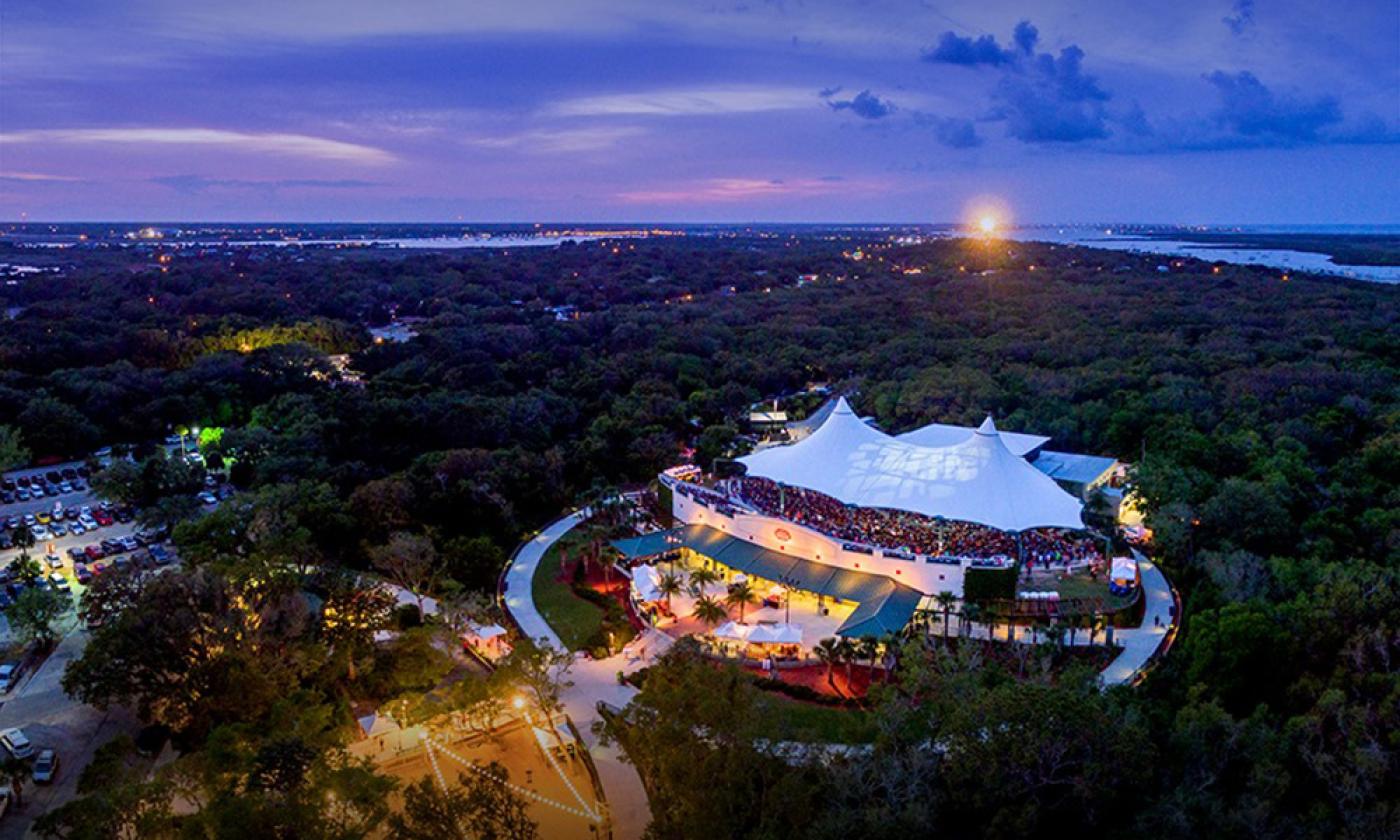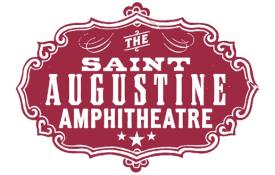 The St. Augustine Amphitheatre, now called The Amp, is St. Johns County's premier concert and event venue. The Amp presents world-class performances, including such well-known artists in the past as Bob Dylan, Alabama, John Legend, Boston, ZZ Top, Jeff Beck, Modest Mouse, Zac Brown Band, John Fogerty, Weezer, Alan Jackson, Imagine Dragons, and Alice in Chains. Owned and operated by the St. Johns County Cultural Events Division, the Amp has a capacity of 4,700 people and hosts more than 40 concerts and multiple community events throughout the year, including the Saturday Farmers Market and the annual free concert series, the Sing Out Loud Festival, every September.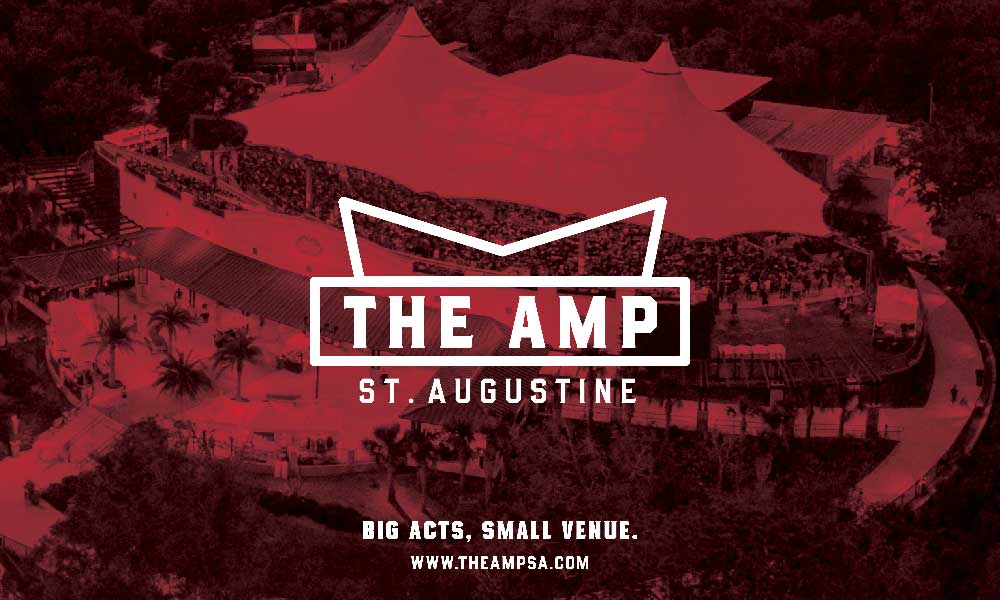 About The Amp
The St. Augustine Amphitheatre was built in 1965, commemorating St. Augustine's 400th anniversary. It was acquired by St. Johns County in 2002 and underwent an extensive renovation soon after, adding a canopy over the main stage and seating areas, to provide protection from rain. In 2019, The Amp took on its new name, along with the motto "Big Acts, Small Venue," which sums up what the community and the concert industry love about the venue.
Saturday Farmers Market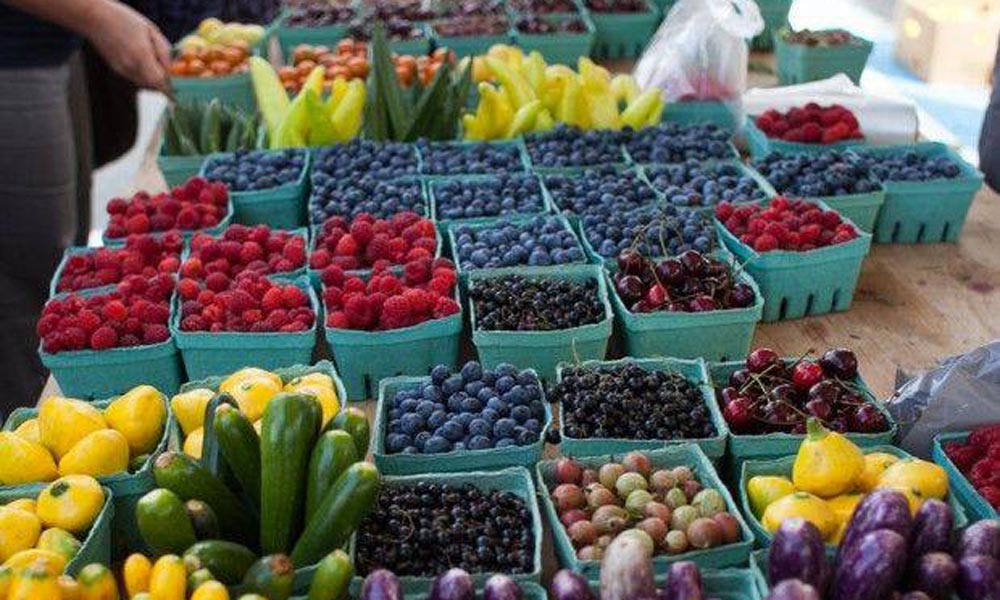 Each Saturday, The Amp hosts a Farmers Market where vendors and artists showcase local food, arts, and crafts. Locally grown vegetables, organic food, fruits, artisan breads, pastries, flowers and plants, herbs, roasted peanuts, bonsai, and even the famous datil sauces the area is known for can be found every weekend. The farmers market is open rain or shine on Saturday at The Amp from 8:30 a.m. until 12:30 p.m.
The Amp hosts a Night Market on the fourth Tuesday of each month from 6:00 to 9:00 p.m., featuring live entertainment, activities, and approximately 90 vendors displaying handmade arts and crafts and other goods.
Tickets
Tickets for most events are sold online with Ticketmaster; however, other retailers may sell tickets depending on the performer and show's promoter. Tickets can also be purchased from the St. Augustine Amphitheatre box office. The box office is open Thursdays and Fridays, from 10:00 a.m. to 6:00 p.m. and Saturday from 8:30 a.m. to 12:30 p.m. Accepted methods of payment include cash, local check, Visa, MasterCard, and Discover.
Parking
There is very limited on-site parking and parking in the surrounding neighborhoods is prohibited. Concertgoers are advised to arrive at least one hour early to all events and concerts if they want to park on-site. Two free satellite parking areas are also available: behind RB Hunt Elementary School, just one mile north on A1A, and at the Elks Lodge, less than a mile south on A1A. Shuttles are available for events at the Amphitheatre and start an hour and a half prior to the shows.
Upcoming Events
| Event | Date | Time |
| --- | --- | --- |
| The World Changers Concert At The St. Augustine Amphitheatre | Tomorrow, December 8th, 2023 | 6:30 pm - 10:00 pm |
| Amphitheatre Farmers Market | Saturday, December 9th, 2023 | 8:30 am - 12:30 pm |
| Elf Holiday Event | Friday, December 15th, 2023 | 7:00 pm - 10:00 pm |
| Amphitheatre Farmers Market | Saturday, December 16th, 2023 | 8:30 am - 12:30 pm |
| Steve Miller Band at The St. Augustine Amphitheatre | Saturday, December 16th, 2023 | 7:30 pm - 9:30 pm |
| Amphitheatre Farmers Market | Saturday, December 23rd, 2023 | 8:30 am - 12:30 pm |
| Amphitheatre Farmers Market | Saturday, December 30th, 2023 | 8:30 am - 12:30 pm |
| Amphitheatre Farmers Market | Saturday, January 6th, 2024 | 8:30 am - 12:30 pm |
| Amphitheatre Farmers Market | Saturday, January 13th, 2024 | 8:30 am - 12:30 pm |
| Amphitheatre Farmers Market | Saturday, January 20th, 2024 | 8:30 am - 12:30 pm |