St. Augustine Inn
Off of Route A1A, Next to Mojo's Tacos
601 Anastasia Blvd., St Augustine, FL, 32080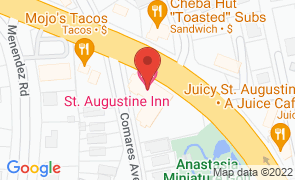 Located off of the A1A on Anastasia Island and keeping its doors open to entrepreneurs and families, the St. Augustine Inn lives up to its name and reputation. Guests can enjoy the comforts of an airy room with king or queen beds and transitional or contemporary style furniture. Non-smoking and allergy-free rooms can help individuals to breathe easier and take advantage of restful sleep. Some additional amenities include free WiFi, a microwave, refrigerator, and an air conditioner to keep cool after an experience in the Florida heat. 

Guests can choose to get around using the hotel's bicycle rentals, keep their vehicles at the hotel's free parking spot, or utilize airport shuttle services. The St. Augustine Inn is close to Marine land, the St. Augustine Lighthouse and Museum, and other thrilling attractions in the ancient city. Visitors can be part of a grand experience at the St. Augustine Inn. 

 

 

 

No Reviews Yet...

Be the first to Review St. Augustine Inn!




Restaurants
Near St. Augustine Inn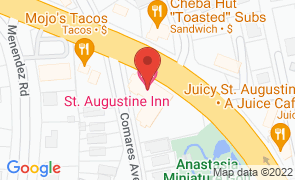 St. Augustine Inn
Off of Route A1A, Next to Mojo's Tacos
601 Anastasia Blvd., St Augustine, FL, 32080