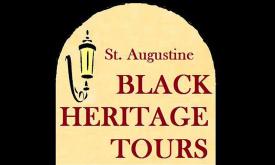 The public tours begin at 4:00 p.m.
Black Heritage Tours has closed.
On the third Saturday of each month, guests are invited to join St. Augustine Black Heritage Tours for a walking tour of historical sites focused on Black History and the Civil Rights Movement here in St. Augustine. 
The remarkable story of Africans in St. Augustine began with the founding of the city itself in 1565, when Pedro Menendez landed here, along with his crew that included three Africans. Slavery existed in St. Augustine under both Spanish and British rule, though the Spanish governor granted freedom to 38 slaves who had escaped from colonies north of Florida. Nearly 200 years after Menendez, the first free black settlement in the U.S. was established in St. Augustine in 1738 at Fort Mose. Over the next two plus centuries, African Americans played prominent roles in the growth of St. Augustine.
St. Augustine also played a significant role in the struggle for civil rights in the 1960s. Local demonstrations began with a sit-in at a local Woolworth's lunch counter in 1960, and many heroes of the civil rights movement, including Dr. Martin Luther King Jr., came here to lead protests along with the leaders of St. Augustine's black community. These struggles were an integral part of Dr. King's nationwide campaign that resulted in the passage of the Civil Rights Act of 1964, and it largely defines St. Augustine as an important place for Black history.
Tour St. Augustine has teamed with St. Augustine Black Heritage Tours to offer a variety of group and package tours, from walking tours to multi-day tours and field trips. On the third Saturday of every month, they offer The St. Augustine Historic Civil Rights and Black Heritage walking tour that is open to the public. There is a fee for this 90-minute tour and registrations are suggested.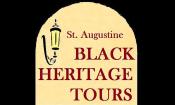 The public tours begin at 4:00 p.m.