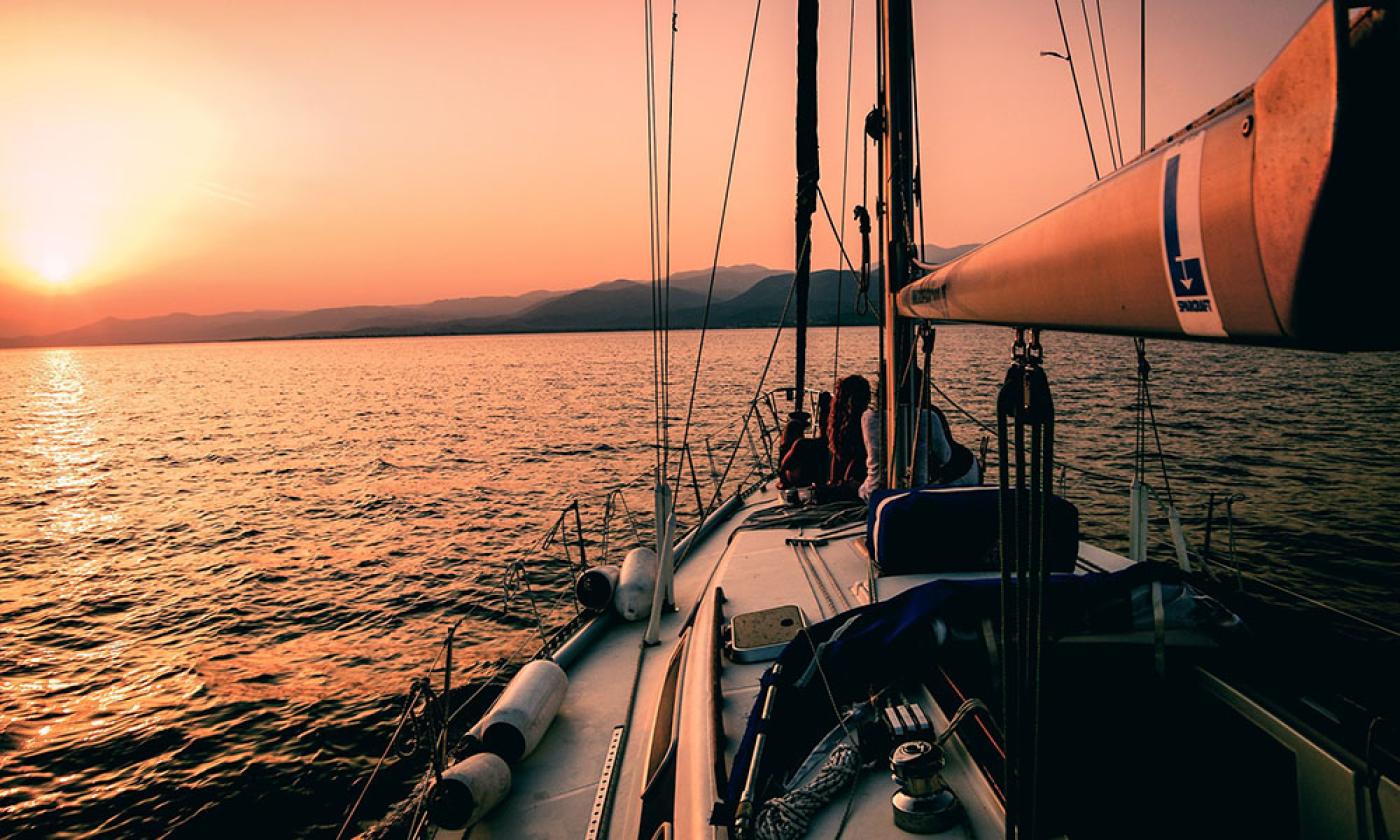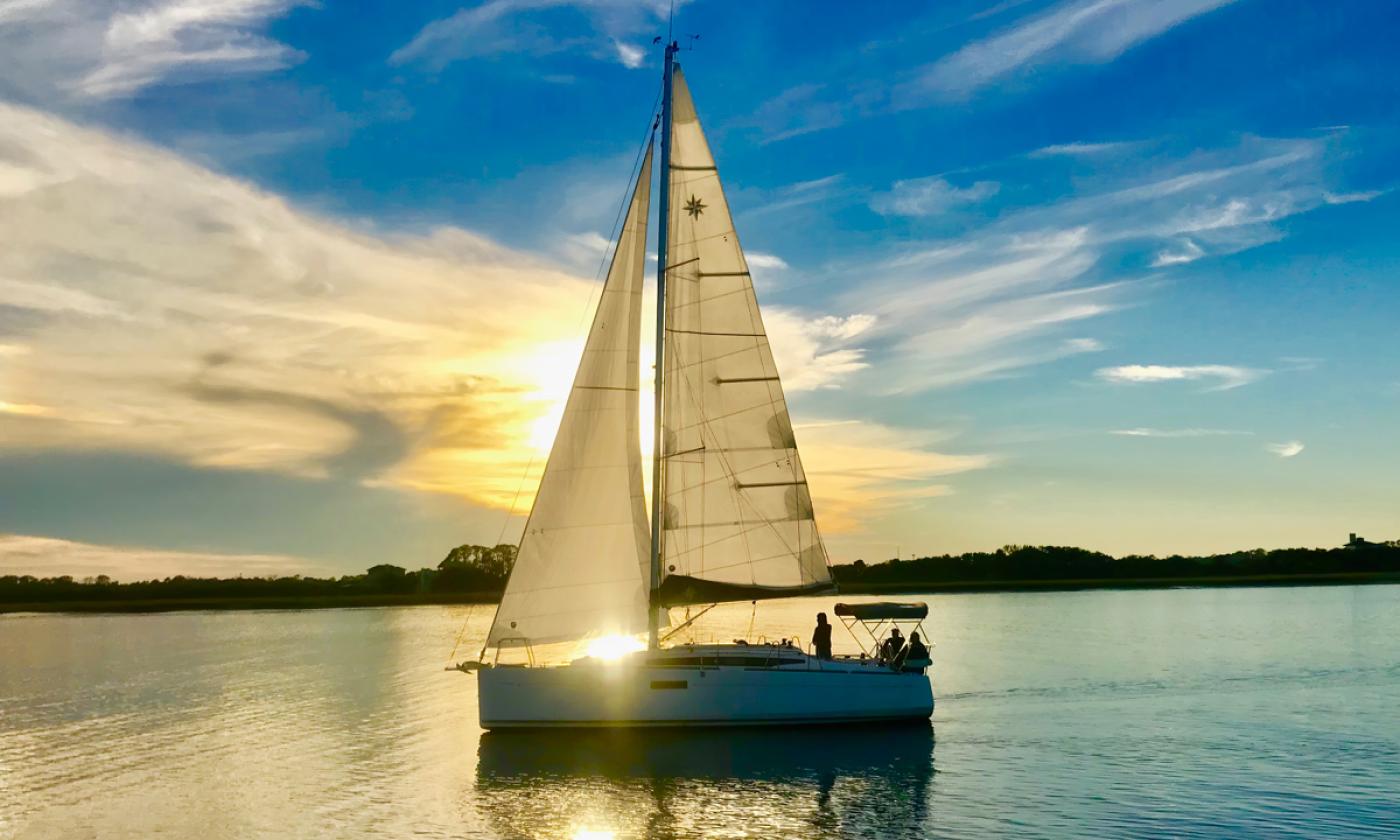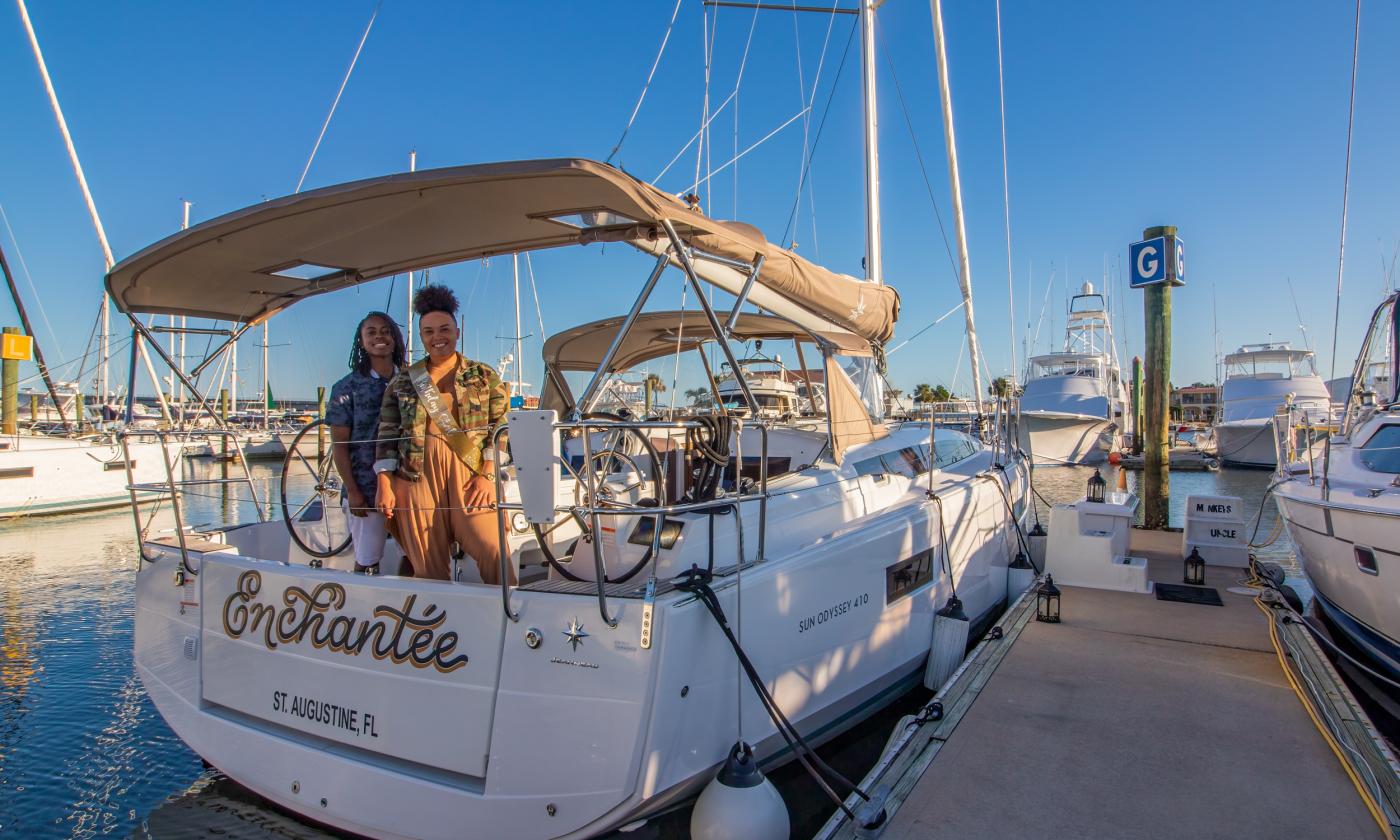 Currently closed.
Mon - Sun:
9:00 am - 8:00 pm
One of the most beautiful ways to enjoy St.Augustine is from the water and nothing beats moving along under the power of the wind, watching the seabirds glide and dive, and listening for that "p-puff." that announces dolphins playing or feeding nearby.
St. Augustine Sailing Charters leave from Camachee Yacht Harbor, a premier marina located on the inland side of the Vilano Bridge. The charters offer unique sailing experiences that are perfect for small groups, private parties, intimate events, or a get-away for two.
St. Augustine Sailing's premium charters start with two-hours on the water and can include full-day or even overnight charters. Guests may opt to sail on the local rivers, the Intracoastal waterway, or on the Atlantic Ocean.
Their fleet of boats include two open daysailers, plus luxurious cruising mono-hulled sailboats and catamarans from 34 to 45 feet in length. Every charter is captained by an experienced and knowledgeable U.S. Coast Guard licensed captain.
An Introduction to Sailing
St. Augustine Sailing is owned by a well-known and highly acclaimed A.S.A. Sailing instructor, Rose Ann Points. There are few things she or her team enjoy more than turning adventurers into sailors. St. Augustine Sailing offers a number of affordable charters that provide an introduction to sailing — and that make excellent gifts. Some are fully hands-on, others let the guests relax in affordable luxury, and all trips can whet a guest's appetite for more time on the water in a sailboat.
Intro to Sailing offers two to four people the opportunity to learn (or brush up on) the basics of sailing, including sail handling, steering, and finding the wind. They use 21 or 22-foot Hunters sailboats, sturdy sloops that offer a comfortable cockpit and the chance to handle the two most common sails, a main and a jib. Intro to Sailing costs just $99.00 per person and can be booked here. 
Learn the Ropes, sets out in a larger boat, a beautiful 349 Jeanneau, and the crew provides more detailed instruction. Before leaving the dock, the instructor will discuss what each person wants to learn, so that the lesson can address issues and concerns of the novice, lightly-experienced sailor. Learn the Ropes cost $199.00 per person and can be booked here.
St. Augustine Sailing's Captained Charter Options
Charters can be booked for daytime or evening sails.
Affordable Luxury, St. Augustine Sailing's Sip N Sail can last one or two hours and will include a wine tasting. There is a 2-person mimimum to set sail, and a maximum of 6 guests are allowed. Two or more bottles of wine will be available for sipping as the boat sails along St. Augustine's shore on trips that can be scheduled for morning, afternoon, or evening.  One-hour cruises are $99.00 per person, and two-hour cruisers are $149.00 and can be booked here. All must be 18 or over. 
Private charters for two can offer romance on the water for a date night (or perhaps a surprise proposal).
Private charters can be undertaken to enjoy the St. Augustine waterfront, view the more natural areas along the Intracoastal Waterway, or take an excursion out into the open ocean. (Ocean sails have a minimum of three hours.)
Themed sailing parties can be booked to celebrate a birthday, bachelor or bachelorette weekend, or some other special event.
Corporate charters can be used to undertake a bit of teambuilding or to reward a team for reaching their goal.
Seasonally, St. Augustine Sailing offers special sailing cruises, including multiple packages for the Nights of Lights Season.
Throughout the year, every charter can be customized to include a wine tasting with St. Augustine Sailing's Sommelier, a luxurious four-course dinner with an onboard Chef, or a decadent dessert sail. Every member of the team at St. Augustine Sailing strives to provide each guest with a premier on-the-water sailing charter experience.
Land and Sea Tours
St. Augustine Sailing has teamed up with St. Augustine Experiences so visitors can see and taste the best of St. Augustine in one tour that includes a walking tour of a large portion of historic downtown — featuring some of the area's favorite places for food — and a 2-hour cruise aboard one of St. Augustine Sailing's luxury yacht. Visitors may choose from three options.
To learn more and to make reservations for one of these Land and Sea tours, go here.
Themed Sailing Cruises, Available Year-Round
St. Augustine Sailing currently offers a brunch cruise, any day of the week. The cruise includes mimosas and brunch tidbits while sailing on a 35-foot monohull. Shared and private cruises are available. To book a brunch cruise, go here.
A.S.A. Sailing Lessons
St. Augustine Sailing, an American Sailing Association (A.S.A.) teaching center, offers classes for both beginners and more experienced sailors. Visitors who choose to include a day or two of sailing instruction in their itinerary will have a unique vacation and set themselves up for a lifetime of fun on the water. Many visitors have chosen to travel down to St. Augustine to enjoy an outstanding sailing course and have fun in the city when the classes end. 
St. Augustine Sailing provides basic sailing instruction for the person who wants to have enough skills to be able to crew for friends or in a local race. Classes are taught on forgiving, but responsive 21 and 22-foot open sailboats that are perfect for learning boat handling.
Additional classes on larger sloops offer more in-depth instruction for basic coastal cruising and basic bareboat chartering. Those who attain the highest level A.S.A. certificate can become certified bareboat skippers who can confidently take a boat on a week's cruise, having learned the basics of navigating, provisioning, sailing off-shore, anchoring, and docking. St. Augustine Sailing also offers a special class for those who want to learn the intricacies of sailing a catamaran.
St. Augustine Sailing's A.S.A. sailing lessons are limited to only 4 students per boat so that each has the opportunity to practice every skill.
SailTime Membership
Sailors with experience who want to captain their own vessel — without the hassle of owning a boat — will find that a SailTime Membership will get them out on the water in a new yacht on a schedule that works for them. SailTime members pay a monthly fee, schedule their chosen boat online, sail, clean it, and walk away until the next time. The St. Augustine Sailing team is happy to discuss SailTime Membership options.
Yacht Sales
All Points Yacht Sales, the sales division of St. Augustine Sailing, brokers  high-quality sail and powerboats in Northeast and Central Florida. Their office  at Comachee Yacht Harbor, is located at 3074 Harbor Drive in St Augustine.
Other Sailing Adventures
To learn more about their premier sailing adventures, including their fleet of boats and their experienced crew, visit St. Augustine Sailing's website.
The "Sweet and Salty" cruise starts downtown in the morning, focusing on some of the many sweet tidbits found in St. Augustine. Afterward, guests hop aboard a luxury sailboat and enjoy the salty breezes along with wine and beer, while sailing the waters of the Matanzas.
"Sails and Ales" starts with a two-hour cruise during which local brews and fun cocktails are served. The land portion of the tour will visit historic sites, brew pubs, and taprooms.
"Surf and Turf" starts on board a beautiful sailboat in the morning, with lite bites mimosas, and a 2-hour cruise. Afterward, a tour of the historic district includes stops at three of St. Augustine's favorite places to relax over wine, cocktails, and various Charcuterie boards.
St. Augustine Sailing also offers yacht brokerage services for people who want to buy or sell a boat.
Currently closed.
Mon - Sun:
9:00 am - 8:00 pm
Have a Question?