Tebault Bridal
Just east of Route 1
1590 Arapahoe Ave., St. Augustine, FL, 32084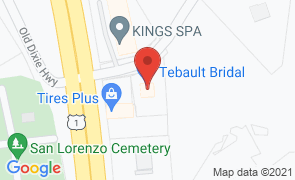 Hours
of Operation
Sun:
10:00 am - 4:00 pm

Mon - Tue:
Closed

Wed:
10:00 am - 6:00 pm

Thu:
12:00 pm - 8:00 pm

Fri:
10:00 am - 4:00 pm

Sat:
9:00 am - 5:00 pm

At Tebault Bridal, classic, timeless elegance with a modern twist welcomes patrons in hues of pink and gold. A bubbly toast is offered once a bride has found the right dress courtesy of the personal touch owner, Kristen Tebault, offers to all brides.

Accessibility for brides of all budgets is a key factor of Tebault Bridal, as well as high-quality service and products. A variety of brands are available, including Justin Alexande, Madi Lane, and Modeca. Veils, jewelry, hair pieces, belts, and sashes are also available.

Located at 1590 Arapaho Avenue off US1, Tebault Bridal offers views of coastal St. Augustine marshlands that can be seen through large windows within the bridal suites.

No Reviews Yet...

Be the first to Review Tebault Bridal!




Restaurants
Near Tebault Bridal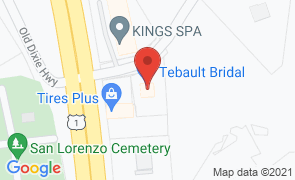 Tebault Bridal
Just east of Route 1
1590 Arapahoe Ave., St. Augustine, FL, 32084
(904) 829-7098
Hours
of Operation
Sun:
10:00 am - 4:00 pm

Mon - Tue:
Closed

Wed:
10:00 am - 6:00 pm

Thu:
12:00 pm - 8:00 pm

Fri:
10:00 am - 4:00 pm

Sat:
9:00 am - 5:00 pm