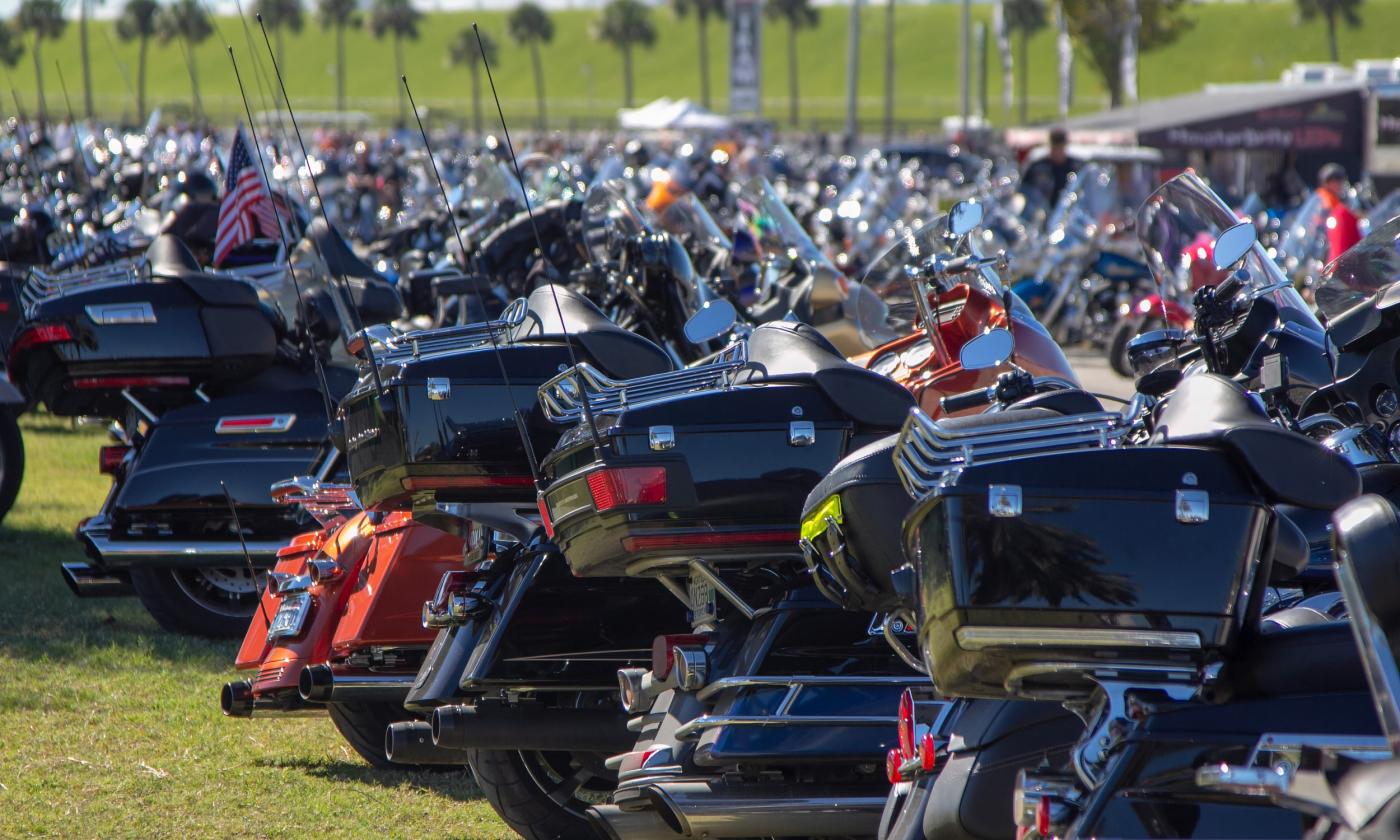 Thursday - Sunday, October 13 - 16, 2022 | Times Vary
The 30th Anniversary of Biketoberfest in Daytona Beach is still scheduled for Friday to Sunday, October 13 to 16, 2022. 
Visit St. Augustine During Biketoberfest
Those who want to enjoy Biketoberfest festivities while exploring the surrounding areas of Florida can choose to stay in St. Augustine, Florida. St. Augustine Florida is a bike-friendly community with history, attractions, award-winning restaurants and bars, and comfortable places to stay. Every year, thousands of bikers choose to stay in St. Augustine for the Biketoberfest weekend, with plenty of places to shop and ride around town. Visitors can cruise over the Bridge of Lions or the Vilano Bridge, ride through the ancient streets of the nation's oldest city, or take in the ocean breeze on Scenic A1A at St. Augustine Beach. The city sets aside metered lanes for bikers all around the plaza, so there's plenty of space to park a bike while strolling around town and down St. George Street.
Bikeweek is packed with events from swap meets that start at 8:00 a.m. to live music that continues past midnight. In between, folks are encouraged to ride various routes in the area, including visits to the Old City of St. Augustine. For more information on what's happening in Daytona Beach during Biketoberfest, visit here. For more information on Biketoberfest in St. Augustine, read "Biketoberfest"® 
Biketoberfest History
This popular weekend for motorcycle enthusiasts traditionally includes a multitude of motorcycle events like shows and rallies, live music, scenic rides along A1A, and other historic Florida roadways, including a robust nightlife scene, with bars on Main Street ike Froggy's, Dirty Harry's, Main Street Station and the Boot Hill Saloon offering food and drinks, as well as live entertainment and giveaways. This is one of the most popular events in the country for motorcycle enthusiasts (second only, perhaps, to Bike Week in Daytona in the spring).
Biketoberfest was established 30 years ago by the Daytona Beach Area Convention and Visitors Bureau. The event is traditionally held the weekend immediately following Columbus Day with most bike vacationers staying throughout the entire week. The event features a 12-mile ride along a series of scenic state and county highways in Volusia County known as the Ormond Scenic Loop and Trail. Other popular rides include up and down Main Street and Beach Street in Daytona, through various state parks such as Tomoka State Park and DeLeon Springs State Park, and to the historic Ponce de Leon Inlet Lighthouse, located just south of Daytona Beach in Ponce Inlet. Visitors can participate or watch multiple motorcycle races and demos on the high banks of the newly repaved Daytona International Speedway.
When: Friday to Sunday, October 13 to 16, 2022.
Where: Daytona Beach, Florida.