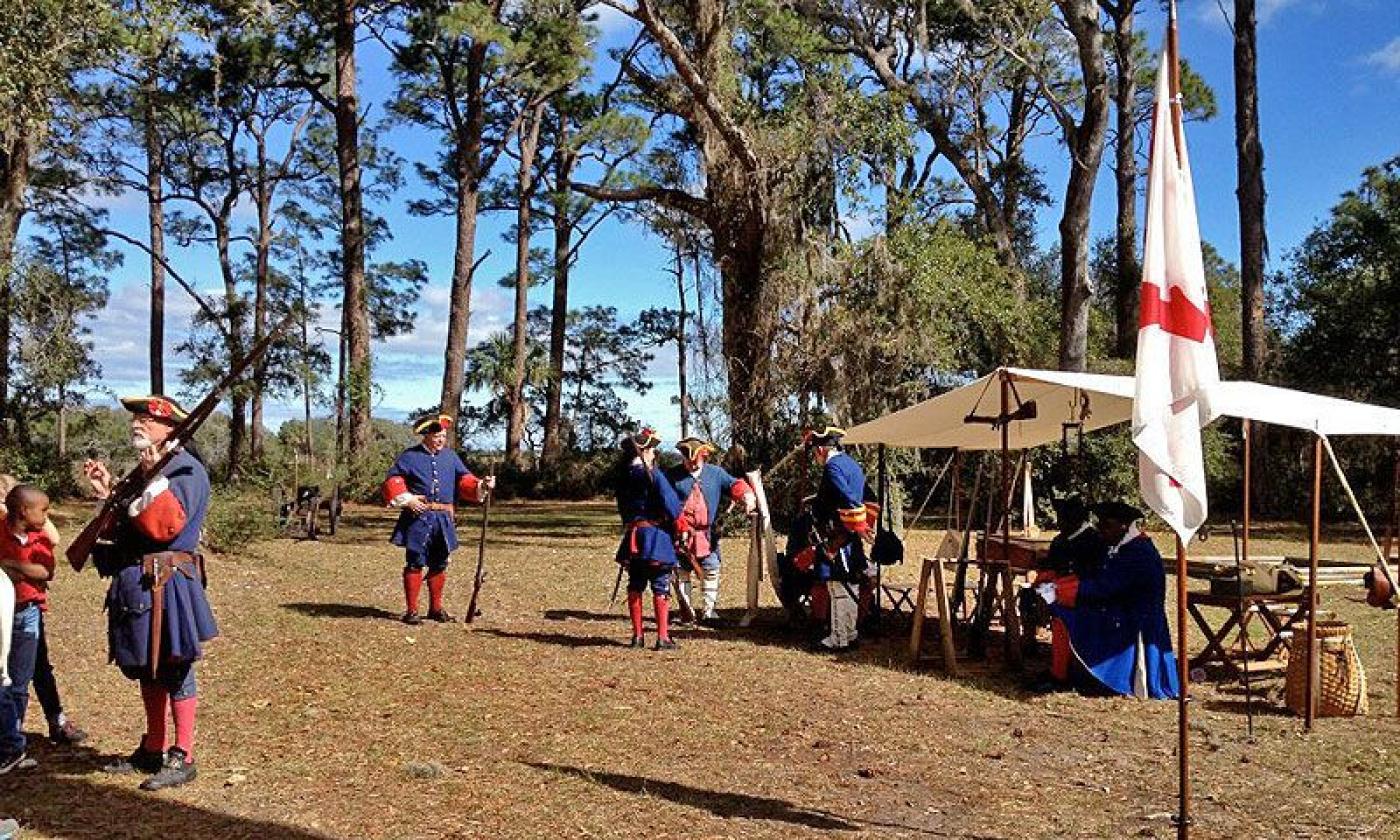 Thursday, February 2 to Saturday, February 4, 2023 | 9 a.m. to 3 p.m.
History will come alive at Fort Mose in February when the Fort Mose Historical Society presents their annual Flight to Freedom event.  On Saturday, February 4, 2023 the event is open to the public from 9:00 a.m. to 4:00 p.m. On Thursday, February 2, and Friday, February 3, the event is open to school groups.
During these three-day of living history showcase, re-enactors demonstrate what life was like for the hundreds of slaves who traveled the southern route of the Underground Railroad to Gracia Real de Santa Teresa de Mose (Fort Mose). Visitors will find themselves back in 1738 as they walk along a wooded trail and encounter escaped slaves seeking freedom, helpful Natives, compassionate friars and slave catchers determined to thwart them all. The travelers will be led to safety by a Boatsman who will take them to Fort Mose, the first legally sanctioned black community in North America.
Visitors will meet Captain Francisco Menendez, the leader of the community, witness a militia muster and learn from the women of Fort Mose as they work on their daily duties.
Activities include historical demonstrations and guided walks along the park's Freedom Trail, which represents the journey of escaping slaves from coastal Carolina to Spanish Florida.
Tours along the park's freedom trail will start every 15 minutes between 9:00 a.m. and 11:00 a.m and again from 12:00 noon to 3:00 p.m.  From 11:00 to noon on Saturday visitors will be entertained by African Drumming. 
Hundreds of freedom seekers fled slavery in the British colonies and came to Fort Mose in Spanish Florida from 1687 until 1763. The escape route ended in 1763, when the British took control of Florida, thus ending Florida's run as a sanctuary. The experience of this perilous journey and the historical context in which it occurred is re-created by living history demonstrators in this annual Fort Mose event.
For more information, call (904) 823-2232 or visit here.
Admission: Free admission to the park grounds and the event. Admission to the museum inside the visitor's center is $2.00 for all over the age of 6.  Donations to the Fort Mose Historical Society and membership enrollment to the organization will be gratefully accepted.
When: Public tours leave every 15 minutes from 9:00 to 11:00 a.m. and again from noon to 3:00 p.m., on Saturday. The park is open until 4:00 pm.
Where: Fort Mose State Park is located at 15 Fort Mose Trail, just north of St. Augustine's historic district.
Parking: On Saturday, parking at Fort Mose will be only for those who need accessible parking, all others are asked to use the free general parking at the County Health Department, 200 San Sebastian View. There will be a free shuttle service beginning at 8:30 a.m. (Tipping is appreciated.)
Fort Mose is the site of the first legally sanctioned free African settlement in what is now the United States. The settlement was chartered by the Spanish governor of La Florida in 1738 and was called Gracia Real de Santa Teresa de Mose. It served as a haven for those fleeing slavery from the English colonies in the Carolinas. Fort Mose has been recognized for its national significance and was designated a National Historic Landmark in 1994.
The Annual Flight to Freedom heritage Event is sponsored by Fort Mose Historic State Park and the Fort Mose Historical Society, with the support of volunteers from the Fort Mose Militia and other historical re-enactment groups.
Admission | Ticket Prices
| Park/Event Admission | Free |
| --- | --- |
| Museum Admission | $2 |
Have a Question?