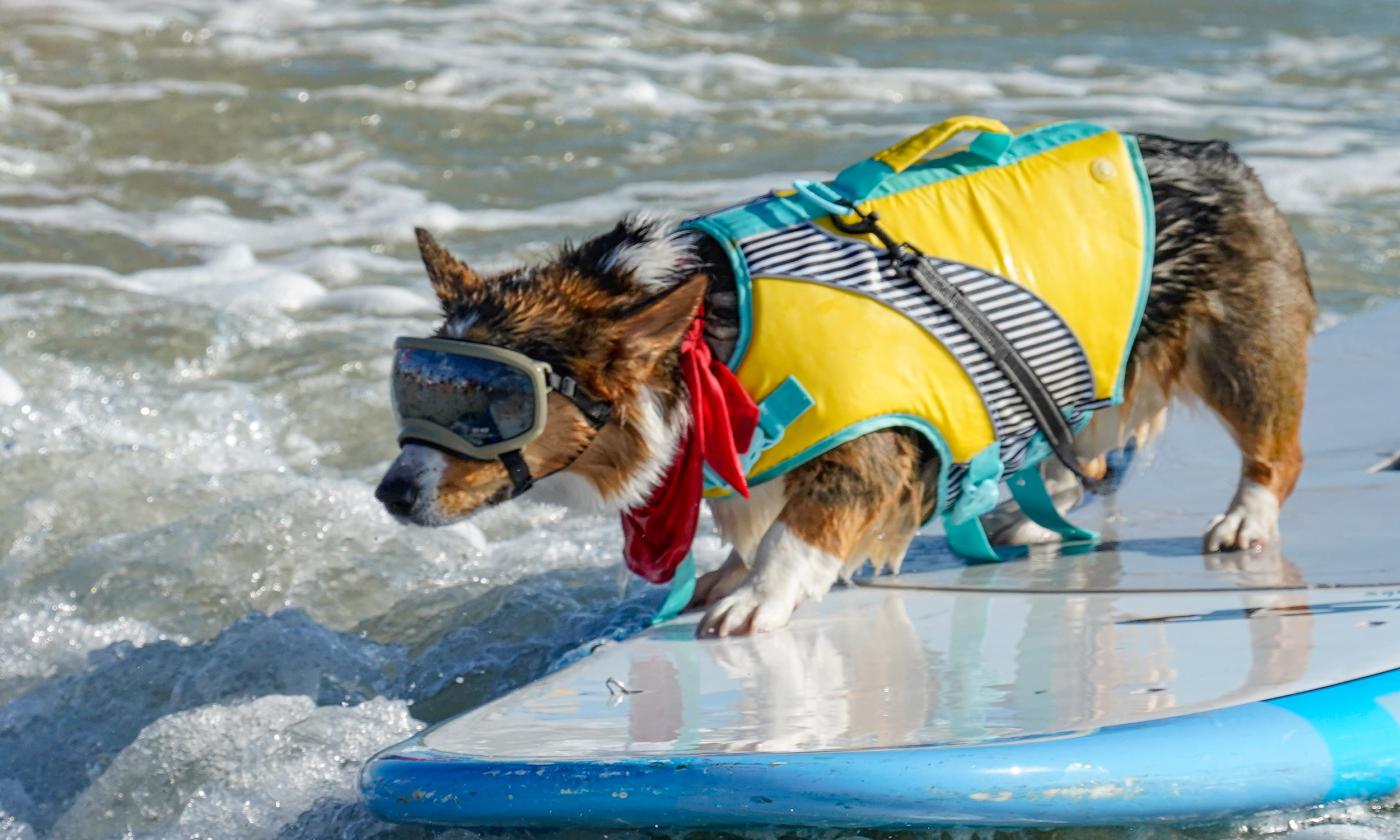 Friday and Saturday, Sept. 29 - 30, 2023 | Times vary
Guy Harvey Outpost Resort on St. Augustine Beach hosts a fun-filled weekend at the beach and several Pups & Sups events on Friday and Saturday, September 29 and 30, 2022. The weekend begins with dog surfing lessons on Friday from 9:00 to 11:00 a.m.
Friday, from 5:00 to 7:00 p.m., the Guy Harvey Resort hosts a Meet & Greet Yappy Hour and Fashion Show. Everyone is invited, with or without their animals, for cocktails and kibble at Santiago's Florida Kitchen & Craft Bar at the Guy Harvey Resort. This is a chance to meet other competitors and register for the surf contest the next day.
On Saturday, September 30, the "Hang 20" Pups and Sups surfing competition takes place on the beach at the Guy Harvey Outpost Resort from 11:00 a.m. to 1:00 p.m. Check-in and late registration begins at 10:00 a.m. Entry donations (with a suggestion of $20.00) will go to K9s for Warriors. No experience is necessary, just a life jacket for any dog on a board.
Spectators can also enjoy a "Spectator Village" with vendor tents and activities from 11:00 a.m. to 2:00 p.m. The Awards Presentation for the Hang 20 winners will begin at 2:00 p.m.
K9s for Warriors is a not-for-profit organization that provides service animals to veterans and returning military personnel.
Admission: The event is free for spectators, but donations for K9s for Warriors are happily accepted. Donations of any amount are accepted for event registration, although $20.00 is suggested. Visit here to register online.
When: The event begins on Friday, September 29, with dog surfing lessons from 9:00 to 11:00 a.m. Everyone is invited to a Yappy Happy Hour and dog fashion show from 5:00 to 7:00 p.m. The Hang 20 Surf Competition happens on Saturday, September 30, from 11:00 a.m. to 1:00 p.m. Those who wish to "paw-ticipate" may check-in starting at 10:00 a.m.
Where: The Guy Harvey Outpost Resort is located at 860 A1A Beach Blvd in St. Augustine Beach, FL 32080.