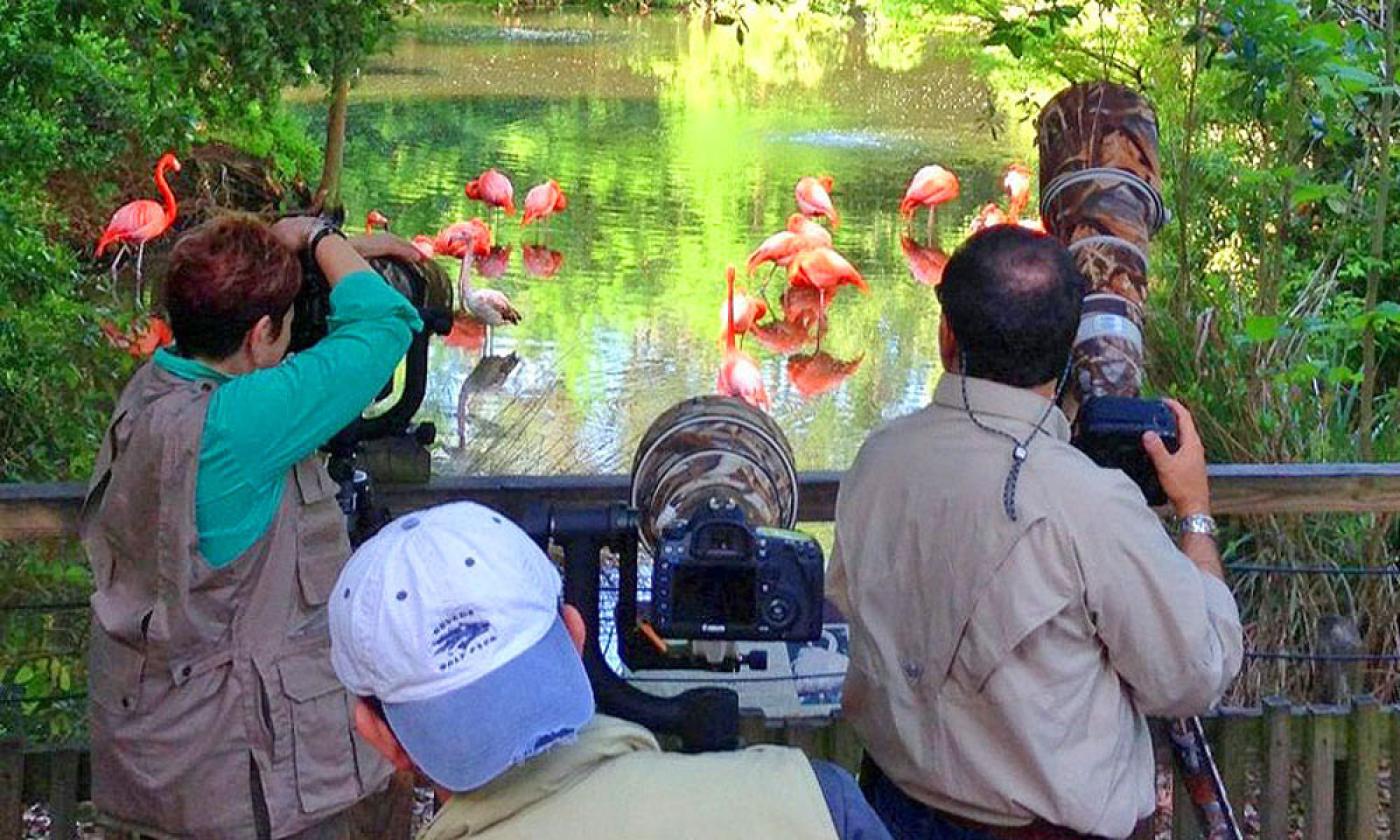 Wednesday - Sunday, April 19 - 23, 2023
The Florida's Birding & Photo Fest has gained international acclaim among nature lovers and photography enthusiasts, with attendance growing every year. Headquartered at Celebration Hall at St. Anastasia on St. Augustine Beach, the event runs from Wednesday, April 19, 2023 to Sunday, April 23, 2023, and features some 130 events, classes, and outdoor excursions this year.
Each day is jam-packed with activities, with a variety of field workshops on birding and nature photography clinics. The nature tours this year include sunrise and sunset outdoor adventures and everything in between. Specialized tours are offered on area parks and beaches, on boat and kayak tours, and nature tours in several of the area's beautiful state and county parks.
The event will have a number of photography classes that will range from beginners-level to professional techniques, and attendees can be assured that a number of speakers will be presenting their knowledge during the days of the event.
Host Hotels
Hotels that have offered special deals for guests attending Florida's Birding and Photo Fest in the past include Beacher's Lodge Oceanfront Suites, Villa 1565 Historic St. Augustine, Home2Suites by Hilton St. Augustine I-95, Doubletree by Hilton, Pier Point South Oceanfront Condominiums, the Ponce St Augustine Hotel, and Sleep Inn St. Augustine.
Admission: Early-bird Festival Registration is $15.00. Registration will be $25.00 after February 14, 2023. Individual seminars and programs will have additional fees.
When: Wednesday through Sunday, April 19 through April 23, 2023. See the links for daily schedules to find out about specific classes, seminars, and excursions. The opening reception will be on Wednesday, April 19, from 3:00 to 4:30 p.m., and the keynote reception will be on Friday, April 21, from 6:30 to 8:30 p.m. More information about speakers and locations will be posted at a later date.
Where: The festival is headquartered at Celebration Hall at St. Anastasia Catholic Church, 5205 A1A South in St. Augustine Beach, FL 32080. Both the opening reception and keynote presentation will take place at the Whitney Lab Center for Marine Studies at 9505 A1A Beach Blvd. in St. Augustine Beach, FL 32084. Individual events will take place throughout the area; visit the www.floridasbirdingandphotofest.com for complete information.
Other locations for specific classes and presentations held in prior years include:
Visit here to download maps for all these locations.
To see the 2023 schedule and more information on this event please call (904) 209-4422 or visit here.