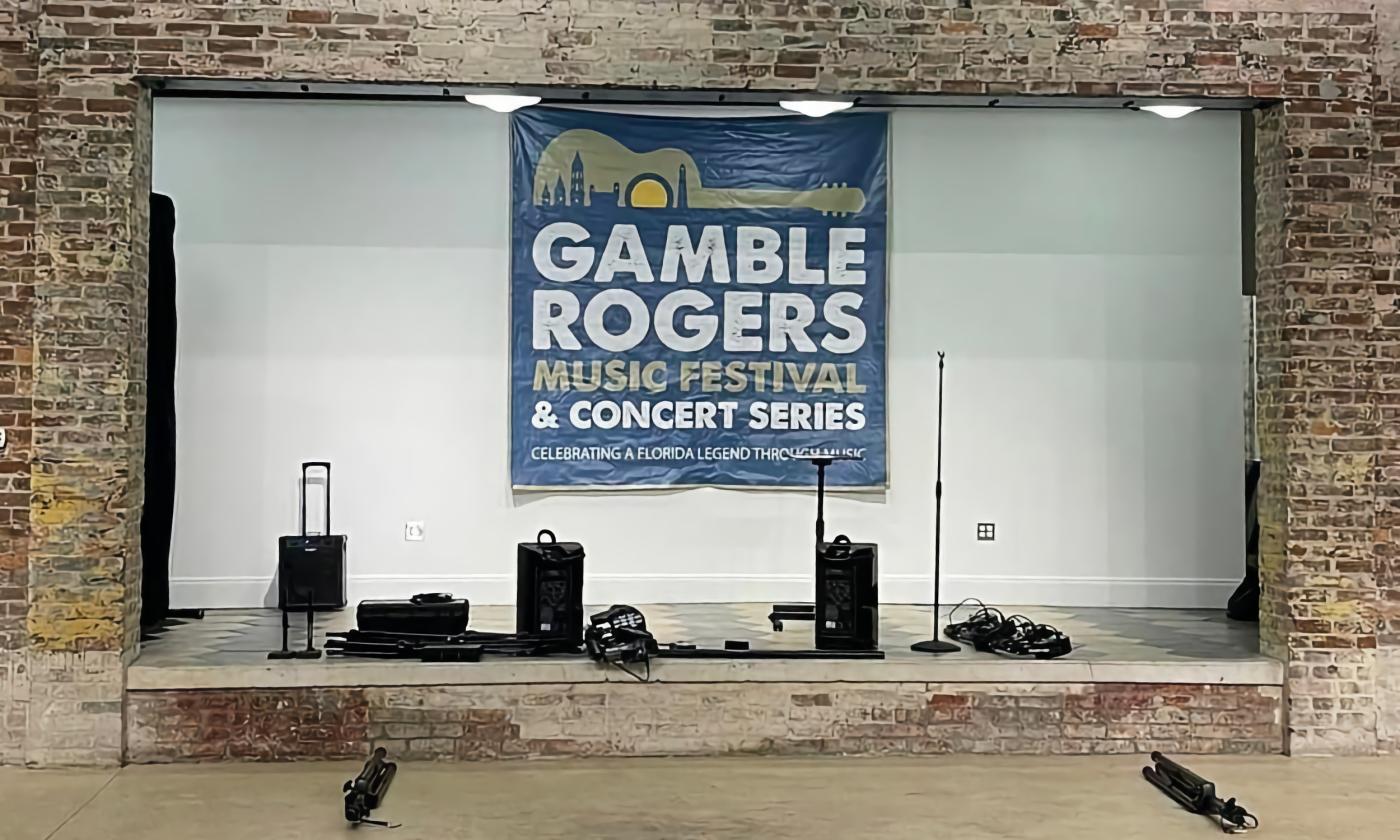 Select Saturdays October 2023 - June 2024 | 7:00 p.m. - 9:00 p.m.
The Gamble Rogers Folk Festival has partnered with the St. Johns County Cultural Council to present a monthly series of Saturday concerts at the Waterworks, from October 21, 2023, through June 22, 2024.
These concerts celebrate St. Augustine's Gamble Rogers — songwriter, storyteller, guitarist, and recording artist — who taught, befriended, and performed with many of the performers on the schedule. Each concert will include two acts, one local to the region and one with more national or international acclaim. Any evening could include music from and by insightful songwriters, excellently told stories and tall tales, and breathtaking musicianship.
As each act is scheduled, we will add them to the list.
October 21, 2023 —  the North Florida Taildraggers open, followed by the Drifters, with fiddle player, Christian Ward
November 18, 2023 — Jordan Tice with Noan Partly
December 16, 2023 — John Paul White with Hadley Parrish Cotton
January 20, 2024 — Richard Smith and Michael Jordan
February 17, 2024 — Jontavious Willis
March 16, 2024 — Rob Ickes and Trey Hensley
In April, there will be no Waterworks concerts; the Gamble Rogers Folk Festival will be April 12 - 14, 2024
May 18, 2024 
June 22, 2024
Held at the Waterworks, a renovated historic building on San Marco Avenue, each concert is limited to 100 attendees. Reservations are strongly encouraged.
Admission: Tickets are $20.00 to $25.00. These concerts often sell out. We suggest you reserve your tickets early, to do so online, go here.
When: Select Saturdays. 7:00 p.m. to 9:00 p.m. The doors open at 6:00 p.m. Most shows in the series will be held on the third Saturday of each month. 
Where: The St. Augustine Waterworks Building, at 184 San Marco Ave., St. Augustine, Florida 32084.
Getting There: Access to the Waterworks is from 1960 Ponce de Leon Boulevard, through the St. Augustine Main Library parking lot. 
The St. Augustine Waterworks is listed on the National Register of Historic Places and was built in 1898 to be a waterworks for the city. When a growing population necessitated the move to a new location, the building served time as a community center and theater and was later left unused. Now fully renovated again, this facility is accessible and has free parking, yet retains its historic architectural properties and charm.
Upcoming Live Music
Editor's Note:
We encourage you to verify event times and details with the organizers, as they may change.