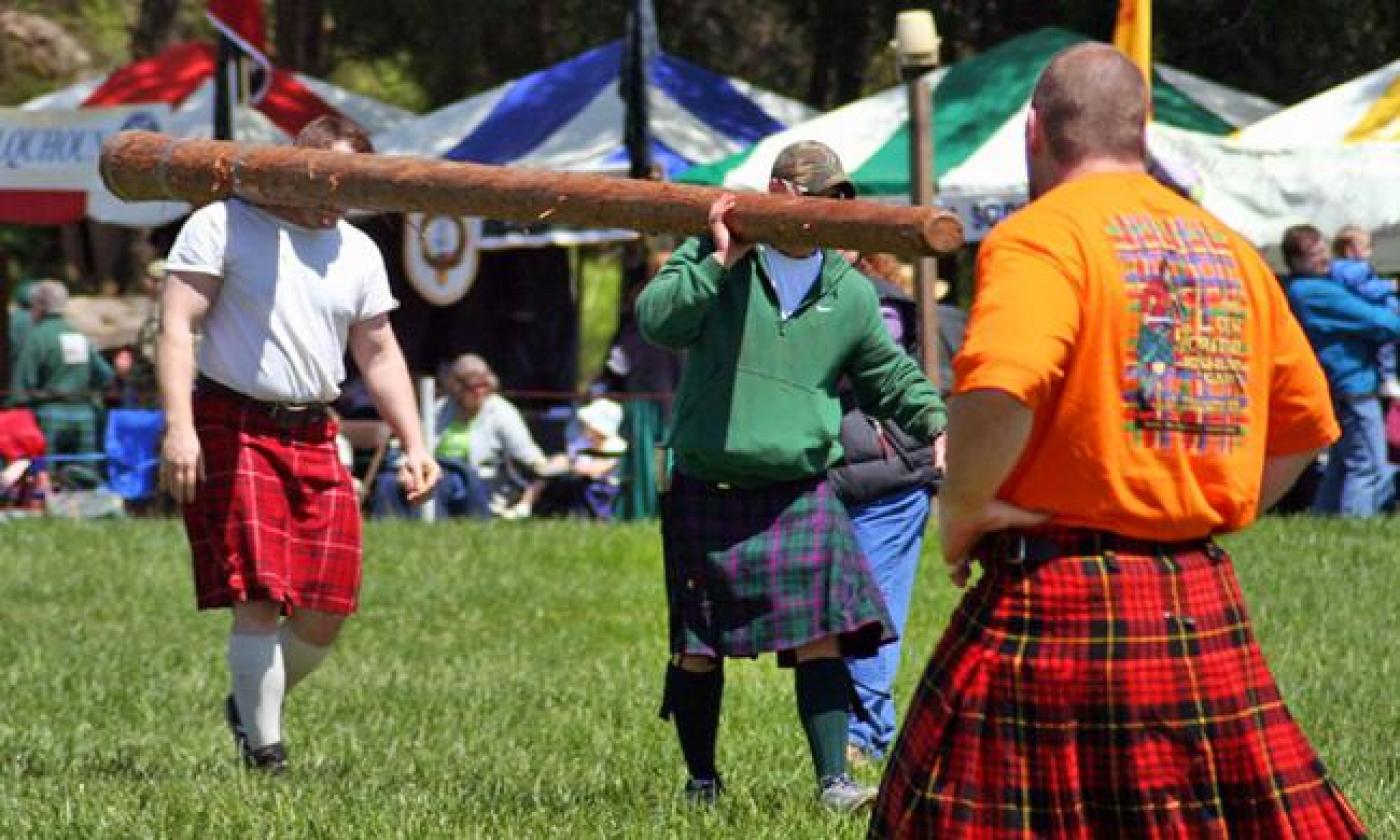 Please Note: This event is from 2022
The Highland Games are a popular highlight of St. Augustine's Celtic Festival, which takes place March 12 and 13, 2022. Participants can show off their strength and skill, and spectators can enjoy watching them compete in some fairly unusual events.
Originating in the Scottish Highlands during the 11th century, Highland Games are a favorite of festivals celebrating Celtic heritage. Impressive kilt-donning athletes challenge one another in traditional Scottish heavy athletics and strength competitions, including the weight throw, Scottish hammer throw, stone put, and the always entertaining caber toss, which involves tossing a long, tapered pine log or pole end-over-end.
The Scottish Highland games are traced back to King of Scots Malcolm III, who summoned contestants to a footrace in order to find the fastest runner in the land to serve as royal messenger. Over the centuries, Highland games events have expanded to include piping, drumming and dancing competitions, plus entertainment and exhibits celebrating Scottish and Gaelic culture. Thousands of fans from throughout Florida and Georgia, Savannah to Sarasota, Orlando and The Villages turn out every year for the St. Augustine Celtic Festival Highland Games.
Highland Games Information and Registration
The Highland Games take place Saturday and Sunday,  March 12 and 13, 2022, beginning at 10 a.m. Athletes can register to participate for $30 per athlete. Registration includes free Festival general admission and free lunch on the day of participation. All participating athletes are invited to march in the St. Patrick's Day Parade on Saturday. To register, visit here.
The Friday Clinic takes place from 4:00 to 6:00 p.m. on Friday, March 11, 2022. This is an introduction and training for anyone interested in competing in the games, and is not limited to novice athletes.
The competition begins immediately following the St. Patrick's Day Parade on Saturday, March 12, 2022, and continues through the weekend festival.
In addition to the scheduled competitions for registered athletes, there is a special Keg Carry event for the general public at 1:00 p.m. on Saturday, March 12, 2022. Whoever can carry an 87-lb. keg the farthest distance in one minute wins. You must be 21 or older and register by 12:00 p.m.
THE EVENTS (Saturday and Sunday, March 14 and 15, 2020)
Open Stone Put (16-lb. thrown for distance in any style)
Braemer Stone Throw and Hammer Throw
56-lb. Weight for Distance
28-lb. Weight for Distance
Caber Toss (size and weight of caber differs between the classes of athletes)
Sheaf Toss (16-lb. burlap bag tossed with a pitch fork for height)
56-lb. Weight for Height
Athletes Classes and Days of Competition
Men's Class A (Saturday)
Men's Class B (Saturday)
Masters Men Age 40-49 (Saturday)
Women's Open (Saturday)
Masters Men Age 50- 59) (Sunday)
Women's Masters Age 40+ (Sunday)
Senior Masters Men Age 60-69 (Sunday)
Novice Men with up to three Games' experience or never competed (Sunday)
Each day's competition at the Highland Games is new and has no bearing on the results for the next day. Awards will be done at the close of each full day of competition for each of the defined divisions of athletes participating at the festival in 2022.
Admission: $30 per person to participate in the Highland Games. Spectators can view the games with a ticket to the Celtic Festival.
When: Friday clinic from 4:00 to 6:00 p.m. on Friday, March 11. Games all day on both Saturday and Sunday, March 12 and 13, 2022.
Where: Francis Field is located west of the parking garage, at 25 West Castillo Drive in St. Augustine.
Parking and Shuttle Services
Parking is available at the downtown parking facility right next to Francis Field.
Additionally, the City of St. Augustine will operate a Free Park and Ride Shuttle Service on Saturdays during spring festival season. The service for the Celtic Festival runs from 8:00 a.m. until 11:00 p.m. on Saturday, March 12, 2022. The shuttle service picks up every 20 minutes from two parking locations north of downtown:
The shuttle will drop off at the Historic Downtown Parking Facility, which is located next to Francis Field, where this event will be held.
For alternative parking options when the park and ride shuttle is not available, please visit here.
Admission | Ticket Prices
| Option | Price |
| --- | --- |
| Competitor | $30 for weekend |
| Spectator | FREE w/ Festival Admission ($10) |
Have a Question?
Editor's Note:
We encourage you to verify event times and details with the organizers, as they may change.