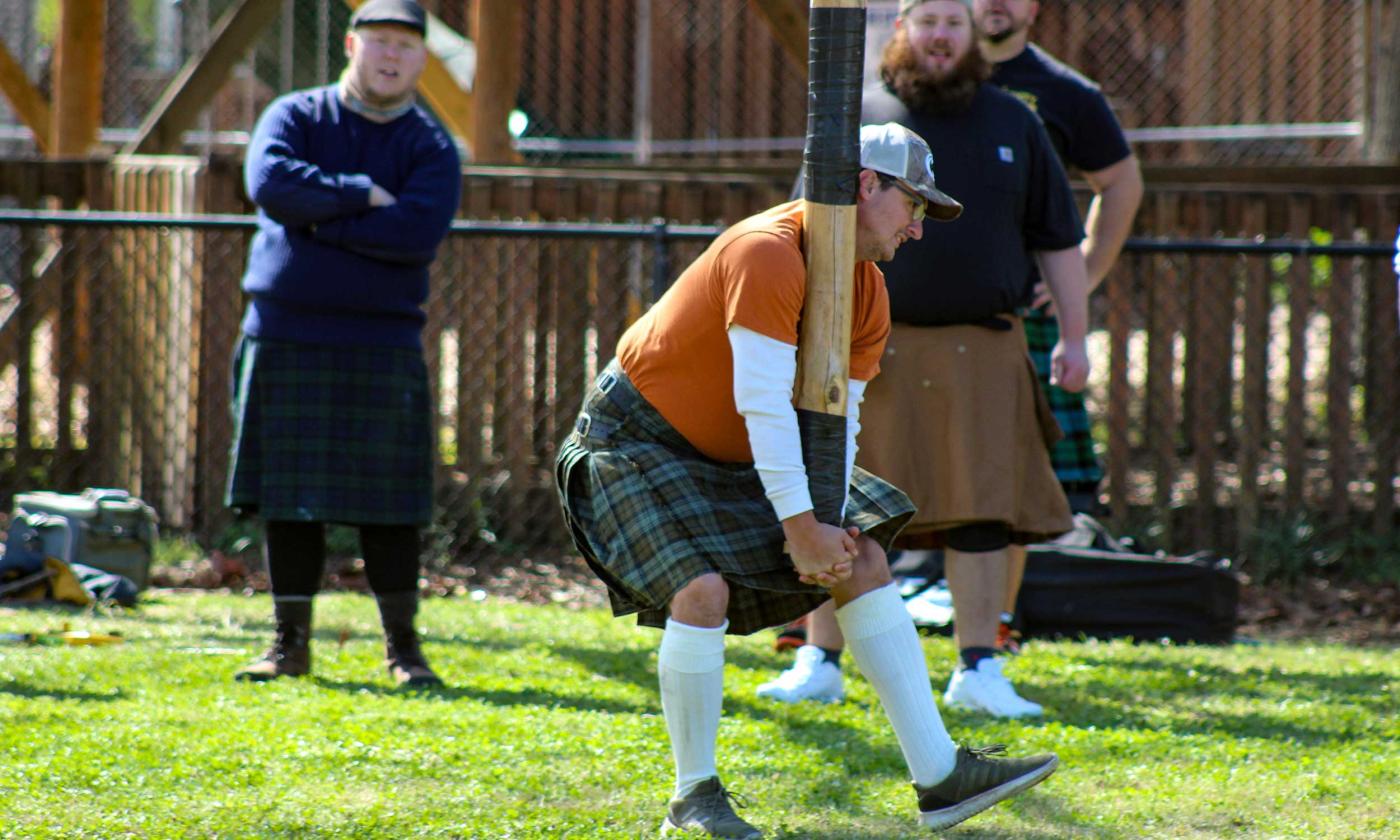 Fri., March 8 – Sun., March 10, 2024 | Times vary
St. Augustine's popular annual Celtic Music and Heritage Festival will be held at Francis Field from Friday, March 8 through Sunday, March 10, 2024. In addition to a parade, the festival celebrates Scottish, Irish, and Welsh games, music, and foods.
Celtic clans from around the world come to show their ancestral pride, athletes demonstrate their strength at the Highland Games, and Celtic folk music and rock rings throughout the weekend. Vendors and local downtown restaurants offer up Celtic cuisine and handmade crafts, and the world's oldest St. Patrick's Day Parade marches through the streets of the nation's oldest city.
Some of the information below is from 2023. We will update prices, times, and participants as we learn more.
Friday, March 8, 2024: Whiskey Tasting at 7:00 p.m. in the VIP Tent at Francis Field. The tasting event is $60 per person and features seven premium brands of Irish and Scotch whiskeys for visitors to sample. A limited number of tickets are available, and only online here. From 4:00 to 6:00 p.m., there will also be a free Highland Games clinic for those interested in competing.
Saturday, March 9, 2024: The St. Patrick's Day Parade will take place on Saturday at 10:00 a.m. St. Augustine's St. Patrick's Day Parade first happened here in 1601, when residents of St. Augustine wished to honor a popular Irish Catholic priest. This is the only St. Patrick's Day Parade in Northeast Florida. Festival gates at Francis Field open at 10:00 a.m. and live entertainment begins with a bagpipe Jam at 11:15 a.m.
Sunday, March 10, 2024: Gates open at 10:00 a.m. and the festival ends at 7:00 p.m. Throughout the day, live entertainment will be on the main stage at Francis Field (beginning at noon) as well as on a secondary stage.
Celtic Clans: Clans from throughout Scotland and Ireland will show off their family pride and represent their ancient heritage. The Highland Games Athletes are encouraged to march in the parade on Saturday morning. Competition for those not marching in the parade begins at 10:00 a.m. The Highland Games continue on Sunday beginning at 10:00 a.m.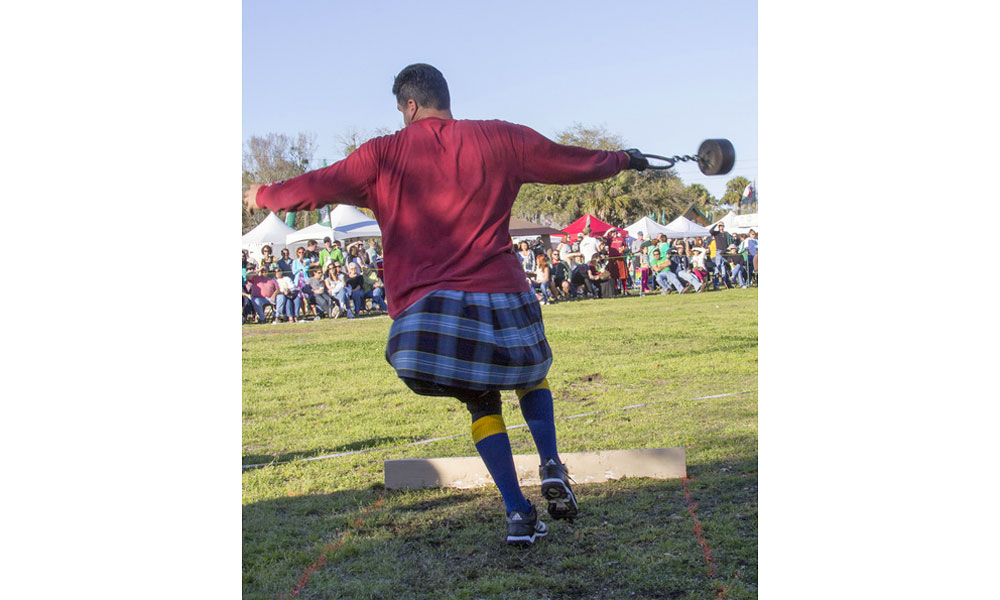 Highland Games: This Scottish tradition dates back to the King of Scots Malcolm III who summoned contestants to a race in order to find the fastest runner in the land to serve as a royal messenger. 2024 Highland Games events include: Open Stone Put, Braemer Stone Throw, 56-pound weight for distance, 28-pound weight for distance, caber toss, sheaf toss, and 56-pound weight for height. The keg carry event takes place at 1:00 p.m. on Saturday.
Music: Traditional and modern Celtic music will be performed by regional and national bands. Many of the headlining musicians are returning from earlier festivals, including fan favorites Dublin City Ramblers, Albannach, Syr, Seven Nations, Steel City Rovers, and Jamison3
Admission: General Admission in 2023 was $15.00 before the festival and $20.00 at the festival gates. A general admission ticket is valid for either Saturday or Sunday. Children under 12 are free. Active duty and retired military with ID are free. Visit here to purchase tickets online.
VIP tickets include admission for both days, a free festival t-shirt, 2 free beers or wine, and separate VIP seating, bars, and bathrooms. Children who accompany a VIP adult are free. 
When: Friday through Sunday, March 8 , 2024, through March 10, 2024
Friday: Whiskey Tasting 7:00 to 9:00 p.m. (Tickets for the Whiskey Tasting must be purchased in advance.)

Saturday: Gates open at 10:00 a.m.

Sunday: Gates open at 10:00 a.m., and close at 7:00 p.m.
Where: Francis Field is located at 25 W. Castillo Drive St. Augustine, FL 32084, behind the parking garage in downtown St. Augustine.
Live Entertainment
Celtic Bands on the Main Stage for 2023
These Celtic bands will perform on the main stage this year, many of them returning from earlier festivals. The full schedule of live entertainment can be found at the end of this article.
Albannach (Saturday and Sunday)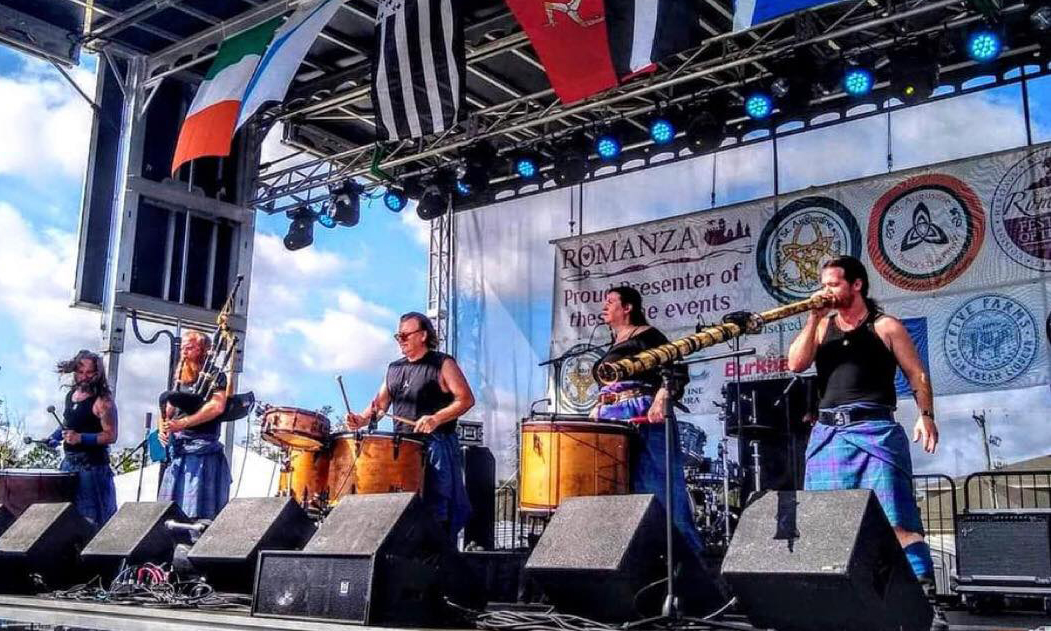 This band was born and bred in Scotland and plays authentic Scottish music. Albannach's music includes a championship-winning piper, talented main drummer, bass drummer, and bodhran musician bringing visitors a new style of energetic music.
The Dublin City Ramblers (Saturday and Sunday)
This band was voted Ireland's No. 1 Ballad and Folk Group of the Year by The Irish Country Music Association. They have played worldwide and continue to thrill audiences. For more than 50 years, this veteran band has infused their music with humor and wit to keep the performance exciting and has performed at every major venue in Ireland and abroad. They will perform on Saturday and Sunday.
Jamison (Saturday Only)
From Philadelphia, Jamison plays Irish music with a modern twist and elements of rock, hip-hop, pop, and reggae. When Jamison plays, everyone dances.
Seven Nations (Sunday Only)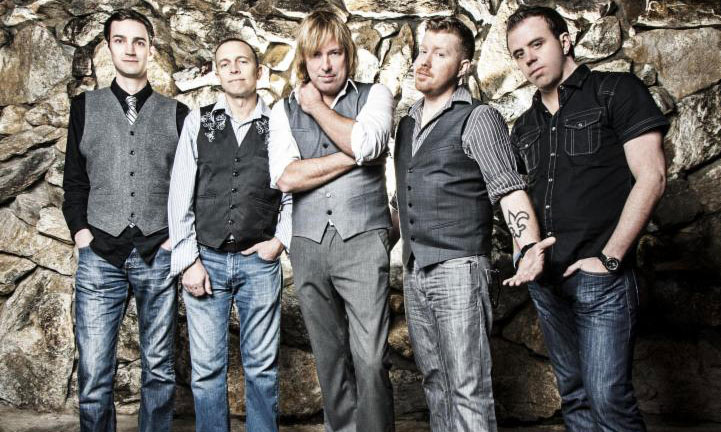 The name refers to the seven original Celtic nations of Scotland, Ireland, Wales, Cornwall, Galicia, the Isle of Man, and Brittany. The band got its start in 1993 in New York City with a standard line-up of drums, guitars, and bass. Over the years, Seven Nations has gained fame with tours in Europe and Canada and performances on PBS and CNN. Seven Nations will perform on Sunday only.
Steel City Rovers (Saturday and Sunday)
With a sophisticated sound that is influenced by American styles, such as bluegrass, folk, and root music, as much as traditional Celtic music, Steel City Rovers are known for their emotive vocals and the amazing crafted replicas of historical instruments that they feature on their tours. Visit www.celticstaugustine.com for additional details.
Syr(Saturday and Sunday)
This Celtic band from Columbia, South Carolina honors Celtic heritage in their own, creative, high-energy style. This family-focused band includes siblings Kyle and Laurel MacCallum, as well as spouses Kelly and Greg Vance, plus Ben Campbell and Worth Lewllen.
Second Stage Entertainment
On the Festival's second stage, a variety of entertainment will take place throughout Saturday and Sunday. Music and Storytelling with Zach Briggs, Magic & Mayhem with Captain Mayhem, a Celtic Music Workshop with the Steel City Rovers, a Bagpipe Workshop with First Coast Highlanders, Historical presentations by John Miles, and performances by the Blue Lotus World Dancers.
Parking and Shuttle Services
Parking is available for a fee at the downtown parking facility right next to Francis Field.
Additionally, the City of St. Augustine will operate a Free Park and Ride Shuttle Service on Saturday only from 8:00 a.m. to 10:00 p.m. The shuttle service picks up every 20 minutes from three parking locations north of downtown:
198 212 W. King Street, at the corner of US1 and King Street.
St. Johns County Health Department, 200 San Sebastian View
San Marco Lot, 301 San Marco Avenue
The drop-off and pick-up location downtown is the Visitor Information Center at 10 S. Castillo Ave., just across the street from Francis Field, where the major spring festivals take place.
This service is offered free of charge by the City of St. Augustine and the major festivals and events take place during this period.
Admission | Ticket Prices
| Option | Price |
| --- | --- |
| Single Day General Admission in Advance | $15. |
| Single day general admission at the Door | $20 |
| VIP Weekend Ticket | $90 |
| Whiskey Tasting Event (Limited Tickets) | $60.00 |
Have a Question?