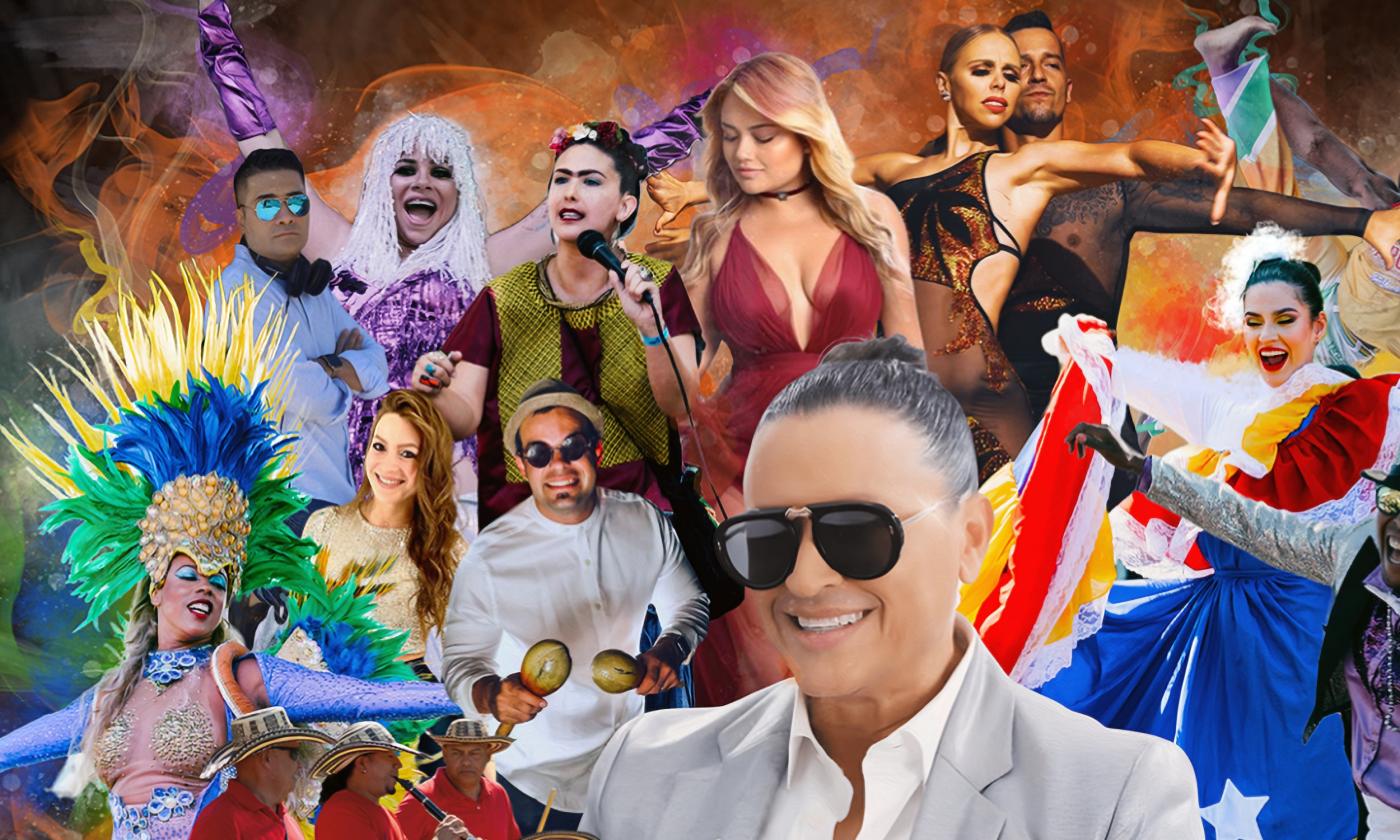 Saturday, May 4, 2024 | 10 a.m. - 10 p.m.
Unidos en la Música (United in Music): A Latin American Festival
(516) 322-0211
The Annual Unidos en la Música (United in Music) Festival will celebrate the art, music, dance, sports, games and food of Latin America. The all-day festival will be held from 10 a.m. to 10 p.m. on Saturday, May 4, 2024, at Francis Field.
Unidos en la Música features a spectacular variety of art, live entertainment, quality merchandise, dance workshops, and great food. The family-friendly event showcases games, Latin dances, and award winning musical performers. 
The following information is from the 2024 festival. We will update this as more information becomes available.
Live Entertainment
Elvis Crespo, winner of a Grammy Award headlines the musical performances. Others on stage throughout the weekend include Columbian singer Zara Marco, A flor de PIel from Chicago, Papayera la Arenosa, and St. Augustine's popular group, Baba Caiman.
The 2023 attendees can enjoy performances and exhibitions by dancers and performers from the U.S. and Latin America. They can even learn to dance with some of the best Latin dance groups around, such as Emily and Raul from the Salsa Kings. Performances also feature Youth Champion, Emma Lacayo, Spirit of Samba, CBP Capoeria, Ballet Folklorico Azteca, Venezuela Danza y Tambor, and Peru Dance. Attendees may participate in a Zumba party, a Salsa workshop, and a Bachata Workshop.
Cultural Exhibitions
A game section will feature games from all over Latin America, including Aztec ball game, bolletas, sapo, tejo, and dominos, as well as free soccer and baseball clinics.
Three visual artists will paint murals throughout the day, in an artist competition which will be decided by audience votes.
Over 70 Latin American vendors will present their wares, and Papayera La Arenosa from Colombia will perform "pop-up" style, playing their Columbian music as they wander the festival grounds.
Authentic Food
Latin American food trucks and restaurant vendors will offer authentic foods, chosen to present different Latin American tastes and experiences.
VIP Tickets
VIP Experience tickets offers 600 guests an easy way to enjoy the day-long festival in style, with an exclusive VIP area and direct access to the premium bar with top-shelf liquors, complimentary Latin-inspired hors d'oeuvres, and meet and greets with select performers.
Admission: Ticket prices  in 2023 wer $10.00 for general admission in advance, $15.00 at the door, and $75.00 for the VIP Experience (advance sales only.) General Admission for children 13 and under is free. For more information, go here. 
When: From 10:00 a.m. to 10:00 p.m. on Saturday, May 4, 2024.
Where: Francis Field is located at 25 W. Castillo Drive in St. Augustine, FL 32084.
Romanza Festivale of Music and the Arts
Unidos en la Música is part of St. Augustine's Romanza Festivale of Music and the Arts. To learn more about the Romanza Festivale 2023 in general and for a rundown of the full two weeks of events, visit here.
Unidos en la Música (United in Music): A Latin American Festival
(516) 322-0211
Have a Question?