Friday, February 24 and Sunday, February 26, 2023 | 8:00 and 7:30 p.m.
The St. Augustine Amphitheatre presents country music legend, Willie Nelson & Family, as they return to St. Augustine for two live concerts, on Friday, February 24 at 8:00 p.m., and on Sunday, February 26, 2023, beginning at 7:30 p.m. 
Willie Nelson is widely recognized as an American country music legend, but has also been acclaimed for his work as an author, poet, actor, and activist. Nelson has released over 50 studio albums since he got his start in country music in the 1960s. For over five decades Nelson has recorded hit song after hit song, performed across the globe, and has received numerous awards for his music including being inducted into the Country Music Hall of Fame in 1993, receiving the Kennedy Center Honors in 1998, and many more.
The 1970s saw Nelson's rise to fame with his three highly acclaimed and popular albums, Shotgun Willie (1973), Red Headed Stranger (1975), and Stardust (1978). Nelson along with artists like Waylon Jennings became a part of the "outlaw country" scene, which was a sub-genre of country music that developed in the late 1960s as a reaction to the conservative restrictions of Nashville. Willie Nelson has become a household name and many of his songs are now country music staples including "Funny How Time Slips Away," "Hello Walls," "Pretty Paper," and "Crazy."
Admission: Ticket prices range from $54.00 - $129.00. 
When:  ADDED SHOW: Friday, February 24, 2023 at 8:00 p.m. The gates open at 6:30 p.m. Also on Sunday, February 26, 2023, at 7:30 p.m. Gates open at 6:00 p.m.
Where: St. Augustine Amphitheatre is located at 1340 A1A South in St. Augustine, FL 32080.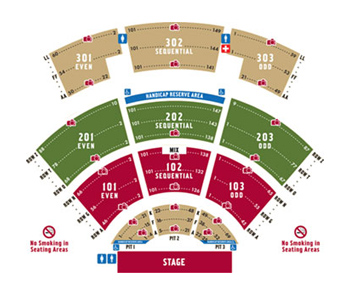 Parking Information: The Amp St. Augustine is located on Anastasia Island next to Anastasia State Park. Limited paid parking is available in The Amp's Main Lot, but only with advance purchase of a Premium Parking ticket. Free satellite parking areas are located within one mile of the Amphitheatre, at R.B. Hunt Elementary, and at Anastasia State Park (see map below).
Shuttle Information: The St. Augustine Amphitheatre shuttle system begins its run 45 minutes prior to show time. The shuttle will pick up event patrons at four designated shuttle stops: the R.B. Hunt Elementary School Soccer Field, the west entrance of the Anastasia State Park Main Parking Lot, the Loop at the Anastasia State Park, and the entrance of the St. Augustine Amphitheatre. To see the full shuttle route, please see the map below.
Shuttles will run continuously until approximately 45 minutes after the scheduled start time of a concert. For anyone wanting to leave prior to the end of a show, shuttles will begin taking people back to the satellite parking areas one hour before the event is over. The driver will not depart The Amp until the shuttle is more than 50% full.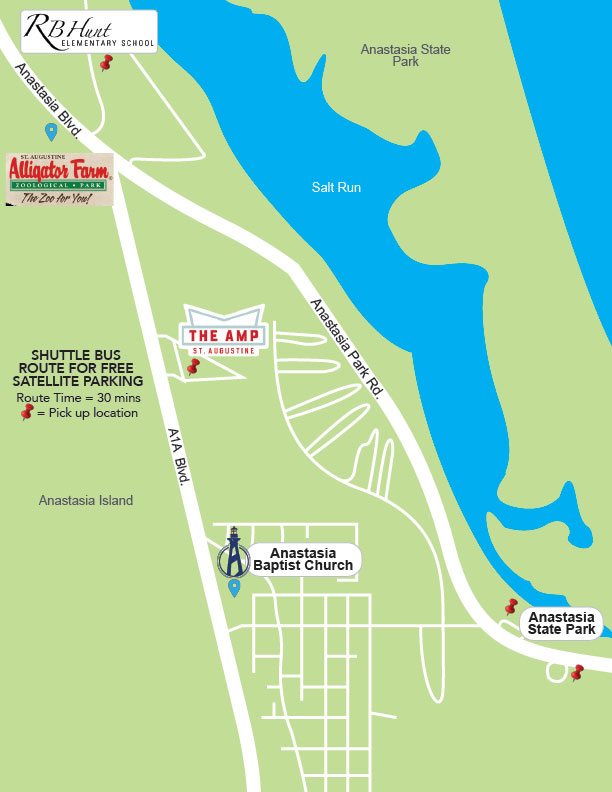 Admission | Ticket Prices
Have a Question?