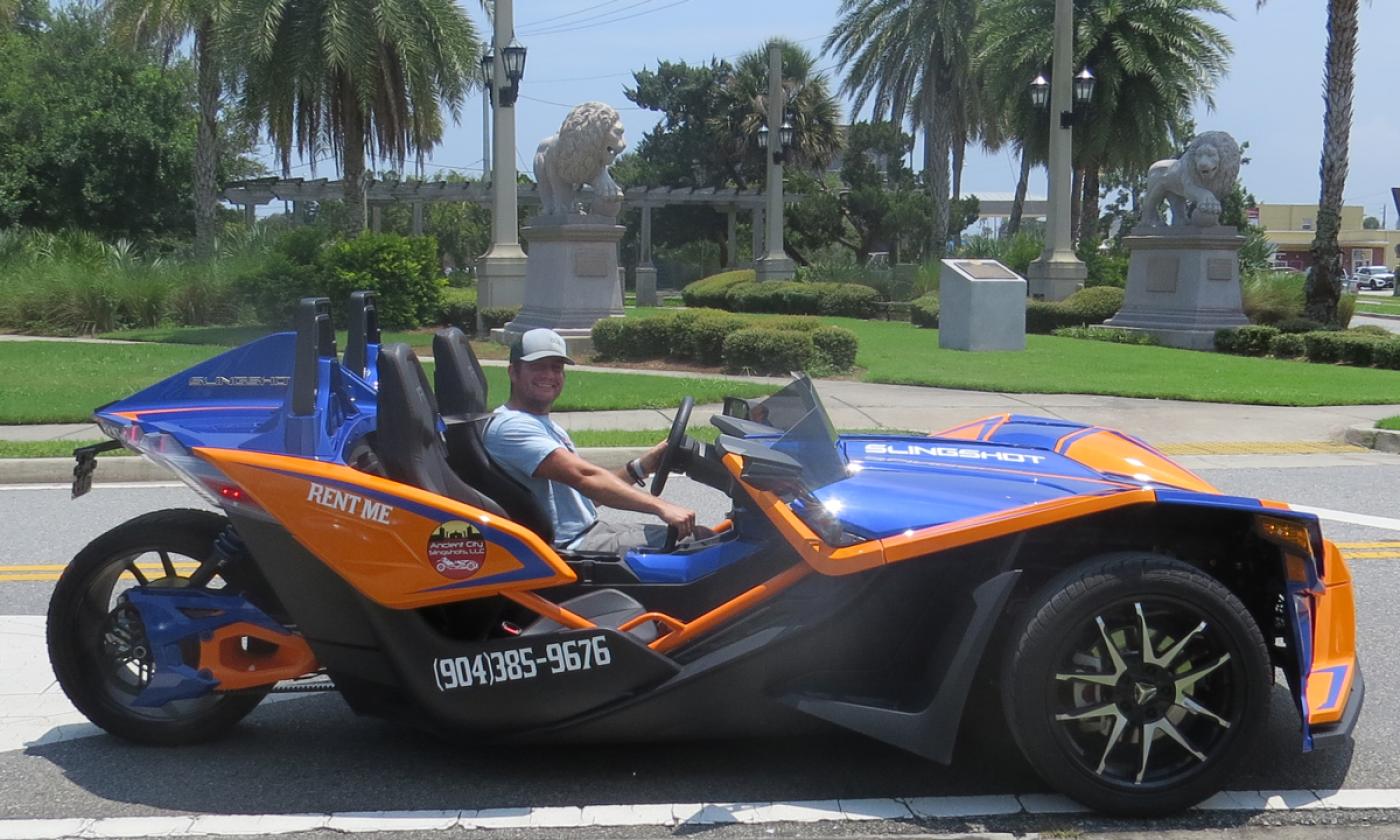 Currently closed.
Mon - Sun:
9:00 am - 5:00 pm
Ancient City Slingshots offers Polaris touring vehicles to anyone over 21 (with a valid driver's license) who wants to tour St. Augustine the fun way — in a brightly-colored two-seater, three-wheeled, Slingshot. Slingshots can be rented for 4, 8, and 24-hour sessions.
These 2021 Polaris Slingshot R models are gas-powered and have a peak torque of 166 foot-pounds at 47 RPM. They are suitable for any paved road from the narrow streets of St. Augustine to U.S.1, A1A, and I-95. Ancient City Slingshots rents both 5-speed stick shift and automatic models. Each Slingshot has a Bluetooth audio system, a 7" touch display for navigation and vehicle command, a tall, windshield, and quilted comfort seats.
Drivers new to these zippy three-wheeled road vehicles may opt to rent one for an hour's worth of instruction and practice before booking a Slingshot for a half day, whole day, or overnight. These are open-top vehicles with just a bit of storage, with room for hats, sunscreen, plenty of water, and a compact picnic lunch. They are perfect for driving around town, or for taking a road trip to Jacksonville, Daytona, Ponte Vedra, down Anastasia Island, or on the quieter roads along the St. Johns River.
Ancient City Slingshots will gladly assist tourist and corporate groups who want to rent multiple vehicles so everyone can enjoy the view from a Slingshot while touring St. Augustine.
Nights of Lights
Ancient City Slingshots offers a Nights of Lights Adventure, for which visitors can rent an automatic Slingshot from 5:00 to 9:00 p.m. on Fridays, Saturdays, and Sundays for $135.00. These 2-person vehicles provide visitors with the opportunity to travel the holiday bedecked streets of St. Augustine while seated in a colorful and snazzy Slingshot. To book a Nights of Lights Adventure on Friday - Sunday through January 30th, go here, click on Book Now, and choose the Night of Lights Adventure.
Currently closed.
Mon - Sun:
9:00 am - 5:00 pm
Have a Question?