Marker 8 Hotel & Marina
South-east corner of the Bridge of Lions
1 Dolphin Drive, St. Augustine, FL, 32080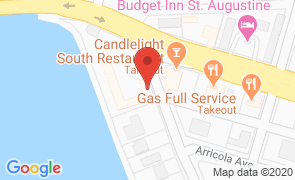 Hours
of Operation
Sun - Sat:
7:00 am - 11:00 pm

The marina at Marker 8 Hotel & Marina is the perfect location for transient boaters to enjoy the best of St. Augustine. Situated at the Southeast corner of the Intracoastal Waterway (the Matanzas River) and the Bridge of Lions, the approach depth of 7' to the floating docks is easy, and the location is perfect for access to the Historic District of town.

Marina guests enjoy many of the amenities of this newly renovated upscale boutique hotel, including free wi-fi, access to the pool, a boater's lounge with laundry facilities, a complimentary welcome drink of wine or soda, continental breakfast, social hour, and access to the bar and lounge.

Within a few blocks walking on Anastasia Island you will find restaurants, a small market, live music, and a quiet neighborhood with very nice parks.

Across the Bridge of Lions is the Historic District, with its attractions, tours, historic sites, and restaurants.

Use VHF channel 16 or call 904-829-9042 for information.

 

 

FEATURES

Concrete floating docks
24 slips
Can Accommodate up to 103 foot yacht
30 amp, 50 amp and 100 amp service
Potable water
Free wireless internet access
Light Continental Breakfast
Social Hour (Complimentary drink upon arrival)
Outdoor waterfront spa pool
Fitness Center
Coin laundry facilities
Shower facilities
Dock carts available
Fuel nearby
Pump-out nearby

RATES

(Term & Conditions and applicable taxes apply)

Daily Dockage: $2.00 per foot per day
Holiday Dockage (Daily) July 4th, $3.00 per foot (28 days)
Weekly Dockage: $10.50 per foot per week
Monthly Dockage: Up to 44 feet, $15.50  per foot per month
Monthly Dockage: Over 44 feet, $17.50  per foot per month
30 amp service: $7.00 per day / $35.00 per week
50 amp service: $15.00 per day / $70.00 per week
100 amp service (2-50 amp): $30.00 per day / $140.00 per week
Internet access: Free
Potable water:    Free

No Reviews Yet...

Be the first to Review Marker 8 Hotel & Marina!




Restaurants
Near Marker 8 Hotel & Marina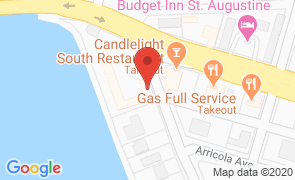 Marker 8 Hotel & Marina
South-east corner of the Bridge of Lions
1 Dolphin Drive, St. Augustine, FL, 32080
(904) 829-9042
Hours
of Operation
Sun - Sat:
7:00 am - 11:00 pm