Ripley's Haunted Castle Tour
North of the Castillo
19 San Marco Avenue, St. Augustine, FL, 32084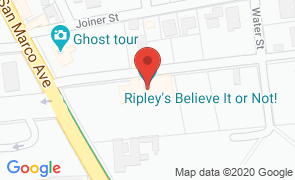 Hours
of Operation
Sun - Thu:
Closed

Fri - Sat:
7:00 pm - 11:30 pm

Tours leave at 7:00 p.m. and 9:00 p.m.
Who was Mr. X? What did he do? Who is brave enough to find out?

Castle Warden, a four-story Moorish castle was built as a private home in 1887. In 1941 it was purchased by hotelier Norton Baskin and his wife, author Marjorie Kinnan Rawlings, who turned it into an upscale hotel. Later, the estate of Robert Ripley purchased the property and created the first Ripley's Believe It or Not. museum. 

Members of the staff at Ripley's Believe It or Not. have encountered apparitions and experienced things that shouldn't happen, and numerous ghost hunters have toured the facility by the dark of night, setting up equipment and capturing paranormal events.

Now, ticketed visitors may take a guided tour of the attics and backrooms of Ripley's Believe It or Not.. Armed with EMF meters, guests will learn of murder, mystery, and unexplained paranormal phenomena. 

Tours are available on Friday and Saturday only. Each tour lasts 80 minutes and tours start at 7:00 and 9:00 p.m. Only 20 persons are allowed on each tour and social distancing will be practiced. Reservations are required and tickets are date and time-specific. 

No Reviews Yet...

Be the first to Review Ripley's Haunted Castle Tour!




Restaurants
Near Ripley's Haunted Castle Tour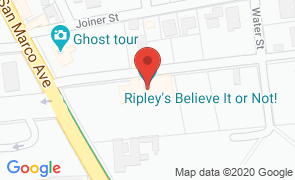 Ripley's Haunted Castle Tour
North of the Castillo
19 San Marco Avenue, St. Augustine, FL, 32084
(904) 824-1606
Hours
of Operation
Sun - Thu:
Closed

Fri - Sat:
7:00 pm - 11:30 pm