Free Entry
St. Augustine Distillery
Historic Downtown
112 Riberia Street, St. Augustine, 32084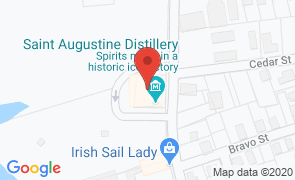 Hours
of Operation
Sun - Sat:
10:00 am - 6:00 pm

The last free tour starts at 5:00 p.m.
St. Augustine Distillery creates award-winning whiskey, rum, gin, and vodka, and offers free tours and tastings to St. Augustine visitors in the unique setting of St. Augustine's former ice plant building.

This celebrated distillery was awarded "Best Whiskey Distillery Tour in North America" in the 2018 Drammie Awards. The guided tour takes guests through a number of exhibits, including artifacts that reveal the fascinating history of Old Florida and the many ways in which the art of distilling spirits has changed -- and not changed -- over the years. The St. Augustine Distillery specializes in farm-to-bottle spirits.

The tour also explores the historical significance of the ice plant building, which was constructed in stages between 1905 and 1927.  The structure now houses the working stills of the St. Augustine Distillery and its exhibit areas, as well as the popular Ice Plant Restaurant and Bar.
 
Restaurants
Near St. Augustine Distillery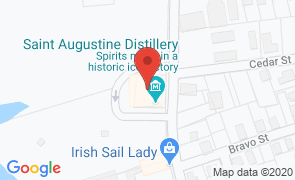 St. Augustine Distillery
Historic Downtown
112 Riberia Street, St. Augustine, 32084
(904) 825-4962
Hours
of Operation
Sun - Sat:
10:00 am - 6:00 pm