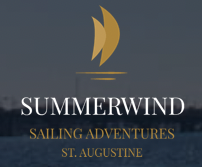 "The Summer wind came blowing in from across the sea…"
Summerwind, named in honor of the iconic song, offers deluxe sailboat charters aboard an elegant 50-foot sailboat made by Jeanneau. The captain and crew of Summerwind are fully experienced in the art of sailing, and in providing elegant accommodations and both day and overnight charters.
This beautiful modern yacht has a scooped transom, and a cockpit that comfortably seats 10. Belowdecks, the salon seats 6 around the dining table, which is adjacent to a fully equipped galley. There are 3 staterooms, including a spacious owner's stateroom, two bathrooms (heads) and private showers. This ocean-equipped vessel is as at home on the inland waters off St. Augustine as it is on the Atlantic Ocean, allowing guests to choose a daysail for a picnic and swim, or an overnight sail to new harbors.
"We strolled along the golden sand …"
Sailing adventures can include time to anchor near a popular swimming spot where kayaks or water swim platform can be launched for the guests to enjoy while the crew barbecues lunch or an early dinner. Charter guests who simply want to sail "beneath a blue umbrella sky" may opt to ask the captain and crew to take the boat out the St. Augustine Inlet for a sail along the Northeast Florida Coast.
And those guests who want to spend time at sea on an overnight adventure, can book a trip to a popular harbor, such as the town of Fernandina Beach, where they can enjoy dinner on board or on shore at one of the many wonderful restaurants.
Adventures
Summerwind is available for charters that last only 2 hours and charters that include two nights or more aboard. Fun with family, a romantic weekend for two, celebrations of engagements and weddings, and corporate retreats or reward trips are all available aboard Summerwind. Guests may choose among many options, including a catered meal, an on-board executive chef, and a private masseuse.
The Captain and Crew
Captain Marty Tighe and his sons Christopher and Brendan lead the crew for all adventures aboard Summerwind. Marty has sailed across oceans, delivered sailing vessels, and enjoyed locations aboard 46 to 57-foot yachts all around the world, including the Canary Islands, St. Lucia, and Tahiti. Now. Marty is delighted to share his experience and love of the ocean and sailing by offering deluxe adventures aboard Summerwind. His mission is to provide guests with the same experiences normally available only to those who own their own yacht.
Tips about booking an adventure
All guests, regardless of age, must be registered. This is a Coast Guard requirement. 
For day trips, guests should pack their swimsuits, coverups, towels, sunscreen, hats, and sunglasses.
Bottled water, soft drinks, and snacks will be provided, though guest are invited to bring additional food and drink items of their choice. (Including alcoholic beverages.)
Those with a Florida ocean fishing license are invited to bring their gear aboard and try their luck.
Summerwind is a luxury yacht and the area below decks is air conditioned.
Pets are not allowed on the sailboat.
Parking is available near the boat.
"My fickle friend, the Summer wind.."
While a bit of rain won't cancel the trip, foul weather or unsafe sea conditions may warrant it. If that happens, Captain Marty would have to cancel the charter. When this happens, guests are given the option to reschedule, or a full refund.
What their charter guests have said
"This past summer my husband and I had an awesome time on Summerwind. The weather was warm so it was a great time sailing to downtown St Augustine and simply grabbing a mooring ball eating a yummy lunch with our family and diving off the back for a refreshing dip …" Ellen from Georgia
"We sailed up to Amelia Island for most of the day and then docked at Fernandina Beach marina. We had a short walk into downtown and had a wonderful meal. It was also a great way to really get to know the other members of the crew. The next morning we set off and sailed north to Cumberland Island. Once on the island, we explored the ruins, had a nice hike and enjoyed dinner on the boat …"  Brent from Georgia 
About the Song
Summer Wind was written by Hans Meier, in German. Johnny Mercer rewrote the song for the American market. Marty's favorite recording of the song is the one by Frank Sinatra.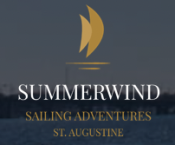 Have a Question?