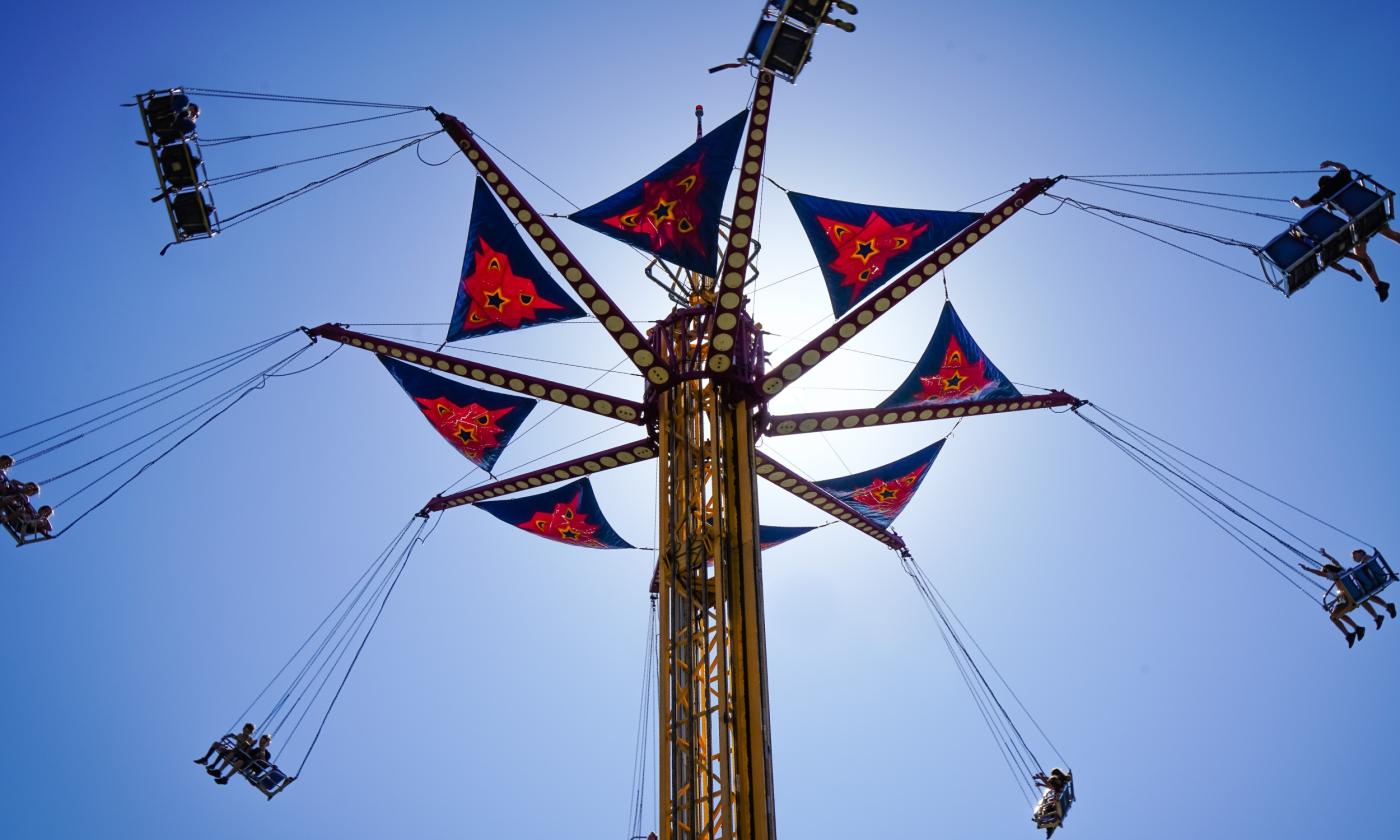 Friday, Feb. 23 through Sunday, Feb. 25, 2024 | See Times Below
The 39th Annual Cathedral Festival takes place from Friday, February 23 through Sunday, February 25, 2024, on the grounds of the Shrine of Our Lady of La Leche at Mission of Nombre de Dios. There will be fun for the whole family, with rides, games, raffles, food and art vendors and fireworks.
The Cathedral Festival features a traditional carnival midway with rides that are thrilling for all ages, including a Ferris wheel, a carousel, a tilt-a-whirl, and a super slide.
There are raffles and live music on all three days of the Festival. The Cathedral Festival Super Raffle, with impressive cash prizes, will be held at 6 p.m. on Sunday.
The information below is from the 2023 festival. We will add events and current prices as they become known to us.
Live Entertainment
Each year, the Cathedral Festival offers live entertainment. See below for specifics.
Fireworks
There will be a fireworks show Saturday night at 9:00 p.m. (If it rains on Saturday, they'll try again on Sunday night.)
Shrimp Dinner
The Cathedral Festival features a fried shrimp dinner from noon to 8 p.m. on Sunday (or while supplies last). The shrimp dinner costs $15.00 per person if ordered here in advance and $17.00 per person if purchased at the event. The meal includes jumbo fried shrimp, hush puppies, beans, and coleslaw.
Food and Beverages
Visitors can enjoy great food vendors at the festival, including fair food like funnel cake, popcorn, and cotton candy. Drinks will also be available, including soft drinks, beer and wine. (They ID. Please drink responsibly).
Parking
Limited parking is available at the festival. The city parking garage at 1 Cordova Street offers all-day parking for a $15 fee. It's three blocks from the festival and offers over 1,200 parking spots.
Admission: There is a nominal admission charge to enter the festival grounds: $5 for adults, $3 for kids aged 11-17 and seniors over 65. Active-duty military and kids 10 and under are free. Sheets of 20 ride tickets (most rides take 4 to 6 tickets) are available at a discounted rate if purchased in advance. Advance ride tickets are available at the Cathedral Parish School (259 St. George Street) and Carmelo's Marketplace (146 West King St.) and all local Ameris branches.
When: 5 to 10:30 p.m. on Friday, February 23; noon to 10:30 p.m. on Saturday, February 24; and noon to 9:00 p.m. on Sunday, February 25. Fireworks are planned for 9:00 p.m. on Saturday, February 24. The rain date for fireworks is Sunday, February 25.
Where: The Shrine of Our Lady of La Leche at Mission Nombre de Dios is located at 101 San Marco Ave. St. Augustine, FL 32084.
Proceeds from this event benefit the Cathedral Parish School.
Admission | Ticket Prices
| Option | Price |
| --- | --- |
| Adult | $5 |
| Children 11-17 & Seniors 65+ | $3 |
| Active Duty Military | Free |
| Children 10 and Under | Free |
Have a Question?