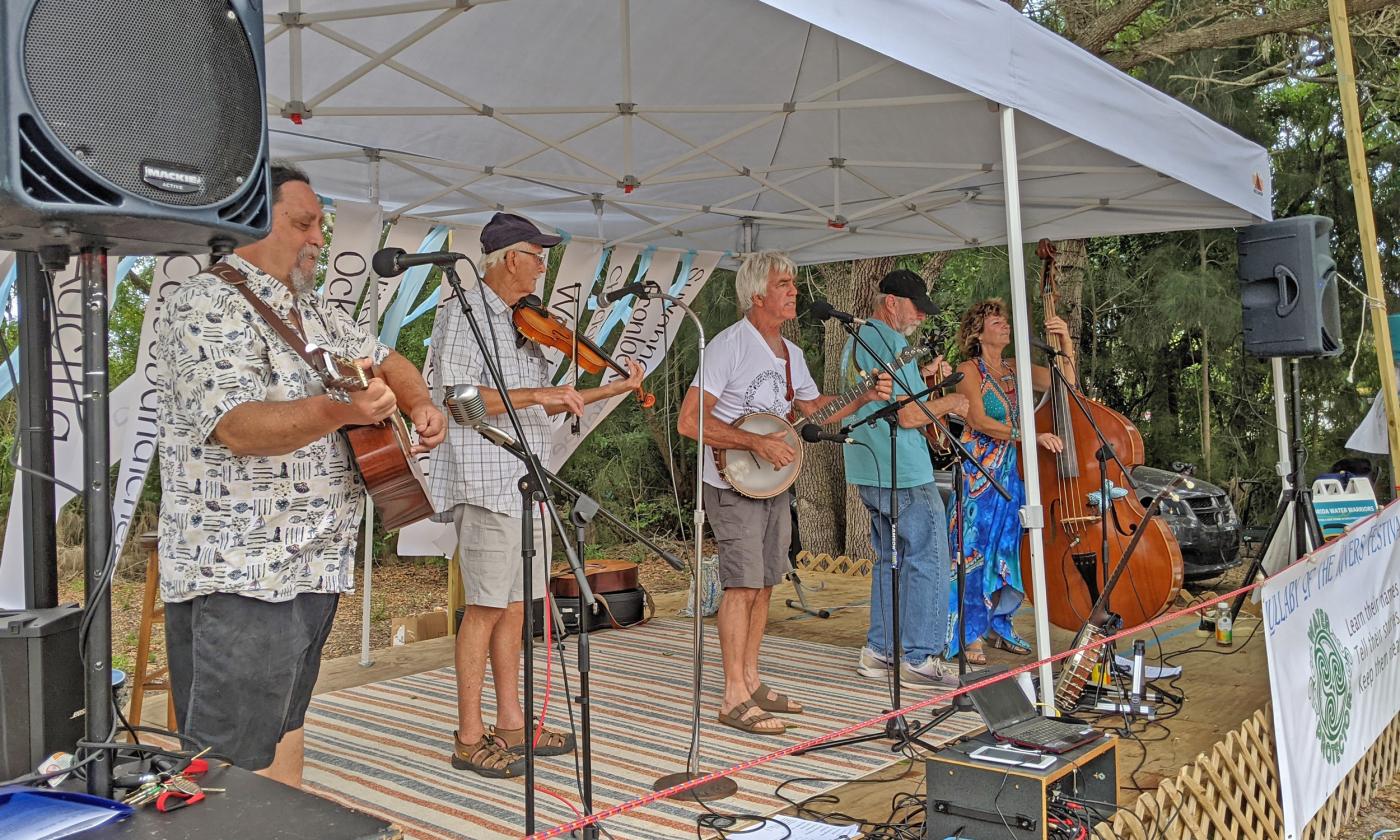 Saturday and Sunday, April 22 and 23, 2023 | Times to Be Announce
In celebration of Earth Day, there will be a two-day music and Earth Day festival on Saturday and Sunday, April 23 and 24, 2023, at North Shores Community Park in Vilano Beach.
Local singer/songwriter, Bob Patterson and Organizer Carol Kramer, have used Bob's award-winning song "Lullaby of the Rivers" as the inspiration for the festival, which will feature popular regional performers throughout the afternoon and evening.
"Lullaby of the Rivers" is a tribute to Florida's rivers and their heritage. In his folksy storytelling style, Patterson invites listeners to embrace the Native American traditions of environmental responsibility by remembering how Florida's great rivers like the Apalachicola, Ichetucknee, Ocklawaha and Kissimmee got their names. Proceeds from Lullaby of the Rivers will provide environmental education materials to students.
In addition to two days of musical entertainment, the event will include an Earth Day Resource Fair with activities for kids, tastings of sustainable foods, and presentations by environmental organizations. The goal is to raise awareness about environmental issues, impacts, and initiatives.
The following information is from the 2022 event. This will be updated as we receive a schedule and list of participants.
And, to provide more fun and education, The Gable Rogers Storytelling Stage will take place indoors at the meeting hall, and feature local storytellers and two movies about our environment. Here is the schedule for that stage:
11:00  Bob Patterson & Carol Kramer
11:30  Lost Springs (A 40-minute film featuring artist Margaret Ross Tolbert as she
visits freshwater Florida springs normally drowned due to the
Rodman/Kirkpatrick Dam.)
12:30  Vanishing of the Bees (A 1.5-hour film about the challenges faced by beekeepers, today.)
2:00   Tale Tellers of St. Augustine

2:00 Chris Kastle
2:25 Natalie Beltrami
2:50 Debra Weller
3:05 John Eadie
3: 15 Joan Krame
3:45 Uncle Eddie and Robin.
Parking is available at SurfSide Park, Vilano Beach, which is just two/tenths of a mile from the festival.
Admission: General admission is $10. Children 12 and under are free. For tickets, go here.
When:  Saturday, April 23 and Sunday, April 24, 2023
Where: North Shores Community Park is just north of the town center of Vilano Beach.
Lullaby of the Rivers Festival is a joint presentation by Bob Patterson and Carol Kramer, Vilano Beach Maine Street, Inc. — a non-profit that works to preserve the historic and environmental characters of the Vilano Beach Town Center, and the supporting partners of Vilano Beach Main Street, Inc.
Admission | Ticket Prices