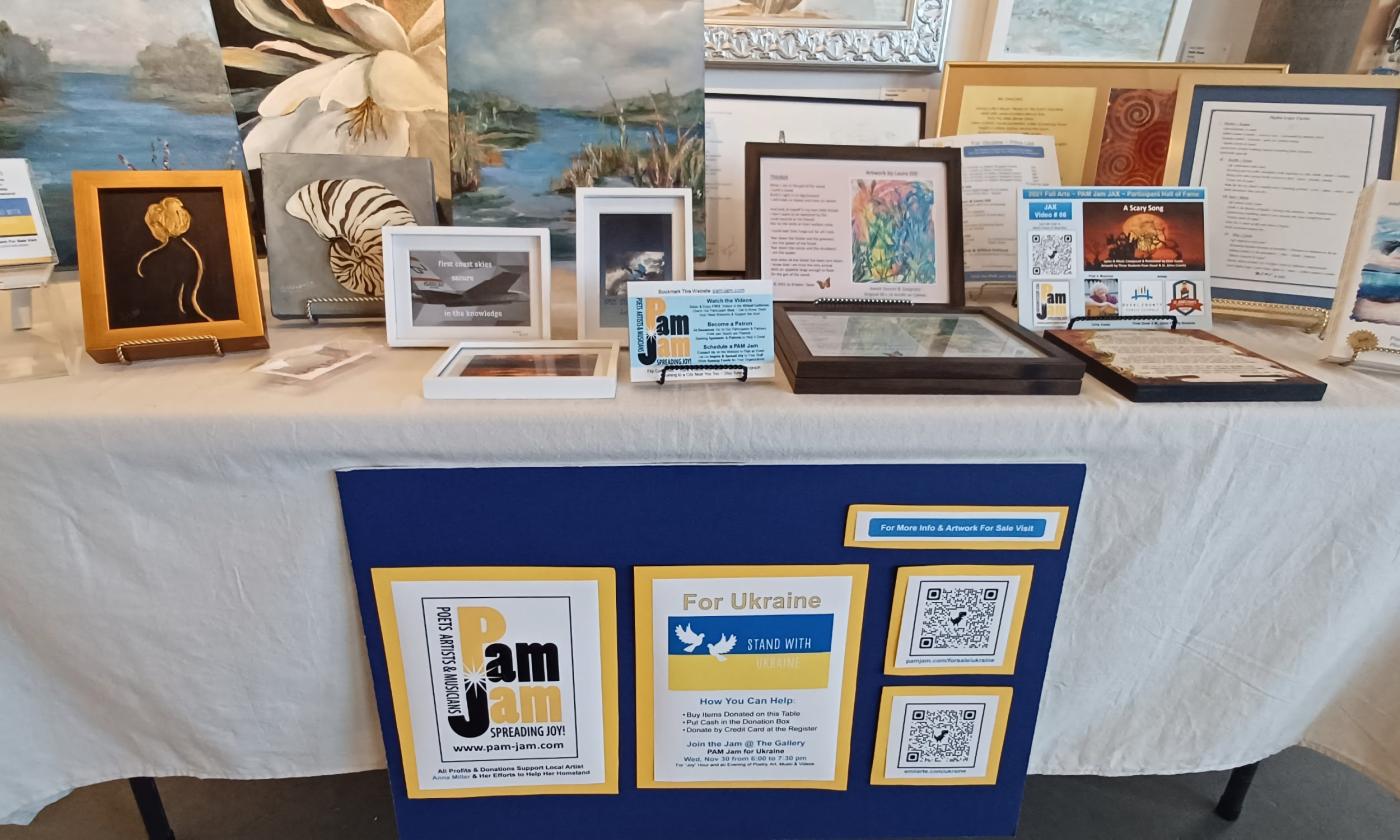 November 30, 2022 | 6:00 p.m. - 7:30 p.m.
PAM Jam and the St. Augustine Beach Art Studio & Gallery, located at 370A A1A Blvd A in St. Augustine beach are hosting a fundraiser on behalf of the people in Ukraine on Wednesday, November 30, 2022 from 6:00 p.m. to 7:30 p.m. Inspired by local artist, Anna Miller, other poets, artists and musicians in the community have collaborated in the fundraising event by bringing their work together and putting it on sale with the goal of providing all proceeds to Ukrainians who are in need of help.
A native of Ukraine, Miller is putting the gallery on display — right next to the St. Augustine Beach — with virtual galleries, and online purchasing available. Along with buying a gift for yourself or someone you love, there will be a cash donation box with the option to make credit card donations at the register. There is going to be poetry readings, artwork displays, and live music. 
PAM Jam began in St. Augustine in 2020 and spread out to Jacksonville and Ponte Vedra Beach in 2021. PAM Jam Florida First Coast created a website featuring 44 videos with the primary purpose of raising money for charities that include; Title 1 Schools in both Duval and St. Johns Counties, Breast Cancer Survivors, and Hopeful Handbags for victims impacted by domestic abuse. 
Admission: Free to attend with purchases and donations welcome. 
When: Wednesday, November 30, 2022 from 6:00 p.m. to 7:30 p.m. 
Where: Located at 370A A1A, St. Augustine Beach, FL. 32080.