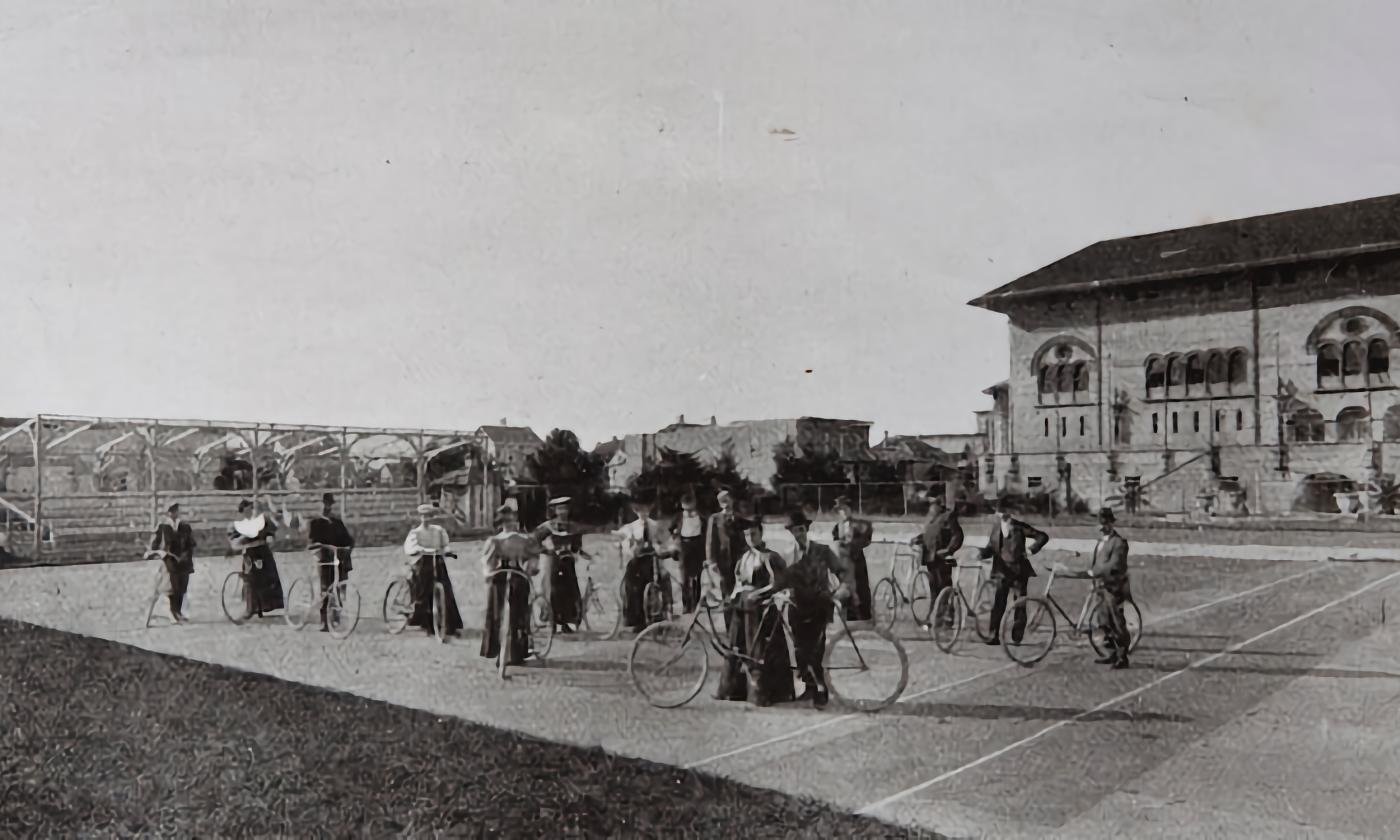 Fri., Feb. 3, - Sat. Sept. 2, 2023 | Daily, 9 a.m. - 5 p.m.
The Lightner Museum presents an exhibit that harkens back to the late 1800s, when Americans were first enthralled with bicycles: "Ride On! Historic Bicycles from the Collection of Keith Pariani."
Before there was a Lightner Museum, the Alcazar Hotel welcomed tourists from the North, who enjoyed the fine dining, the indoor swimming pool, the steam rooms, and the bicycle excursions. The cover photo shows tourists outside the Alcazar Hotel, participating in their "bicycle academy' to learn how to ride.
The new exhibit presents bicycles owned by Keith Pariani, who has long been interested in antique bicycles of all kinds. In fact, in 1984, he  traveled across the country with a group of 7 others who were all riding antique big-wheeled bicycles. Since then, Keith has added many bicycles to his collection. He has curated this exhibition to show bicycles that highlight significant changes in design during the nineteenth and early twentieth centuries. 
Admission: $17 adults; $14 college students, military, and seniors; $10 youth ages 12-17; free for children 11 and under.
When:  The exhibit will open to the public on Friday, February 3, 2023, from 9:00 a.m. to 5:00 p.m. The last day of the exhibit will be September 30, 2023.
Where: The Lightner Museum is located at 75 King St. in historic downtown St. Augustine.
The Museum is generally open 7 days a week. They are closed on New Year's Day, July 4th, Thanksgiving, and Christmas.