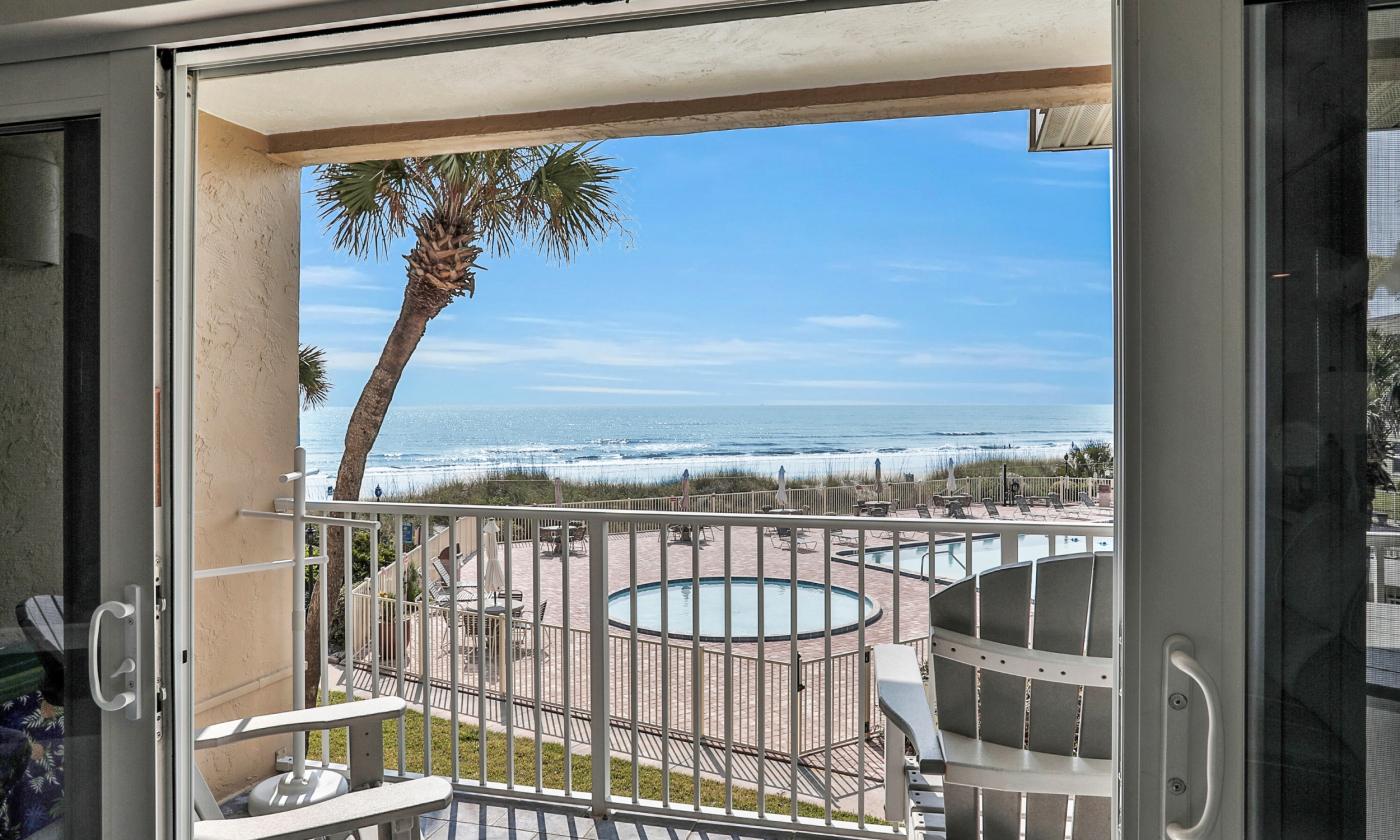 FLAStays presents vacation rentals that are full of amenities, in a small, quiet complex, with direct access to Crescent Beach, and a short drive from all St. Augustine has to offer.
Right on the beach, with a pool right off the beach, and a spacious and clean condo with views of the beach — FLAStays offers guests options that allow for a vacation that is as active or as relaxed as they wish.
FLAStays properties offer choices for every visitor:
A first-floor, one level condo that is just 50 steps from the path to the beach.
Two-story condos with room for 6 or more guests and everything needed to enjoy a vacation that is both relaxing and lively.
Condos with bunk beds for the kids, grands, or nieces and nephews — so everyone has a comfortable night and is ready for each day's adventure.
Condos furnished and accessorized with beachy elegance, for those who want to feel pampered during their vacation.
Condos with a balcony or ground-level deck for enjoying the view of the beach with a cup of coffee or a glass of wine.
These amenity-rich units are impeccably cleaned after each stay, and all have fully-equipped kitchens for those meals prepared at "home."  Every unit offered has high-speed internet service and WiFi, fresh linens and towels, heating, air conditioning, and parking. In addition, every FLAStays unit is provided with FLAStays Coffee, a custom-ground blend made with organic beans. Some units have washers and driers while others offer access to a coin laundry on the property. 
The complex has a roof-top deck furnshed with umbrella-tables, and two grills for those days when nothing but a barbeque will do.  Also on the propery basketball and tennis courts are avilable for those who want to burn off steam or calories. 
The primary amenities are the property's pools and the beautiful beach on the Atlantic Ocean. The pool deck is located just off the beach, and includes two pools: one for swimmers and one for younger children. Access to the beach is via a short, sandy path just steps from the pool deck. This section of St. Augustine's 42 miles of beaches offers ample opportunity to play in the sand, cast in the surf, swim, or take long walks and look for shells. 
Located 12 miles from historic downtown St. Augustine, FLAStays units are also just minutes from Marineland Dolphin Adventure, and from the park and beach at Matanzas, which has access to the Intracoastal Waterway for kayaking, jet-skiing, and swimming with no surf. These FLAStays units are just about 10 miles from the St. Augustine Amphitheatre and the St. Augustine Alligator Farm, and just 8 miles from the closest entrance to I-95. Restaurants and fun can be found to the north, south, and west.  The properties offered by FLAStays are perfect for any vacation, whether guests seek a relaxing time on the beach, or want to pursue more active pleasures.
All units are smoke-free and dog-free. Some are available for longer stays, such as for snowbirds who want to stay in Florida during the cold, snowy days of winter back home. Whether a romantic time for two, family time, or a get-away with friends, FLAStay units offer vacation rentals that are the foundation for an excellent vacation on the beach.