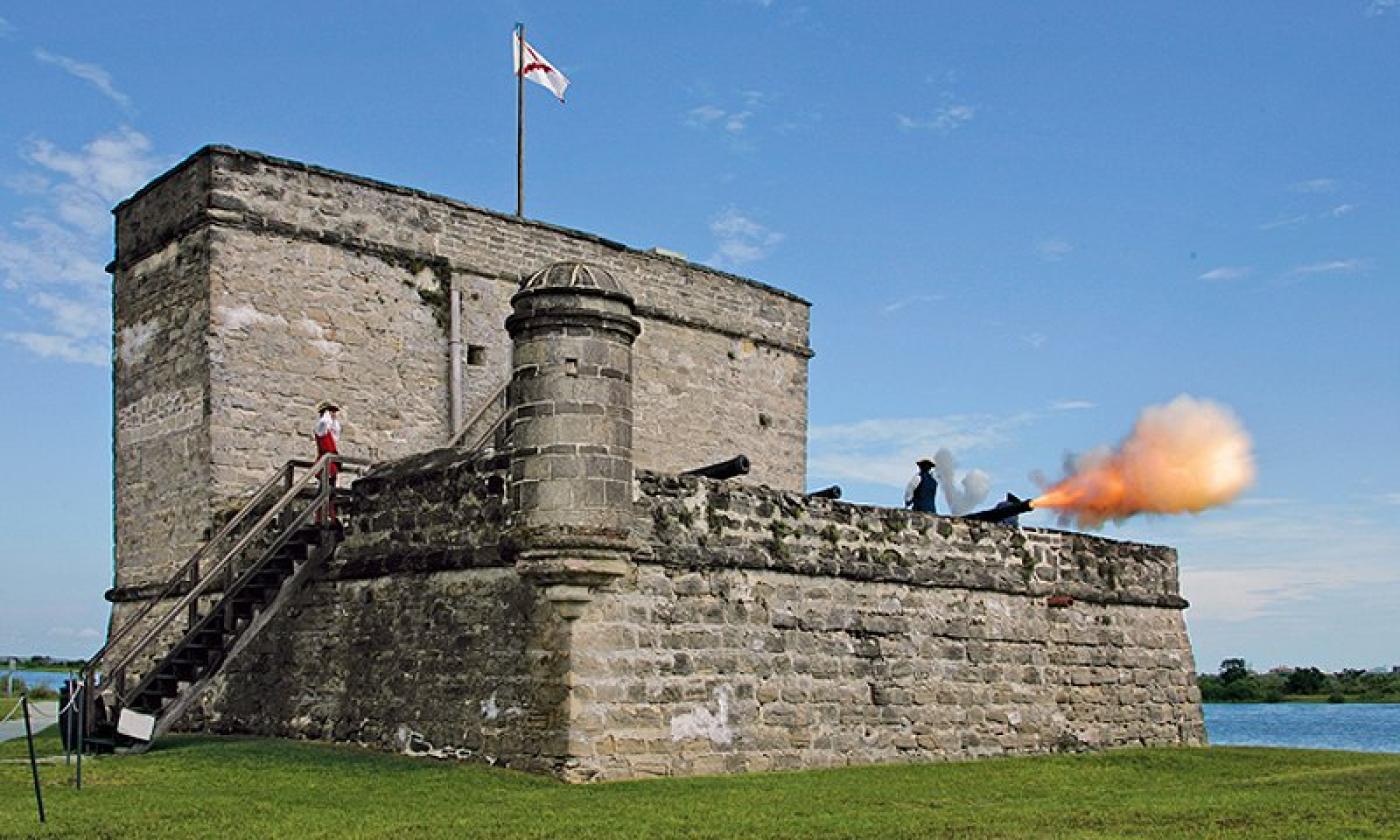 Currently closed.
Mon - Sun:
9:00 am - 5:30 pm
Built in 1742 to defend the city of St. Augustine from British attack, the Fort has stood in the Matanzas Inlet for over 250 years. A remnant of Florida's Spanish past, today it is maintained by the National Park Service.
Ferry to the Fort
The Visitor Center and most of the park grounds are open daily to the public, but the Fort is only accessible via a passenger ferry which leaves the mainland from 9:30 a.m. to 3:30 p.m., on Wednesdays through Sundays. Both the ferry and Fort admission are free; however, guests must obtain a ferry pass in the Visitor Center.
The ferries are scheduled for 9:30, 10:30, 11:30, 1:30, 2:30, and 3:30, on Wednesdays through Sundays.  Every person on board the ferry, regardless of age, must have a pass. Ferry Passes are given out on the day of the trip only, and on busy days all passes are often given out by 11:00 a.m.  No passes are given out over the phone. 
Dogs on a leash are allowed in the park, but not in the buildings, on the ferry, or at the fort.
History
Fort Matanzas has a long history, closely connected with the founding of St. Augustine by Pedro Menéndez de Aviles. In 1565, Menéndez killed over 250 French Huguenots upon the shores of this inlet, including the famed Jean Ribault. Due to the history of the site, the Spanish named both the fort and the inlet "Matanzas," which means "slaughters" in English.
It is believed that a small wooden watchtower was always present on the inlet to guard the watery 'back door' entrance to St. Augustine. The fort that visitors see today was not built until British attacks increased along the Florida coast in the 1740s. Visitors will note some similarities between the construction of St. Augustine's fort, the Castillo de San Marcos, and Fort Matanzas because both are made of coquina. The stone is impenetrable to cannon fire and easy to quarry, providing the Spanish with ample building material.
Fort Matanzas hosts frequent reenactments and living history demonstrations depicting the times of the early fortification. A reenactor is on-site almost every day during the summer, relaying the history of the fort to visitors. On Wednesdays and Saturdays (weather permitting), musket demonstrations are given from 12:30 - 3:30 p.m.
Nature Trails
Along with being a historical site, Fort Matanzas also has some beautiful nature trails. A 1/2 mile boardwalk trail leads through the maritime forests at Matanzas. Visitors can walk on the shore, collect shells, fish, or picnic.
Fort Matanzas National Monument is located at 8635 A1A South in St. Augustine, just south of SR 206.
Currently closed.
Mon - Sun:
9:00 am - 5:30 pm
Admission | Ticket Prices
| Option | Price |
| --- | --- |
| Ferry Pass (Wed-Sun only) | FREE |
| Admission | FREE |